Courses on offer at MH
The college offers a wide range of Honours Courses and Programme Courses. These are:
B.A. Programme
B.A. Honours in Bengali, Economics, English, Geography, Hindi, History, Philosophy, Political Science, Sanskrit, and Sociology.
B.Sc. Honour in Botany, Chemistry, Mathematics, Physics, and Zoology.
B.Sc. Life Sciences: 3 domains of study, namely, Botany, Zoology and Chemistry
B.Sc. Physical Sciences: 3 domains of study, namely, Physics, Mathematics and Computer Science.
B.El.Ed. (Bachelor in Elementary Education)
Undergraduate Curriculum Framework (UGCF) as per NEP 2020
Implemented from the Academic Session 2022-23
UGCF Structure for Bachelor of (Field of Study/ Discipline) (Hons.) and Multidisciplinary Course of Study.
Framework: Choice Based Credit System (CBCS) for students admitted in the Academic Years 2019-20, 2020-21 and 2021-22
CBCS has been adopted as part of National Policy across the country from the academic year 2015-16. This offers the operative framework for all undergraduate courses at Delhi University except for B.El.Ed. which is yet in annual mode and follows a different structure.
The degree programmes under CBCS follow a common structure and a common grading system. To see the policy document, Click here. The requisite courses of study over the three year degree programme are depicted in the graphic.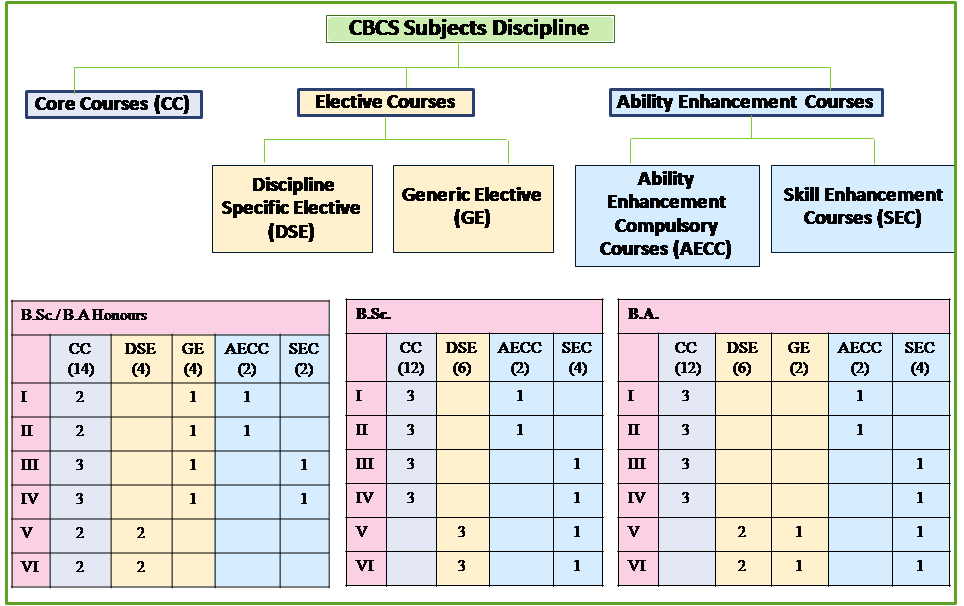 All courses are modular and semester based. The classification of courses follows the uniform nomenclature proposed by CBCS. As depicted, the students are required to take a prescribed set of

Core Courses; these define the minimum common curriculum and cover the basics of a particular discipline.
Elective Courses; these are chosen from a pool of courses that are very specific or specialized. They are (i) Discipline Specific (ii) Generic Electives chosen from an unrelated discipline/subject in order to seek exposure beyond the choices made in core and discipline specific elective courses.
Ability Enhancement Courses (AEC); these aim for ability of skill enhancement and are (i) Ability Enhancement Compulsory Courses (AECC) based on content that leads to knowledge enhancement. DU; and (ii) Skill Enhancement Courses (SEC) chosen from a pool of courses designed to provide value-based or skill-based knowledge with both theory and lab/hands-on training/field work.

At DU, the two mandatory AECC courses are (a) Environmental Science and (b) Language and communication with a choice of languages, i.e., English/ Hindi/MIL.
At DU, the SEC courses are linked to the main discipline of study.
Students can opt from a range of GE courses in accordance with their choice.