Miranda House is the cradle of leadership and well recognized for nurturing talent. Since its inception in 1948, it has carved a unique niche for itself. It is the alma mater of a phenomenally large number of eminent women who have not just excelled themselves in diverse professions but reached the pinnacle of success. They have been decorated with the highest awards in the country in their chosen fields of activity.
Padma Awards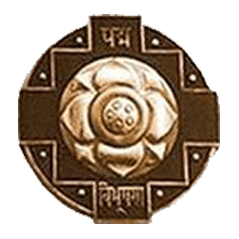 The Padma Awards are one of the highest civilian honours of India announced annually on the eve of Republic Day. These Awards are given in three categories: Padma Vibhushan (for exceptional and distinguished service), Padma Bhushan (distinguished service of higher order) and Padma Shri (distinguished service). The award seeks to recognize achievements in all fields of activities or disciplines where an element of public service is involved
Anita Desai Padma Bhushan 2014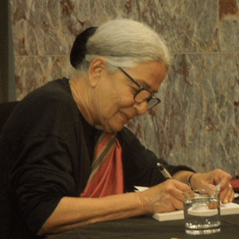 Anita Desai received her B.A. in English literature in 1957 from Miranda House. She is a novelist and the Emerita John E. Burchard Professor of Humanities at the Massachusetts Institute of Technology. She has been shortlisted thrice for the Booker Prize for Fiction (1980, 1984, 1999); and is recipient of Sahitya Akademi Award (1978), Winifred Holtby Memorial Prize (1978); British Guardian's Children Fiction Prize (1983); Neil Gunn Prize (1993); Alberto Moravia Prize for Literature (Italy, 2000); Benson Medal of Royal Society of Literature (2003); Sahitya Akademi Fellowship (2007). In 1993, her novel In Custody was adapted by Merchant Ivory into an English film by the same name, directed by Ismail Merchant starring Shashi Kapoor, Shabana Azmi and Om Puri. It won the 1994 President of India Gold Medal for Best Picture.
Mira Nair Padma Bhushan 2012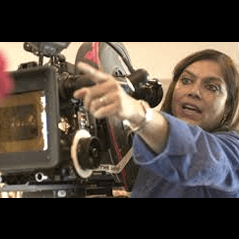 Mira Nair majored in Sociology from Miranda House. She is a widely acclaimed and much celebrated Indian American Film Maker based in New York. Her production company Mirabai Films has produced much acclaimed films such as Missisipi Masala, The Namesake, Monsoon Wedding which won the Golden Lion; and Salaam Bombay which was nominated for the Academy Award for Best Foreign Language Film. She shot portions of the film Reluctant Fundamentalist at Miranda House in 2012. Committed to social causes, she set up the Salam Balak Trust to work with street children in India in 1998. She was awarded the India Abroad Person of the Year in 2007.
Urvashi Butalia Padma Shri 2011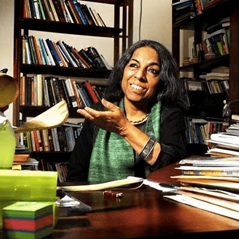 Urvashi graduated in English Literature from Miranda House in 1971. She co-founded Kali for Women, India's first exclusively feminist publishing house in 1984 with Ritu Menon, fellow Mirandian. This aimed to give a voice to women in the third world and provide a forum for creative expression to women writers. In 2003, she started Zuban Books, publishing fiction, general interest books and children's titles in addition to feminist books. She is herself author of seven books, amongst them, the much acclaimed work The Other Side of Silence: Voices from the Partition of India which is used as a text in many universities.
Ritu Menon Padma Shri 2011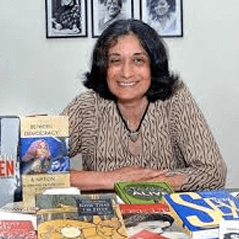 Ritu graduated with a degree in English Literature from Miranda House in 1971. She co-founded Feminisit Publishing House Kali for Women with Urvashi Butalia in 1984. The two parted company in 2003 wen Ritu independently founded Women Unlimited, another feminist publishing house. An author and social activist of repute, she has to her credit several books and articles focusing on violence against women, women in situations of armed conflict, muslim women, gendering of citizenship, and gender divide across society. She is known for her long standing association with the South Asian Women's movement.
Shyamala Pappu Padma Shri 2009 Shyamala Pappu studied at Miranda House and was a member of the Students Union. A legal luminary and a senior counsel at the Supreme Court, she served on the Law Commission of India, the Bar Association of India and the Independent Commission on Development and Health in India. In her distinguished career, she made notable contributions to development of jurisprudence in Supreme Court. A Central Government Counsel in 1975 and a champion of women's rights, she drafted the Amendment of Divorce by mutual consent where there is irretrievable breakdown of marriage. She served on the Governing Council of Miranda House during 1973-74. She passed away on 7 September 2016.
Bina Agarwal Padma Shri 2008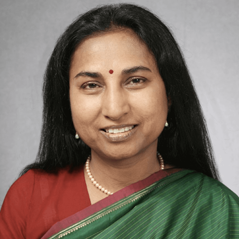 Bina Agarwal studied Economics at Miranda House, graduating in 1973. She is Professor of Development Economics and Environment at the University of Manchester, UK. Prior to this, she was Director and Professor of Economics at the Institute of Economic Growth, Delhi University. Educated at the Universities of Cambridge and Delhi, she has held distinguished positions at many universities, including Harvard, Princeton, Michigan, Minnesota, and the New York University School of Law. Her research has a particular focus on the most disadvantaged and publications include nine books and 80 professional papers on subjects such as property, land rights and livelihoods; environmental governance, sustainable development and collective action; agriculture, technological change, food security and rural transformation; the political economy of gender; poverty and inequality; and legal change. Among her best known works is A Field of One's Own: Gender and Land Rights in South Asia (Cambridge University Press, 1994) which was awarded the A.K. Coomaraswamy Book Prize 1996; the Edgar Graham Book Prize 1996; and the K. H. Batheja Award 1996. In 2002 she received the Malcolm Adhiseshiah award for distinguished contributions to Development Studies, and in 2005 the Ramesh Chandra award for 'outstanding contributions to agricultural economics'. Her latest book, Gender and Green Governance (Oxford University Press 2010), Agarwal explores the impact of women's presence on forest governance and conservation. In 2010, she received the Leontief Prize from Tufts University 'for advancing the frontiers of economic thought.'
Syeda Hameed Padma Shri 2007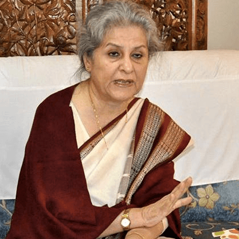 Sayeeda Saiyidain Hameed graduated from Miranda House in 1963. She went on to acquire her doctoral degree in 1972 from University of Alberta, Canada, where she continued to work till her return to India in 1984. She is known as a social and women's rights activist and former member of Planning Commission where the Steering Committee of the Commission on Health (2002-2015). She is former member of National Commission for Women; and founder trustee of Women's Initiative for Peace in South Asia (WIPSA); Centre for Dialogue and Reconciliation; and South Asians for Human Rights organizations that promote peace through dialogue and discourse. Sayeeda has authored several books, including works of fiction.
Anjolie Ela Menon Padma Shri 2000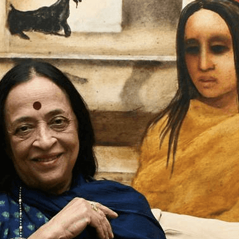 Anjolie Ela Menon is counted amongst the top artists in the country. She graduated with Honours in English Literature from Miranda House. She was already holding exhibitions while a student. She was awarded a coveted French Government scholarship to study at the Ecole des Beaux Arts in Paris from 1959 to 1961. She is also a muralist and has represented India at several international art events. She was conferred Life Time Achievement Award in 2013 by Government of NCT of Delhi.
Shobha Deepak Singh Padma Shri 1999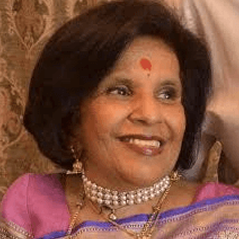 Shobha graduated with Honours in Economics in 1963. She began her career as management trainee in her father Charat Ram's company Delhi Cloth Mills (DCM). In 1967 she joined the Shri Ram Bhartiya Kala Kendra, founded by her mother Sumitra Charat Ram. This cultural organization is devoted to promoting music and performing arts through its schools and stage shows. She is herself accomplished in music, dance and theatre having trained under maestros. She is also an accomplished photographer and an author.
Shovana Narayan Padma Shri 1992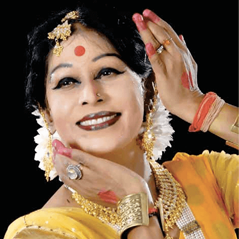 Shovana studied Physics at Miranda House graduating with a Masters degree in 1971. Having trained with Pandit Birju Maharaj, she is today renowned as a Kathak dancer, choreographer, mentor and guru with her own dance school. Promoting performing arts, she organizes the LalitArpan festival for young torchbearers, and Asavari Festival featuring maestros. She is known for her creative choreography and collaborative work with leading national and international performers of other dance forms. Deeply committed to social causes, she is recognized as a pioneer and a role model who has successfully managed two parallel careers. She worked as a career officer for the Indian Audit & Accounts Services, retiring in 2010. She obtained an M.Phil. in Defence and Strategic Studies from University of Madras in 2008 and M.Phil. Social Sciences in 2001 from Punjab University. She has authored several books. Shovana is married to career diplomat, Dr. Herbert Traxl, now retired, who served as Austrian Ambassador to India. Amongst other prestigious awards, she has received the Sangeet Natak Akademi Award, the Rajiv Gandhi Puraskar, Indira Priyadarshini Award and Japan's Oisca Award.
Dr. Mithu Alur nee Bose Padma Shri 1989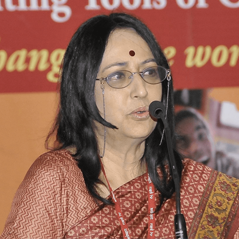 Mithu Alur nee Bose graduated in English Literature in 1963. Her daughter Malini Chib was diagnosed with cerebral palsy. Finding there was no proper schooling for children with disability, she trained as a teacher in the field of special education at Institute of Education, University of London. In 1972 she established the Spastic Society of India that has done pioneering work on teacher training, vocational training of young adults with cerebral palsy, autism, mental retardation, multiple disabilities and learning disabilities. In 1998 she gained a Ph.D. in the area. In 1999 she established the National Resource Centre for Inclusion, advocating inclusive education. The Spastic Society is now called ADAPT (Able Disable All People Together). In 2003 she became the first recipient of Martha Forest Rose Quartz Warrior Award, Canada.