The Miranda House Library was established on 7th March 1948 and the first book was accessioned on 22nd July 1948. The foundation stone of the present building was laid by Smt. Indira Gandhi, then Prime Minister of India on 7th March 1973. The Miranda House Library preserves and provides access to a rich and enduring source of knowledge to inform, inspire and engage its users in their intellectual and creative endeavors by the well-known motto "Right Document to the Right Reader at the Right Time". It takes pride in fulfilling this inherent mission to the hilt.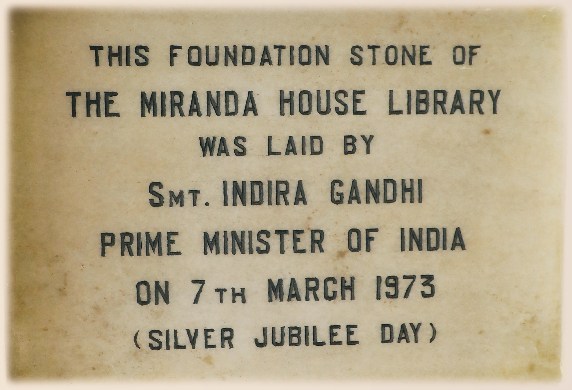 The Miranda House library supports the teaching, research, and extension programmes of the college. The college maintains a rich collection that is open to all students, faculty members, and staff. There is a well-equipped Reading Room, which subscribes to Newspapers, weeklies, magazines, journals, etc. The library is an integral part of the academic setup of the college, the major aim of which is to acquire, collect and organize books and other allied reading materials for use by students and faculty members and thus to support the teaching Programme of the college. Presently the library has a collection of more than 1,06,000 resource materials. It caters to the needs of more than 6000 students at undergraduate and postgraduate levels. The library is well equipped with all the modern facilities and resources (print and electronic). A student becomes a member of the library automatically after taking admission to the College.
Over the past decade, the library has undergone renovation with great care to provide a bright and appealing ambience suffused with natural light. Technologically modern, well-stocked, well-equipped, user friendly and it serves effectively its purpose as a Knowledge Resource Centre. Miranda House Library uses QR code technology for the students to access the library holdings around the campus. It also uses a digital footfall counter installed near the property counter.
Miranda House library is spread over three levels, it has 6 special sections, (I) Textbook; (ii) General Books; (iii) Reference Tools; (iv) Reserves; (v) Periodicals; and (vi) Braille Books.
It introduced state-of-art automation of services with the procurement of LIBSYS LSEase LMS package in 2001. Since then, it has followed technology enhancement as a continuous process. Recently Web-Centric OPAC has been installed. OPAC access is through 6 terminals and three touch Information Kiosks. The library has two Digital Resource Centers (DRC). The first DRC has 30 computers for all users to access e-resources; it also has an LCD Projector and the area can be used for orientation and training programs. The second is the Amba Dalmia Digital Resource Centre for Visually Challenged (ADDRC).