Miranda House is the only women college which has been offering Bengali as an Honours as well as B.A Programme course in Delhi University since 1961. Miranda House has been sustaining the rich heritage of Bengali studies over the years. The Bengali section of the Miranda House library is one of the best resources of Delhi University. We offer B.A. Hons. & B.A. Prog. Bengali as a language and discipline subject, in combination with other subjects. Our present faculty strength is three.
Teaching-Learning
We teach Bengali to the non-native students across the stream. We provide them with digital resources catering to the prescribed syllabus and encourage students towards comparative study between cinema & literature. The department organizes screening of movies or documentaries related to seminar topics every year. We often try to showcase text related novels, which are digitally available as movies to our students for better understanding.
Recently we have introduced Dalit Literature and Bangladesh Literature into our syllabus to provide a better overview of our literature from a global perspective. Comparative studies both of colonial and post-colonial structure is very important theme in our course. We study cross border literature through our programme called "breaking boundaries".
We invest strongly to develop a multilingual unity between the students and the teachers. Bengali Department provides a multilingual platform where students can perform and showcase their talents. In our department we try to provide our students with as much exposure as possible through various assignments for better understanding of the critical analysis of feminism and patriarchy in our society. For example, through initiatives like collecting women literacy data of a specific locality we try providing students with a clear overview of women literacy in practical sense.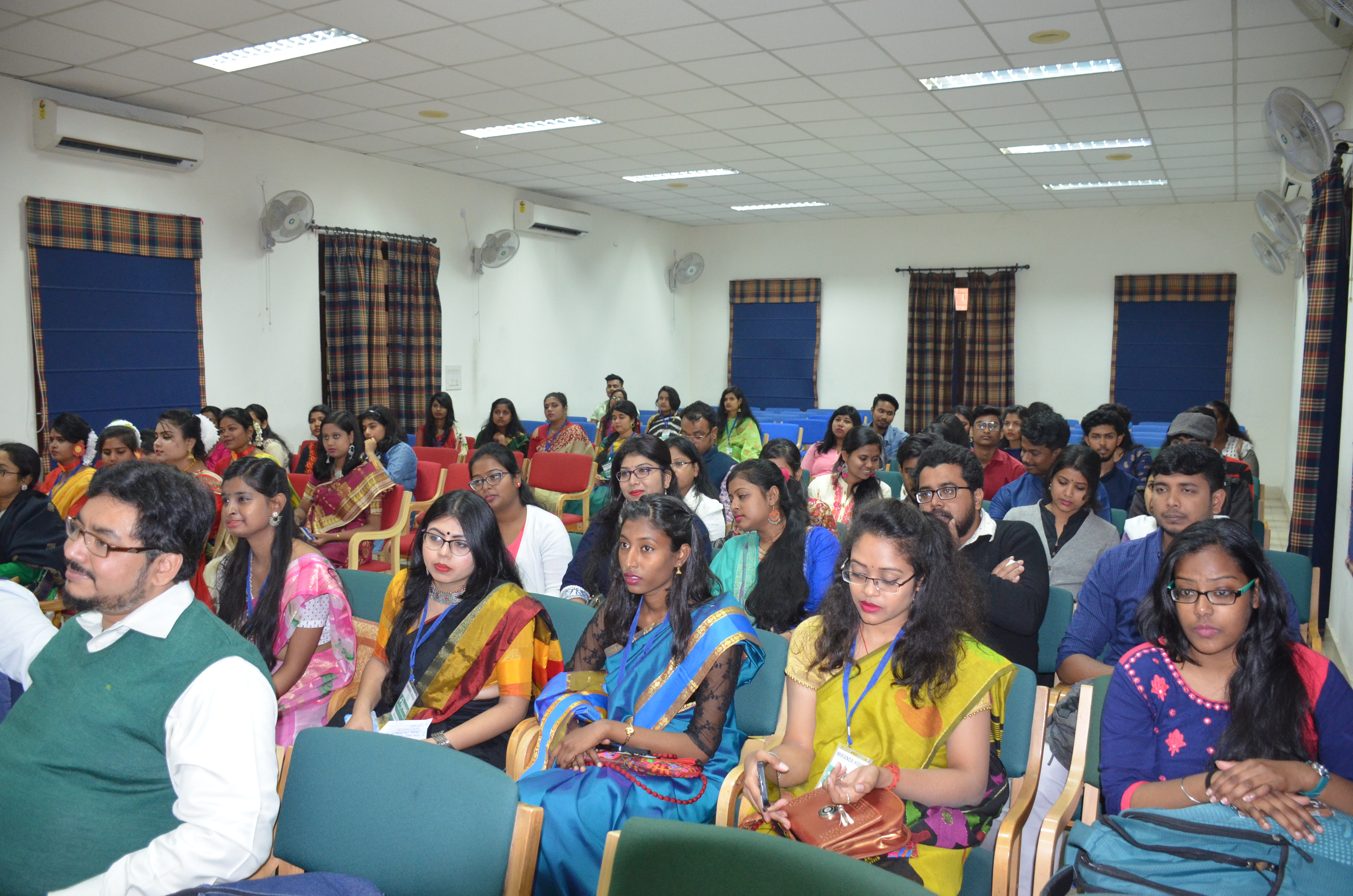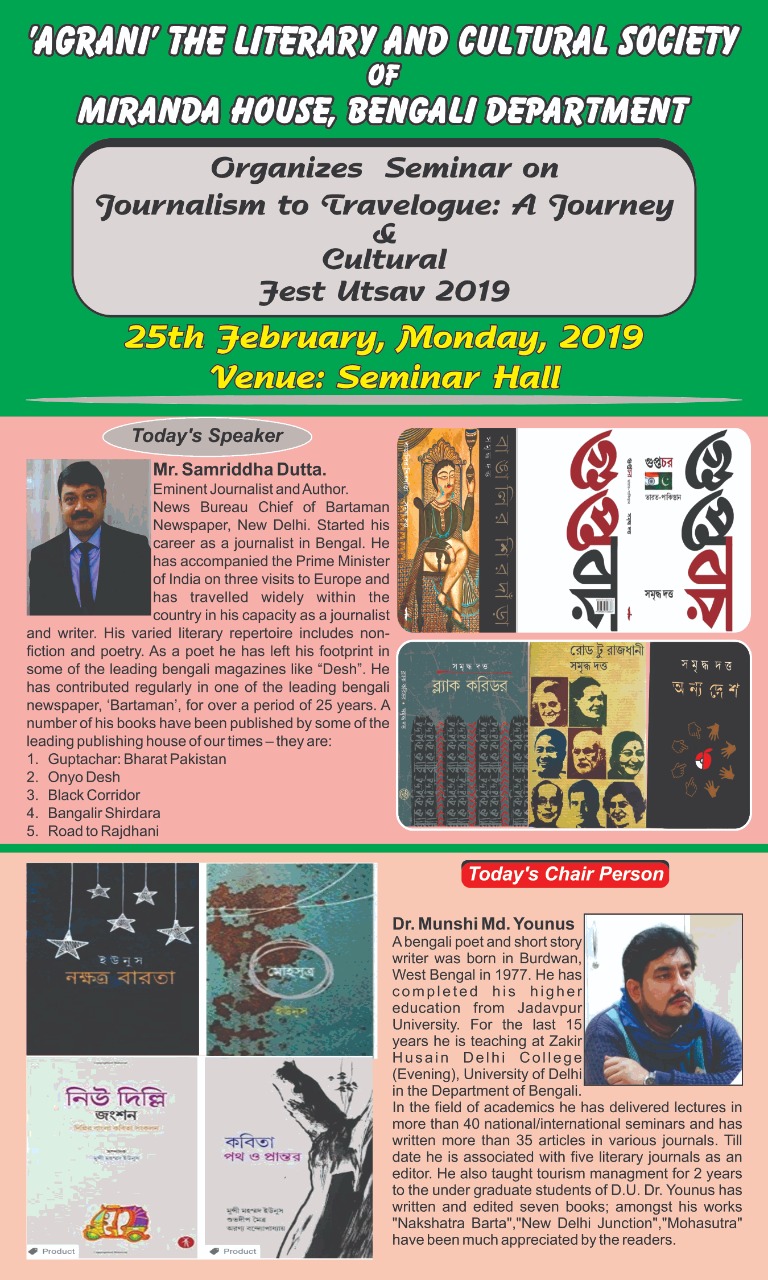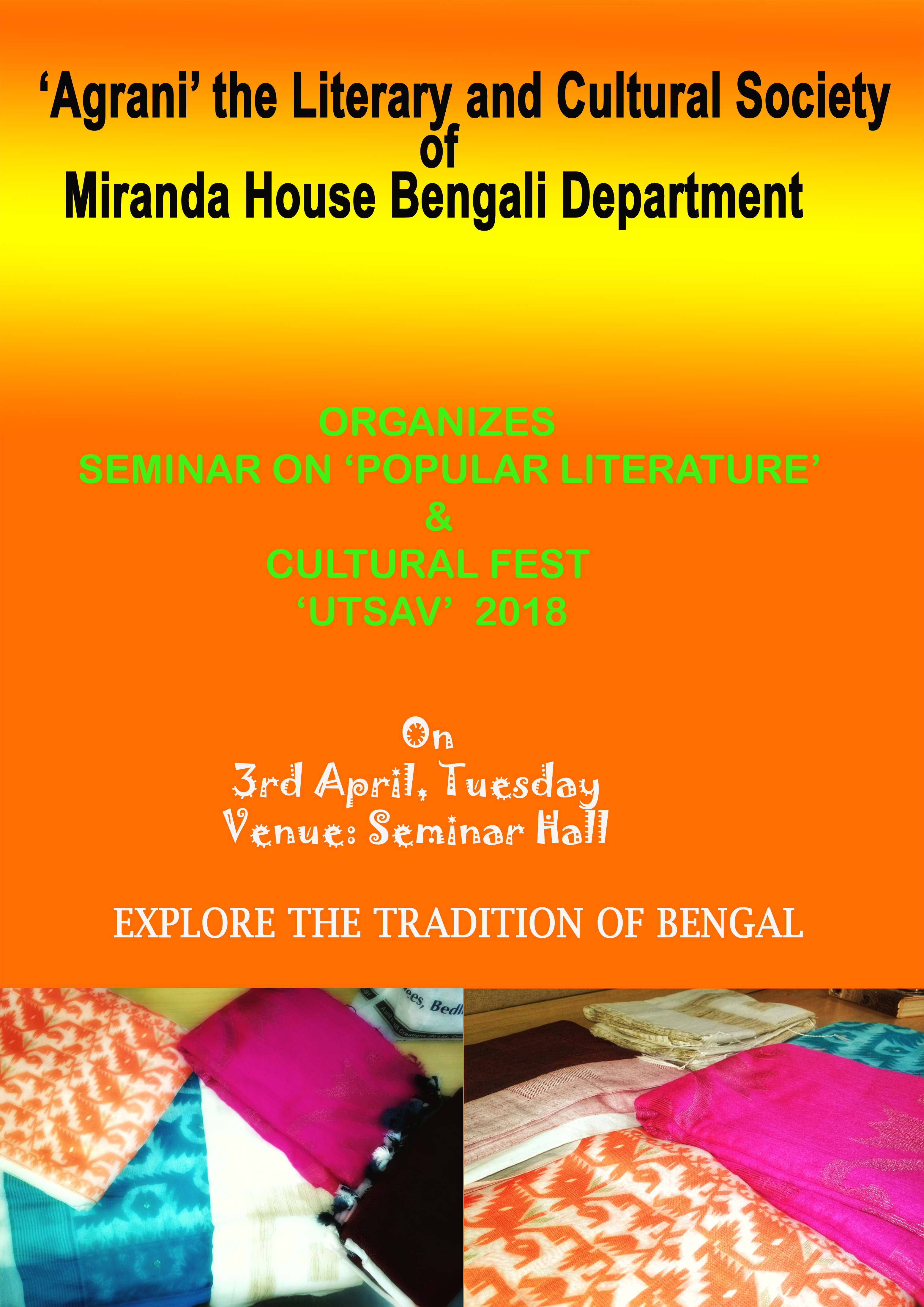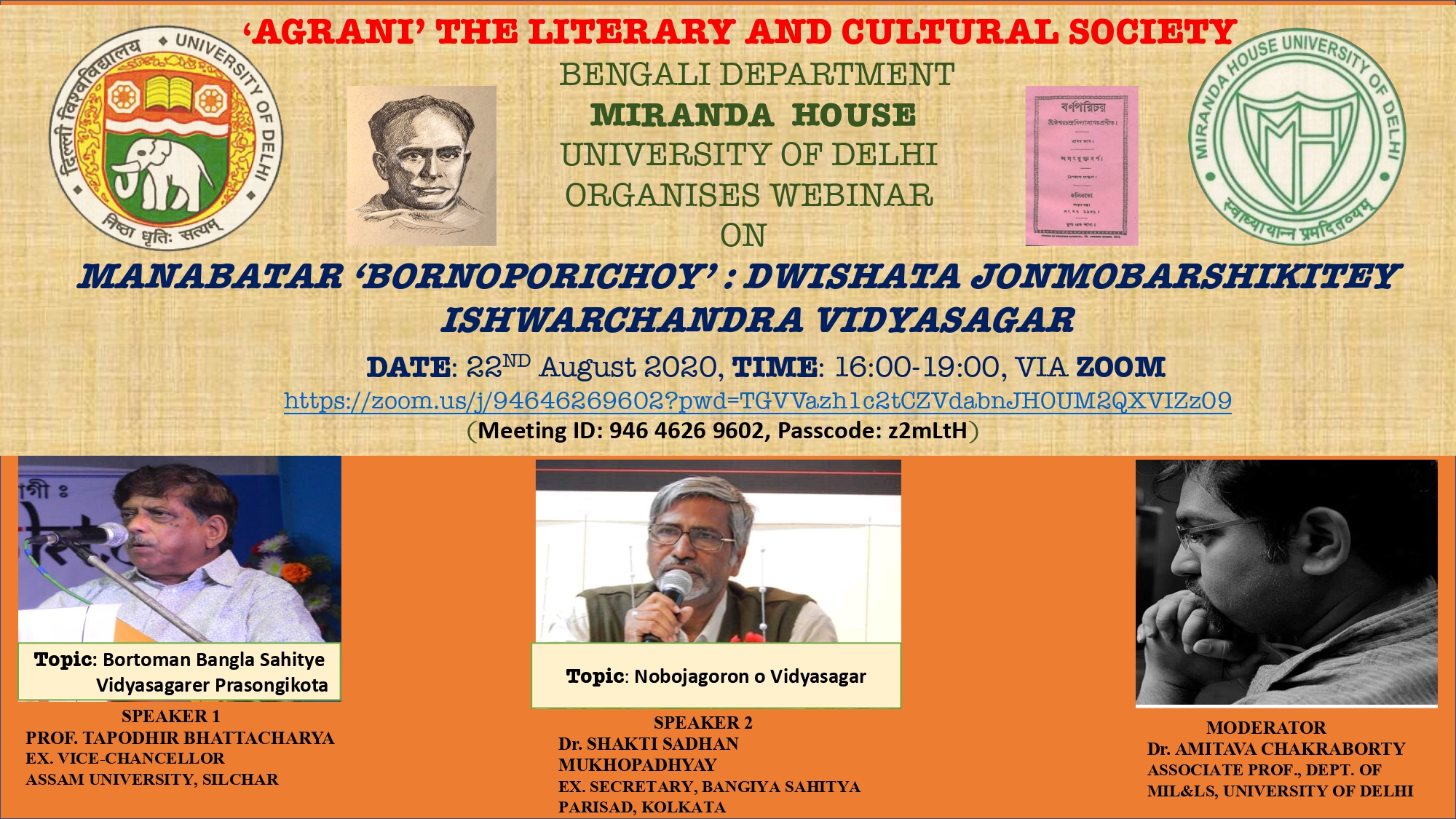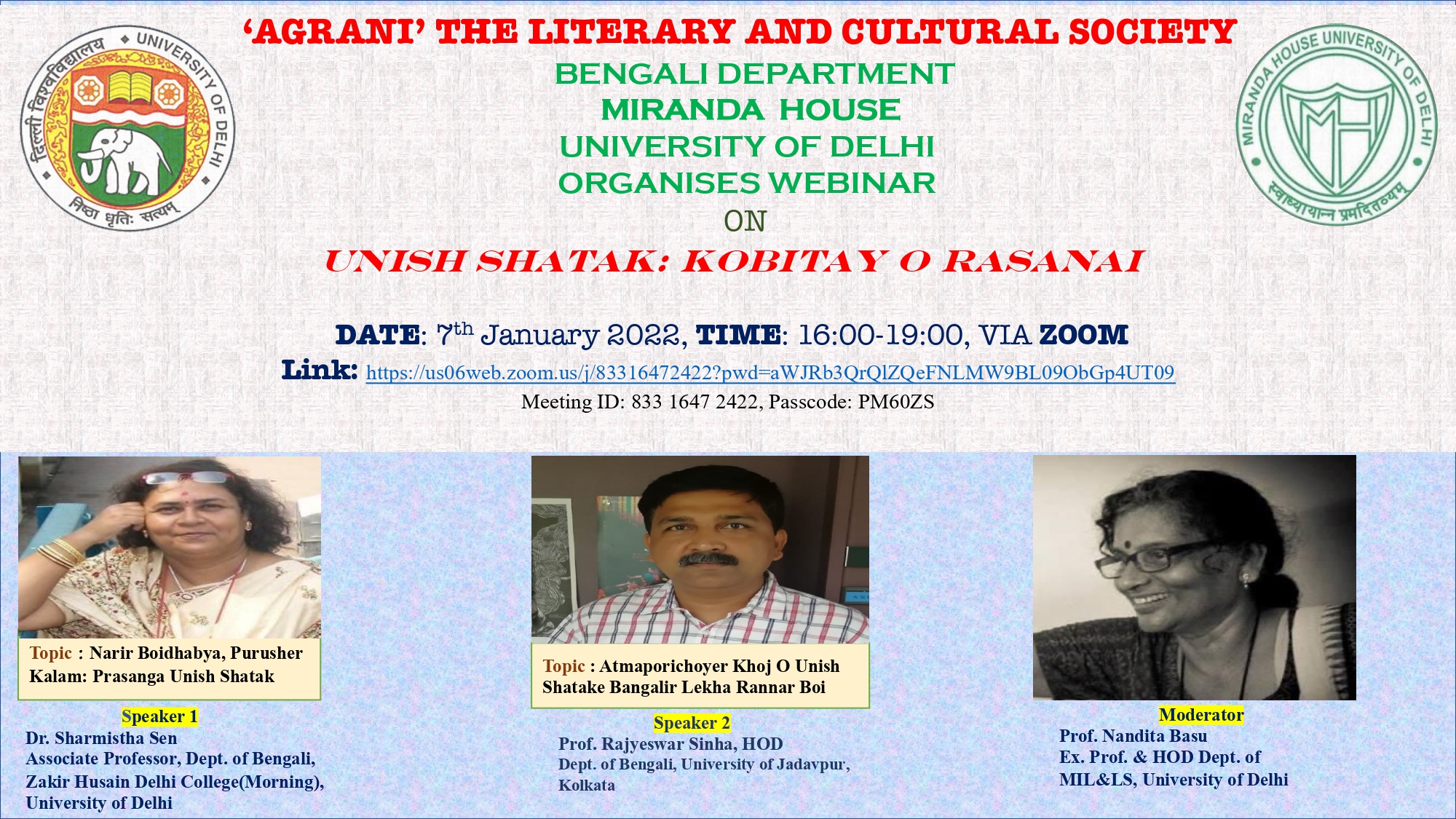 Capacity Building
The department has a strong cultural wing named 'AGRANI'. Throughout the year they perform dance, drama, recitations and songs. They participate in Inter-college Competitions and win prizes every year. Agrani is also attached to Bengal Association, a society active amongst expatriate Bengalis.
We organize workshops from time to time to upgrade the faculty on the changes to syllabi. Project based assignments are allocated to students to improve their inter-personal skills.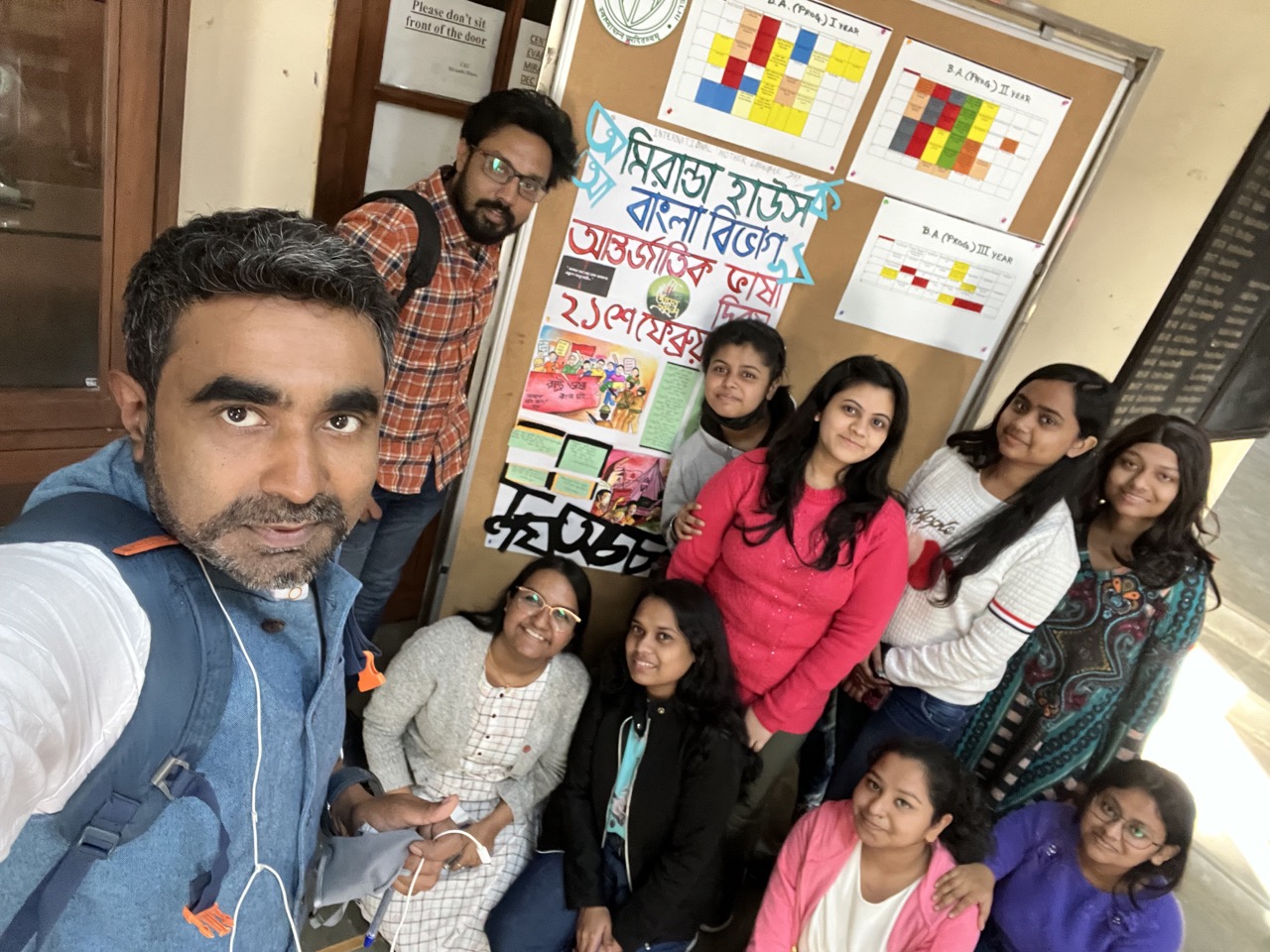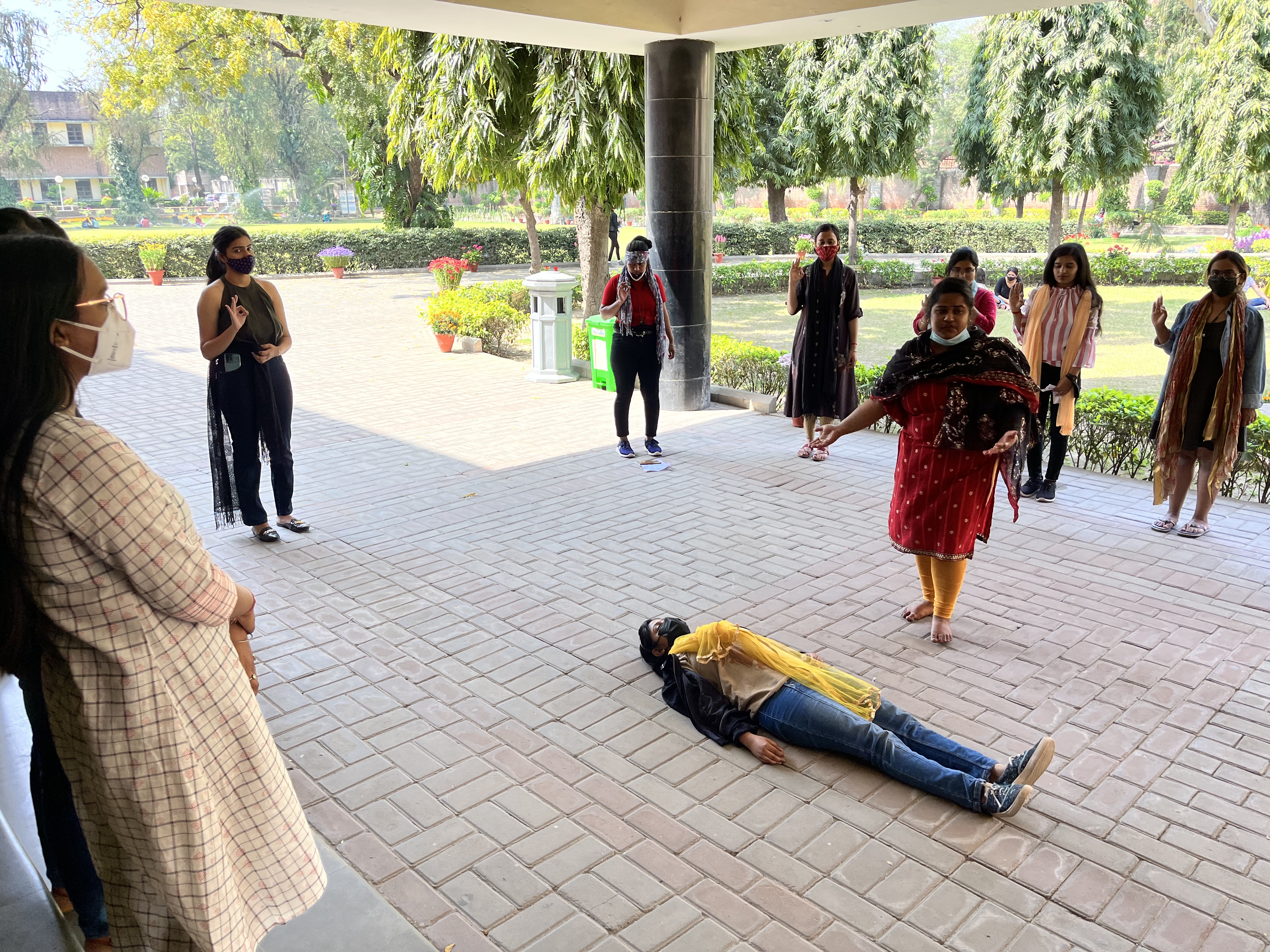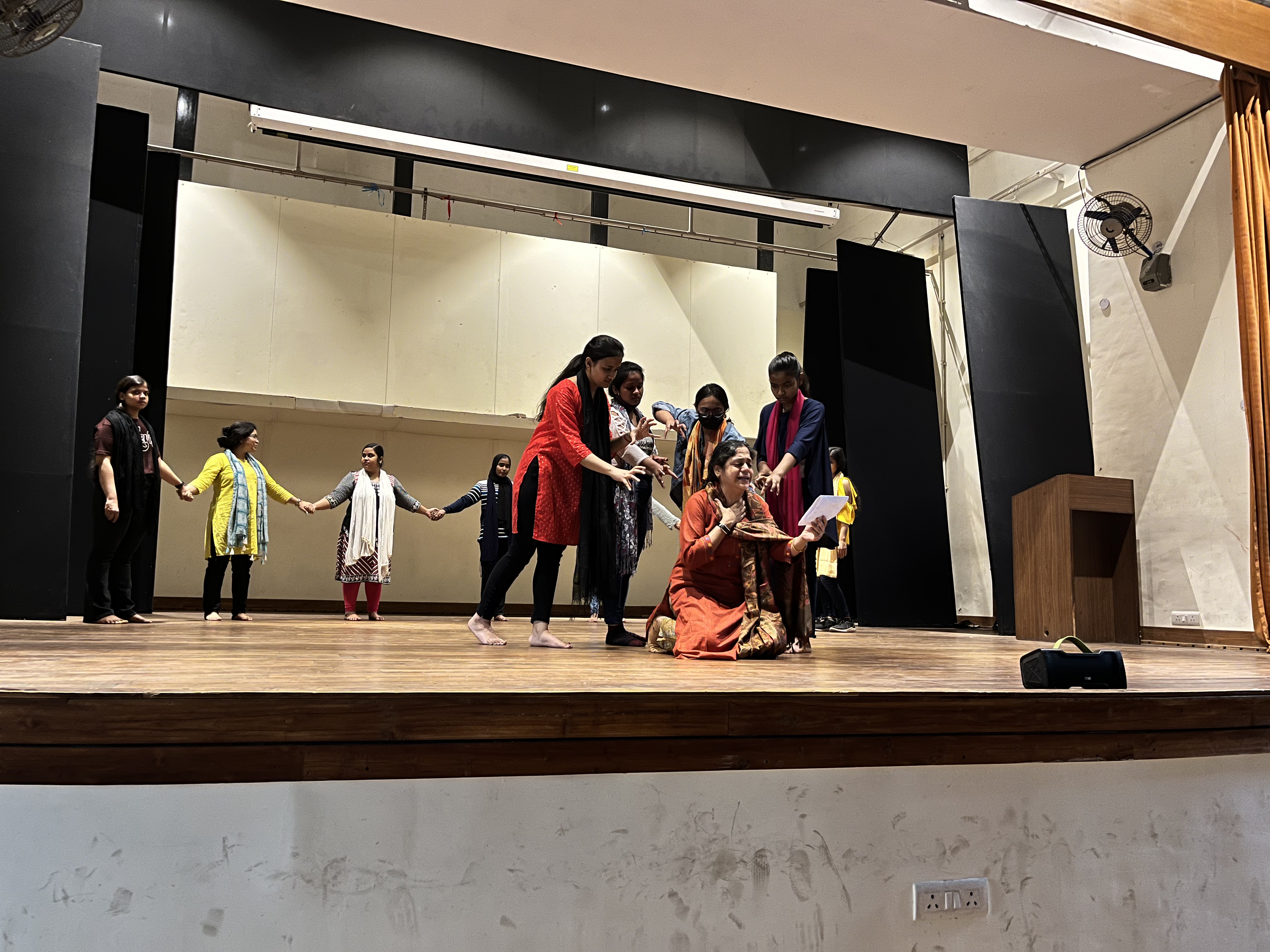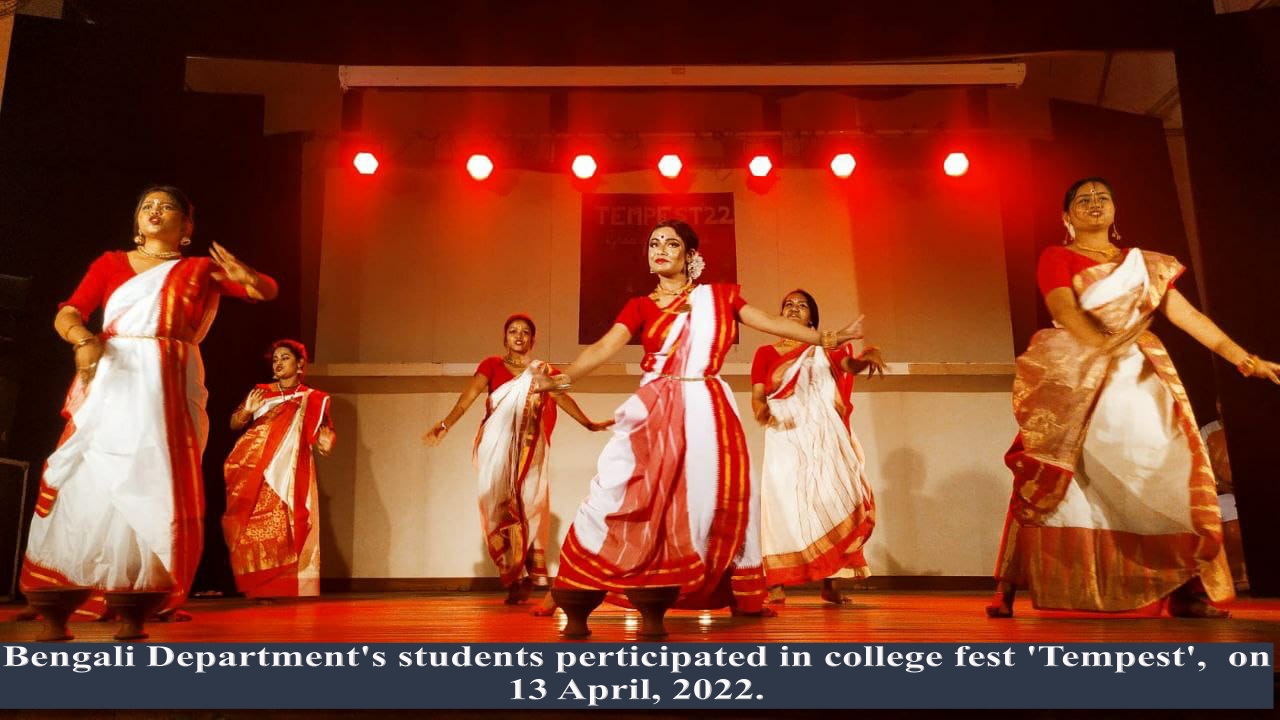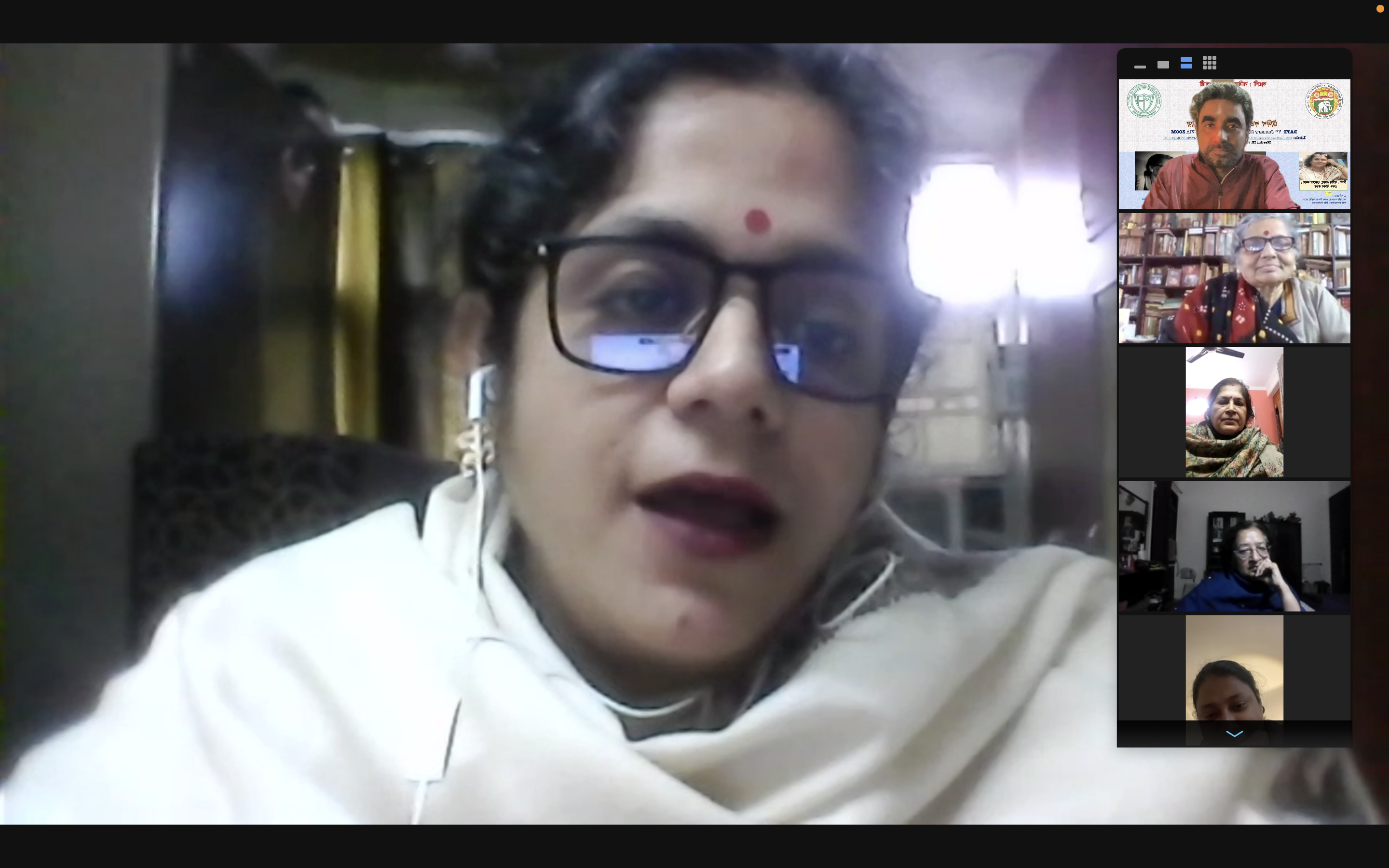 Student Progression
SUSMITA MANNA  BENGALI (Hons.) 2017.  2nd (University of Delhi)

NEELANJANA PAUL,  BENGALI (Hons.) 2018. 1st (University of Delhi)

SUDIPA MAITY,  BENGALI (Hons.). 2018.  2nd (University of Delhi)

ROBINA KANRA,  BENGALI (Hons.) 2019. 2nd (University of Delhi)

DIPA HALDAR,  M.A. (BENGALI) 2019. 1st (University of Delhi)

PREETILATA PATI,  BENGALI (Hons.) 2020. 2nd (University of Delhi)

SUDIPA MAITY,  M.A.(BENGALI). 2020.  1st (University of Delhi)

PRATIKSHA ROY,  M.A.(BENGALI), 2020.  2nd (University of Delhi)

PRIYANKA GHOSH,  BENGALI (Hons.)  2021.  1st (University of Delhi)

OISHIKI BERA,  M.A.(BENGALI). 2021.  2nd (University of Delhi)

SREYA GHOSH, BENGALI(Hons.). 2022, 1st (University of Delhi)

ANUSREE SASMAL, BENGALI(Hons.). 2022, 2nd (University of Delhi)
Students and Research
Results
Faculty Achievements
We have different specialization amongst our faculties like poetry, film and drama.
Our faculties have been actively involved with the syllabus making of CBCS, LOCF and NEP. Their academic papers have been published in various magazines and research journals.
They are associated with the Bengal Association and Bangla Academy at New Delhi. They are the members of executive committee. One of them is the convener of our literature wings.
They have been taking initiative to develop a language laboratory where exchange of literature and culture of all other regional languages could held.
Along with that they are ready to start an add-on course on language learning. Proposed Course Structure will have Introductory Bengali, Intermediate Bengali and Advanced Bengali.
They have various papers presentation in both National and International Conferences over the years to their merit.
Actively involved with the research Work of renounced artist Mr. Jatin Das and published article on that topic in magazine.