"Whoever teaches learns in the act of teaching, and whoever learns teaches in the act of learning."
— Paulo Freire
'Pedagogy of Freedom: Ethics, Democracy and Civil Courage'
The higher education system of India has grown remarkably in the post-independence era and it is now the largest system of its kind in the world. With a large number of students knocking at the doors of higher education institutions of the country, the need for quality and equity in education cannot be ignored any more. For a long time, the University system of India confined itself to preparing teachers for secondary and higher secondary level. A short-term certificate or diploma course was considered enough for a primary teacher! The district-level institutions assigned for preparing primary teachers were poorly staffed and ill-managed because there was an 'erroneous assumption' that the knowledge required for the education of the lower age groups at the pre-primary and elementary stage was of a 'lower order'. However, it is well established now that the study of elementary education has a due place in the knowledge system of university.
The journey so far (अब तक का सफ़र)
The B.El.Ed. Programme of the University of Delhi, approved by the National Council of Teacher Education https://ncte.gov.in/website/RecognizedInstitutionLists.aspx? cid=&stateid=VA7vcHXDDrb9Nk9RI4qDbw%3d%3d&state=DELHI&regionid=3, marked the beginning of a crucial change in this attitude by giving primary teaching its due place in the knowledge system of the University.
The B.El.Ed. Programme of the University of Delhi marked the beginning of a crucial change in this attitude by giving primary teaching its due place in the knowledge system of the University. Unlike the earlier teacher training courses which prepared unquestioning and meek teachers, the B.El.Ed Programme aimed to re-construct the view of knowledge by giving impetus to a critical understanding of curriculum, pedagogy, research and innovation. These are necessary for preparing teachers who can contribute in transforming school education.
The Programmne was a substantial fulfilment of Maulana Abul Kalam Azad's vision which he put forth in 1947 at the inauguration of the Central Institute of Education (CIE), University of Delhi. Later, Kothari Commission (1964-66) made recommendations in this direction when it pointed out the need for teacher education to be "…brought into the mainstream of academic life of the Universities on one hand and of school life and educational development on the other" Decades later the need for pursuing general and professional education concurrently was reiterated by the Chattopadhyaya Committee Report of the National Commission on Teachers (1983-85). This committee also recommended a four-year integrated course for secondary as well as elementary education.
The formation of Maulana Azad Centre for Elementary and Social Education (MACESE) in 1990 was a significant step towards this idea and it was tasked with the design and implementation of a pre-service professional education programme at the Bachelor's level. After a rigorous study of demand and feasibility of such a course the B.El.Ed. Programme was launched in 1994 under MACESE.
National Curriculum Framework for Teacher Education (NCFTE) 2009 considers B.El.Ed as a model curriculum which has been widely disseminated across the country. In fact, many curricular reforms proposed by NCFTE 2009 are a result of their learnings from managing and institutionalizing the B.El.Ed. Programme at University of Delhi.
At Miranda House the Department of Elementary Education was established in 2006 with the launching of the B.El.Ed Programme. Thus, the department is one of the youngest departments of the college.
The Programme & the Curriculum (बी.एल.एड: कार्यक्रम और पाठ्यचर्या)
The Bachelor of Elementary Education (B.El.Ed.) is a four-year integrated multidisciplinary professional degree programme of Elementary Teacher Education, grounded in the belief that teachers prepared 'differently' can trigger a chain of desirable changes in the system, mandated to be taught in bilingual mode (English and Hindi). It is offered after class 12 or equivalent schooling. The contents of the programme were developed through an inter-disciplinary dialogue between a number of faculties from the University of Delhi, other Central Universities, and institutional support from many not-for-profit organizations engaged with education and children.
The course content of the programme allows students to engage with issues that are related to understanding themselves and others, understand the nature of child, the adult-child relationship within the classroom and contemporary Indian realities pertaining to historical, political, socio-cultural and economic issues. It also aims to foster critical thinking and enable student-teachers to evolve pedagogy that is responsive to learner needs (B.El.Ed Programme of Study, 2001 Create hyperlink for the handbook and insert the front cover image). The four-year duration of the course is considered as one of its major strengths. It provides student teachers a critical psychological space to explore and outline their own approaches to educational issues as they are in regular contact with the schools over the four years. The vision of the programme is to integrate subject knowledge with human development, pedagogical theory and classroom practice.
With the B.El.Ed curriculum comprising of theory papers, colloquia papers and practicum papers, the programme puts a lot of emphasis on experiential learning. This is reflected in the nature of most of the papers as well as in the kind of pedagogy adopted across the papers. The programme provides 'student-teachers' opportunities to engage with theoretical concepts within the larger context of their own experiences and social reality. The courses are positioned in a manner to facilitate easy movement between theory and field experience. The vision of the programme is to integrate subject knowledge with human development, pedagogical theory and classroom practice.
Teaching-Learning (सीखना-सिखाना)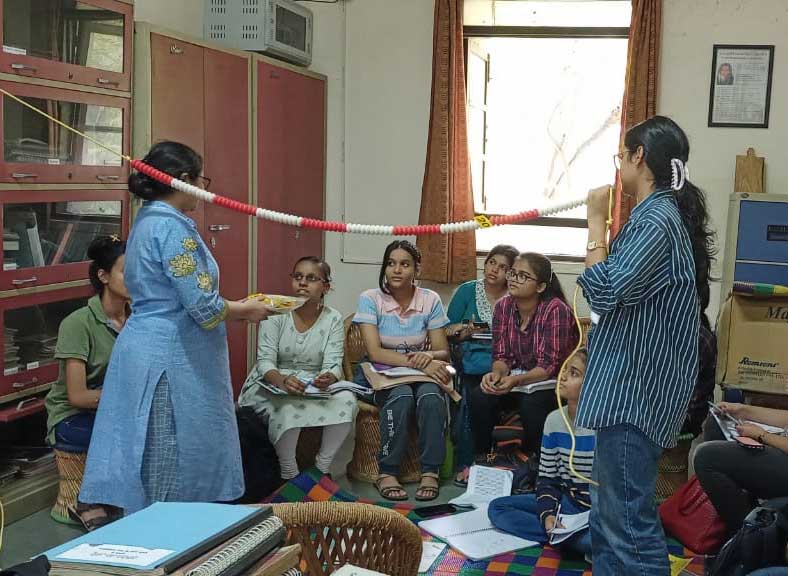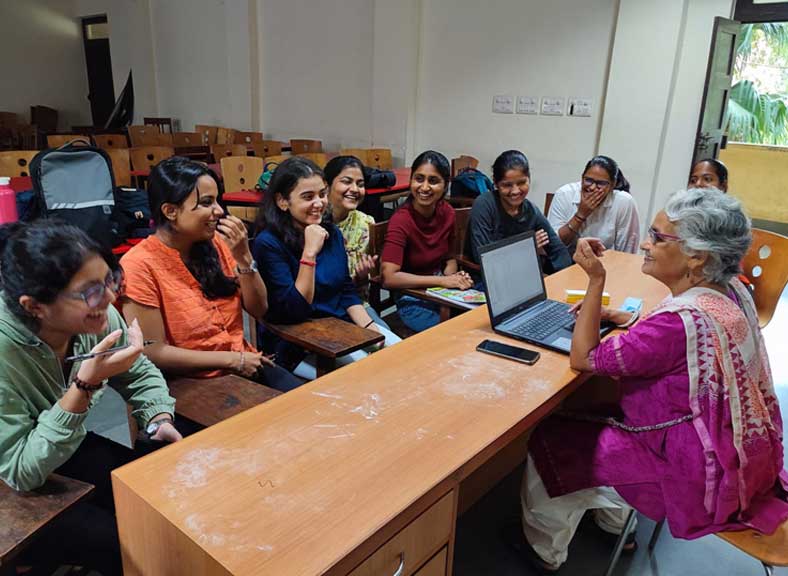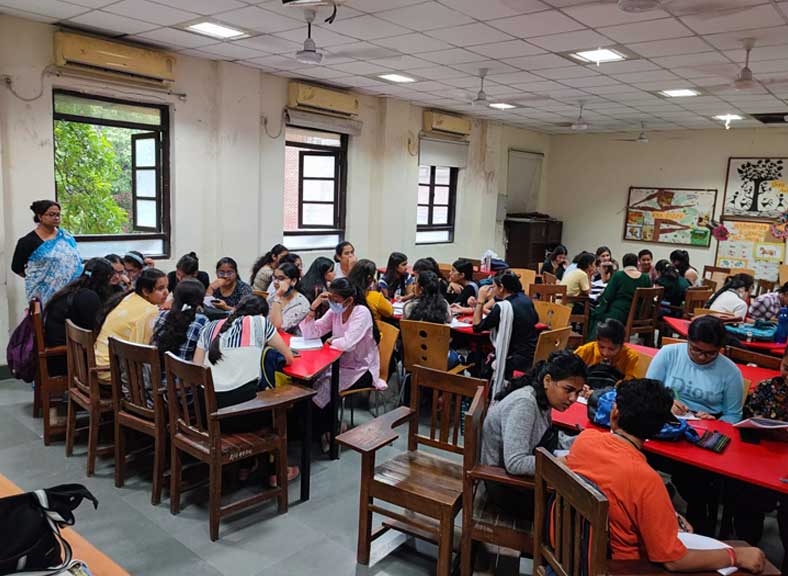 The critical and engaged pedagogy adopted in the class encourages students to reflect, question and participate in the teaching-learning process in the class. In the B.El.Ed classes there is a constant effort to connect theory and pedagogy discussed in the class with the real life contexts of schools and society.
The curriculum is transacted through innovative teaching-learning methods encouraging active participation of the learners in the learning process. Project method, discussions, group tasks and cooperative learning are a regular feature of the teaching- learning process apart from lectures and written assignments. The teaching learning methods incorporate an inquiry approach. Use of ICT, E-learning resources, audio-visual aids, films, documentaries, journals and magazines related to themes of the course, experiences outside the classroom, field visits, workshops and seminars enrich the learning process. Students also get the opportunity to develop their self and their expressions through participation in theatre, art and craft, storytelling sessions and self-development workshops as a part of the curriculum. Teaching learning in all subjects provides opportunities to students to explore, question, critically analyze and reflect on various aspects of 'Education'.
Diverse resources (विविध संसाधन)
Students are constantly encouraged to develop creative and innovative teaching-learning resources. During the challenging times of the pandemic the students continued to engage with teaching-learning processes by using multi-modal resources. Amongst the variety of resources developed by students were digital story boards, YouTube channels, live worksheets, digital books power point presentations, audio-visual aids and many more. The students creatively used both synchronous and asynchronous platforms to conduct their classes.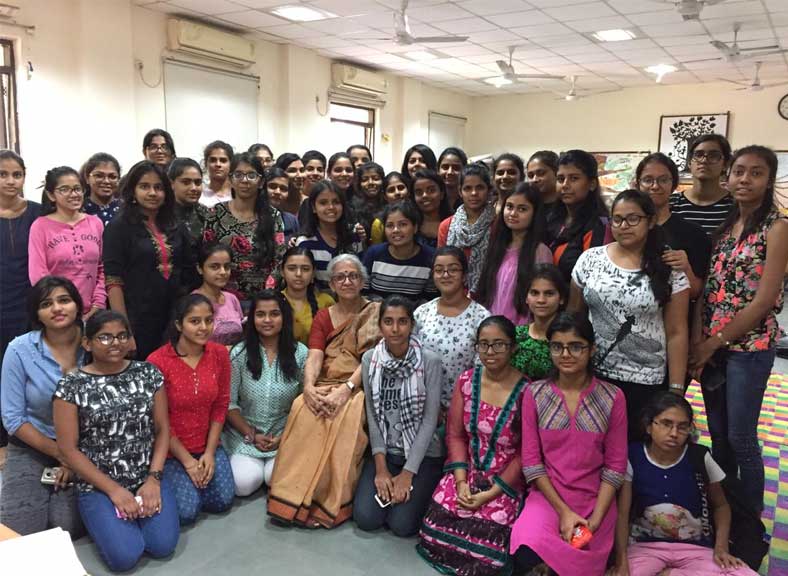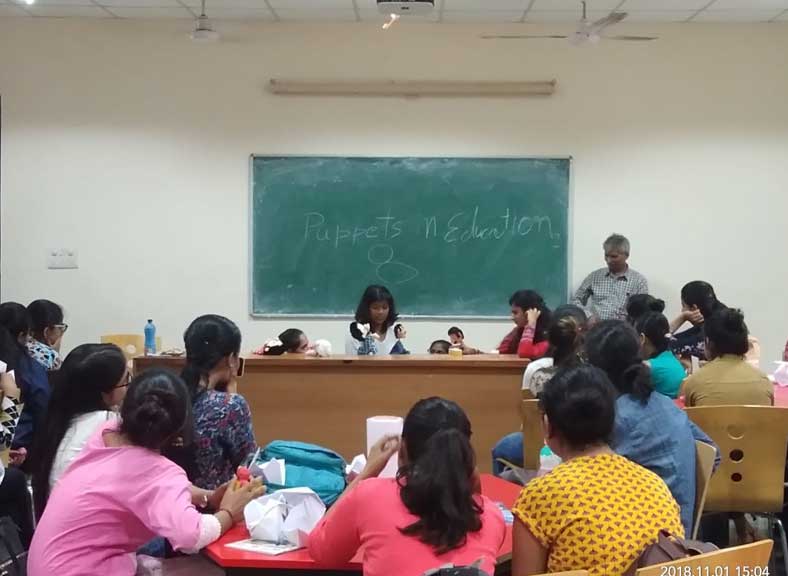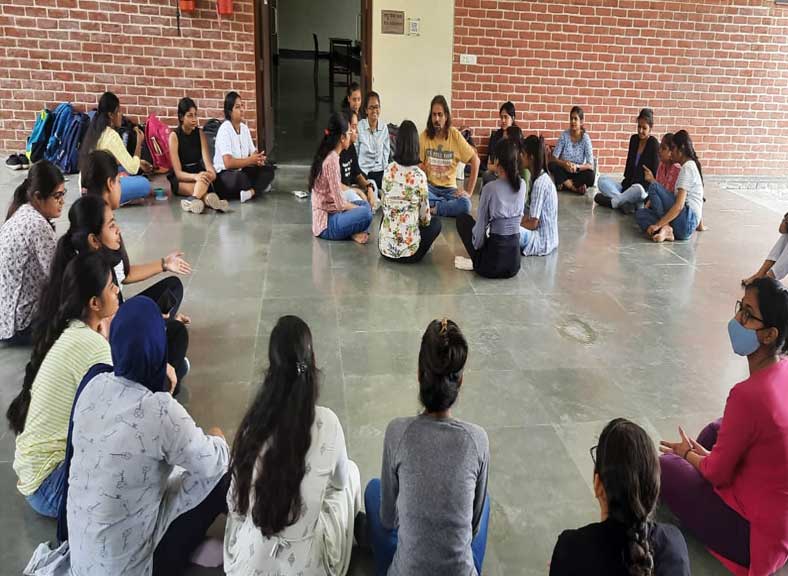 The language perspective (भाषाओं के प्रति नज़रिया)
The B.El.Ed. Programme takes cognisance of the fact that language is at the centre of entire educational enterprise at the level of school education and higher education. The importance of all languages and mother tongues is reflected in the B.El.Ed. Programme in theory as well as in practice, aligning with various past and present policy documents and other documents such as Kothari Commission report, Radhakrishnan Commission report, NPE (National Policy on Education) 1986, NCF (National Curriculum Framework) 2005, NEP 2020.
The programme as well as the department holds an inclusive outlook towards languages and culture. Besides the teaching in the classroom being done in a bilingual mode, the department believes in the equality of each and every mother tongue of India. It has been celebrating
Hindi Diwas as 'Bhartiya Bhashaayen Diwas' and International Mother Language Day (IMLD). Some of the faculty in the department has published in English as well as in Hindi. As a part of a theory paper, students are assigned the task of analysing various languages existing in the class and doing the language profiling of students, teachers and hostellers in the college.
In addition to this, the profile of the faculty and the students shows a lot of linguistic and regional diversity. This diversity, coupled with the language perspective of the programme, creates an inclusive classroom ethos which is essential for the teaching-learning process across disciplines.
Students' Expressions (दृश्य के आर-पार: छात्राओं की अभिव्यक्तियाँ)
In addition to theory papers, Colloquia and Practicum papers are the strength of the B.El.Ed Programme. Conducted in workshop mode by external resource persons, these papers create space for students to observe, reflect and express themselves. Over the year this has resulted in the compilation of their creative expressions in the form of poetry and prose. A collection of poetry titled "Har Cheez ek Jaadu Hai" second year students of B.El.Ed year was facilitated by the Ankur Society for Alternatives in Education, Delhi. Similarly, 'Khamosh Awaazen', 'Vidhwans sang Abhivynjana' and 'Ansuni Awazen' have been penned down by first year students during the workshops of 'Performing and Fine Arts'. In all these booklets, students have blended their memory and imagination with the experiences of the real world during the pandemic and in the phase before that.
Ilmagaah: The Resource Centre (इल्मगाह)
A well-stocked resource centre is an essential pedagogic facility of the B.El.Ed programme. The idea is to create a space for students and teachers to access different kinds of resources. Named as इल्मगाह (house of knowledge), the resource centre includes a variety of books, children's literature, school textbooks, policy documents, journals, children's magazines, films for children and others, audio-visual equipments, resource material for use in school etc. Student-teachers sit in the Ilmgaah and use these resources to strengthen their understanding on various issues related to education and development. Some of the colloquia and practicum classes involve looking up the resources and documents in the Ilmgaah during the class.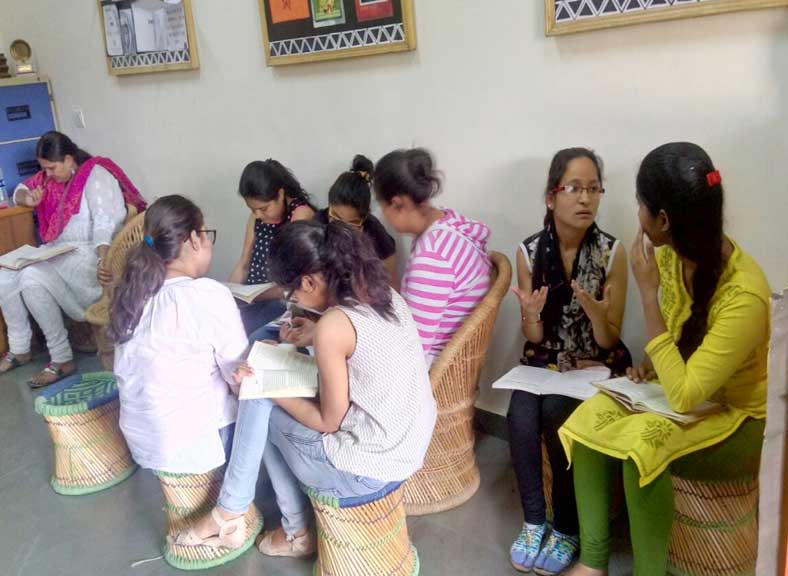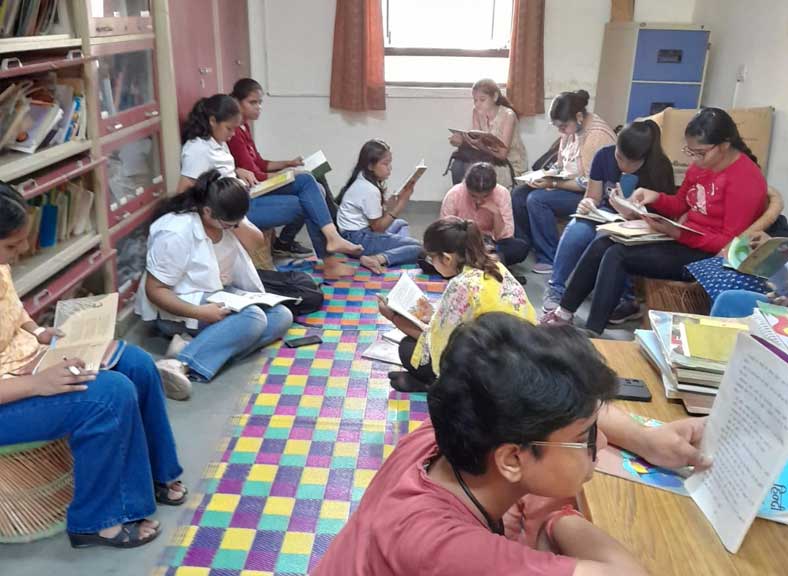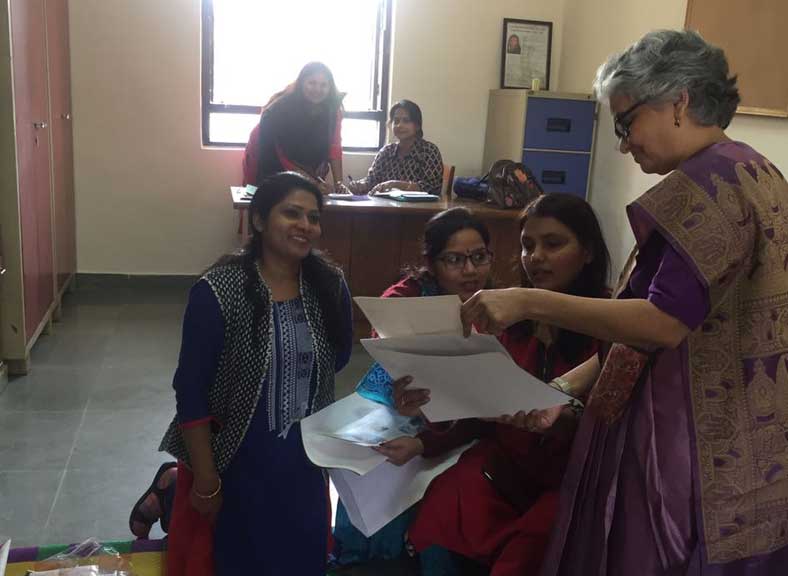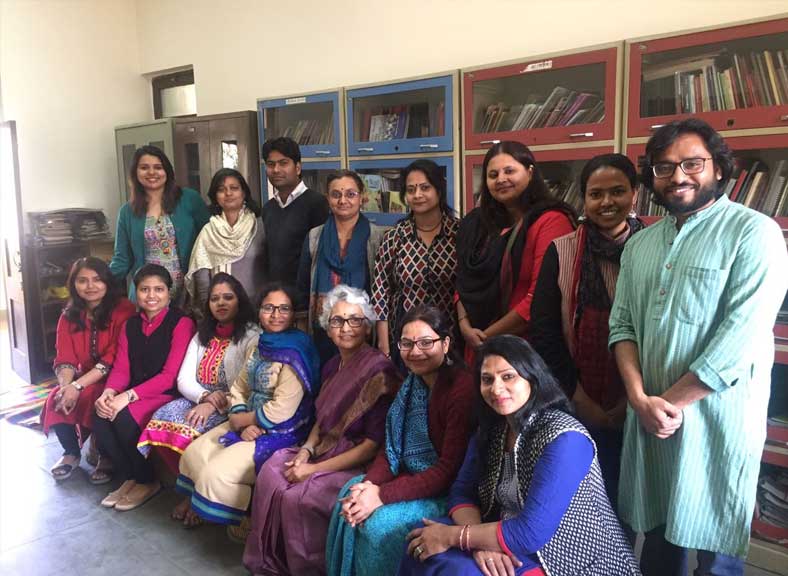 Capacity Building (क्षमता-वृद्धि)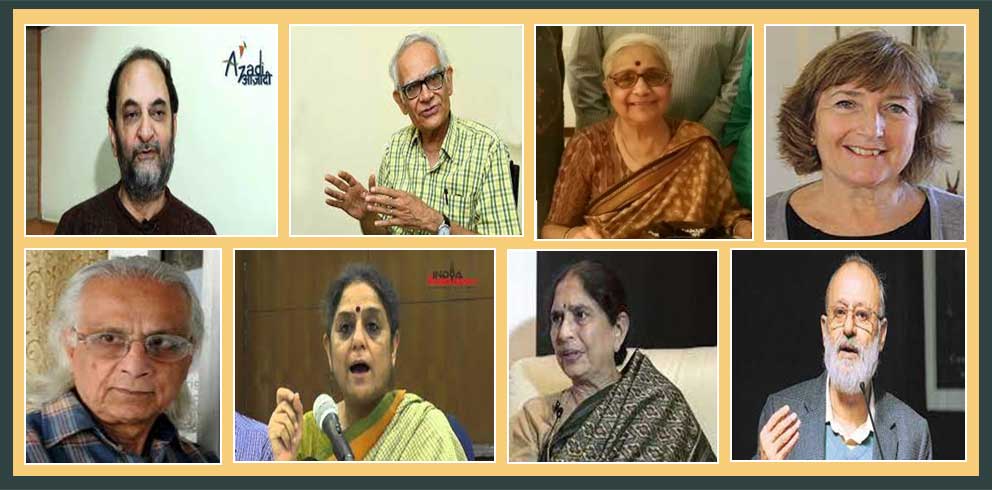 Learning in true sense of the term happens when it is supplemented with academic and experiential exposure beyond the curriculum and the classroom. And this helps in the capacity building of students which happens at three levels:
Expanding the boundaries of the curriculum, reading and discussion texts beyond the prescribed references is facilitated in the classrooms to get a holistic and deeper understanding of issues and concepts. Experts are invited in the class from time to time for Interactive sessions and workshops.
As a part of the academic enrichment of students, different kinds of programmes are organised by the department that include lectures, interactive sessions, panel discussions, film screening, workshops, performative readings, dastaangoi, street theatre, plays. The department invites eminent people from diverse fields working in the mainstream education system and alternative systems including the school teachers and cultural activists. Some of the invited people include Madeline Arnott, Krishna Kumar, Vinod Raina, Poonam Batra, Dunu Roy, Harsh Mandar, Shanta Sinha, Yogendra Yadav, Gauhar Raza, Anita Rampal, Apoorvanad, Ramakant Agnihotri.
Field visits are organised regularly for students to gain first hand experiences, and to help them make informed opinions about society and history. The idea is to put in practice the kind of pedagogy which are discussed in class. These experiences include visit to places such as Rashtrapati Bhawan Museum, Birla Bhawan (where Gandhi ji was assassinated) followed by discussion by experts or resource persons, slum settlements, National Science Centre, Science fair, Biodiversity Park and Centre for Innovation in Educational Technology, NCERT.
The faculty in the department encourages and guides students to go and work with organizations working in the field of education and development during summer and winter vacations. Now students voluntarily go for internships to organizations such as Eklavya Foundation (Bhopal), Vidya Bhawan Society (Udaipur), Sambhavana Institute of Public Policies (Palampur, Himachal Pradesh), sarkarischool.com etc.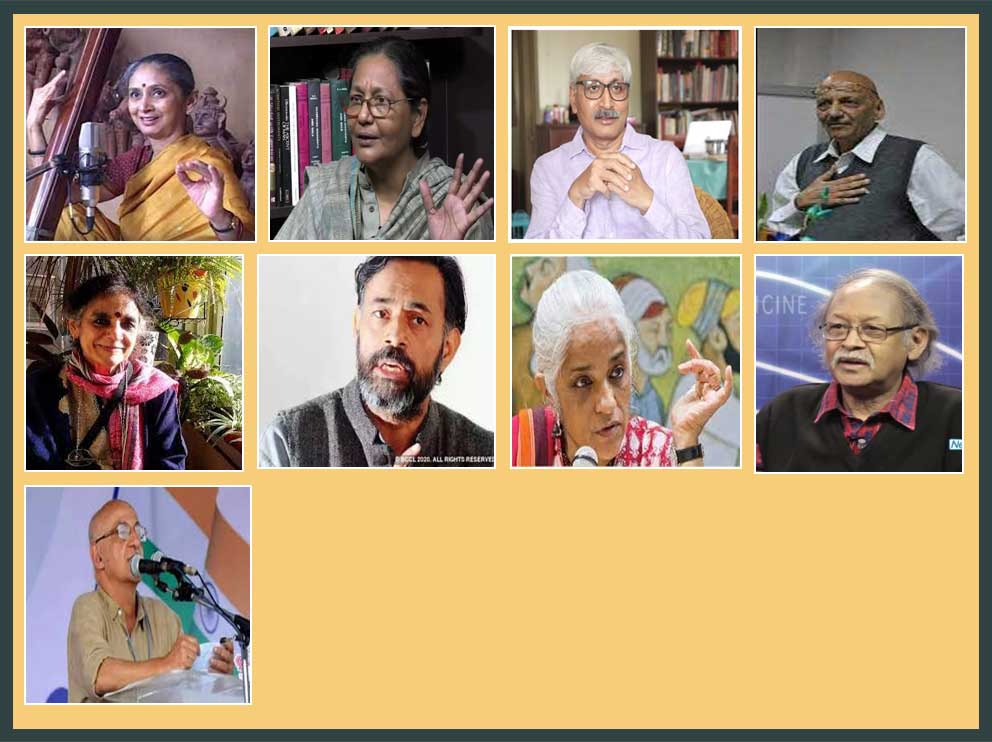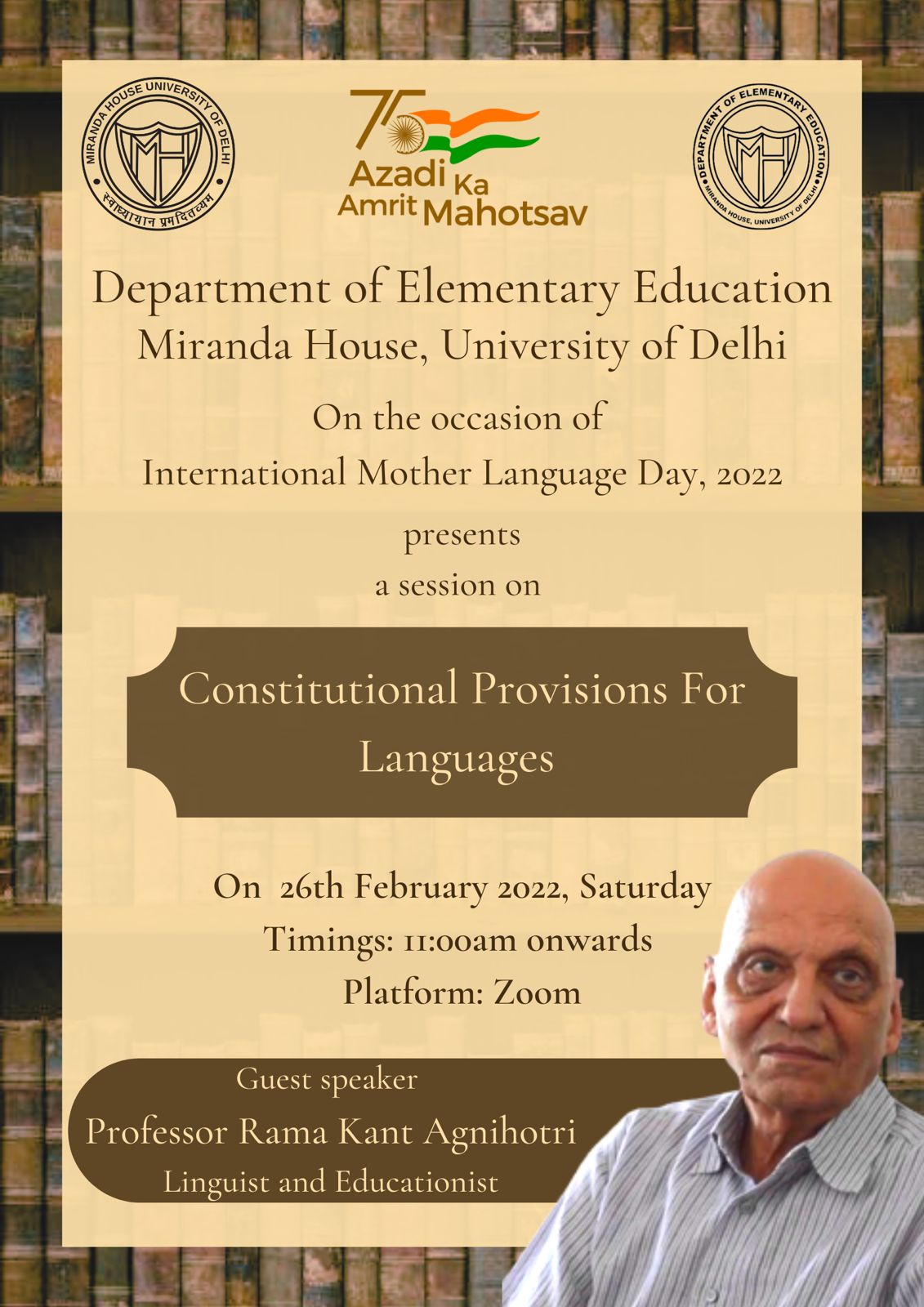 Student Progression (बी.एल.एड. से आगे)
A sizable number of our students stay with education. Amongst them, some opt for teaching at the higher education level also. The following has been the trend in the past many years:
Teaching in government schools including MCD schools, NDMC schools, Kendriya Vidyalaya, Sarvodya Vidyalaya, Rajakeeya Pratibha Vikas Vidyalaya.
Teaching in private schools such as Sardar Patel Vidyalaya, Delhi, Shiv Nadar, Noida, Shikshantar, Gurugram, Mira Model School, Delhi, Step by Step School Noida, and a few schools outside Delhi.
Teaching in higher education institutions both private and government colleges.
Working in the Development sector with not-for-profit oraganisations.
Working with the banking sector, Police services, Indian Army, Ministry of Skill Development, Department of Social Welfare, Delhi. 
Over the last few decades B.El.Ed. students have increasingly been opting to pursue M.A. in Sociology, Political Science, English, History, Hindi, Psychology, Linguistics, Mathematics Education, Elementary Education, L.L.B., Social Work, Criminology, Justice, Environment & Development, Public Policy Design & Management. 
Similarly, M.Ed. is another popular choice among them. A few have also done B.Ed in Special Education. The universities they enrolled in are the University of Delhi, IGNOU, Tata Institute of Social Sciences (TISS), Jamia Millia Islamia (JMI), Jawaharlal Nehru University, Ambedkar University, Delhi, Campus Law Centre, Cluster Innovation Center, Azim Premi University, Central University of Gujarat. 
Students are pursuing or have completed an M.Phil, Ph.D. from Central Institute of Education, University of Delhi, campuses of Tata Institute of Social Science (TISS), Jamia Milia Islamia (JMI), etc. most of which are related to education.
Students and Research
Result Analysis (रिज़ल्ट विश्लेषण)
Faculty Publications (शिक्षकों के प्रकाशन)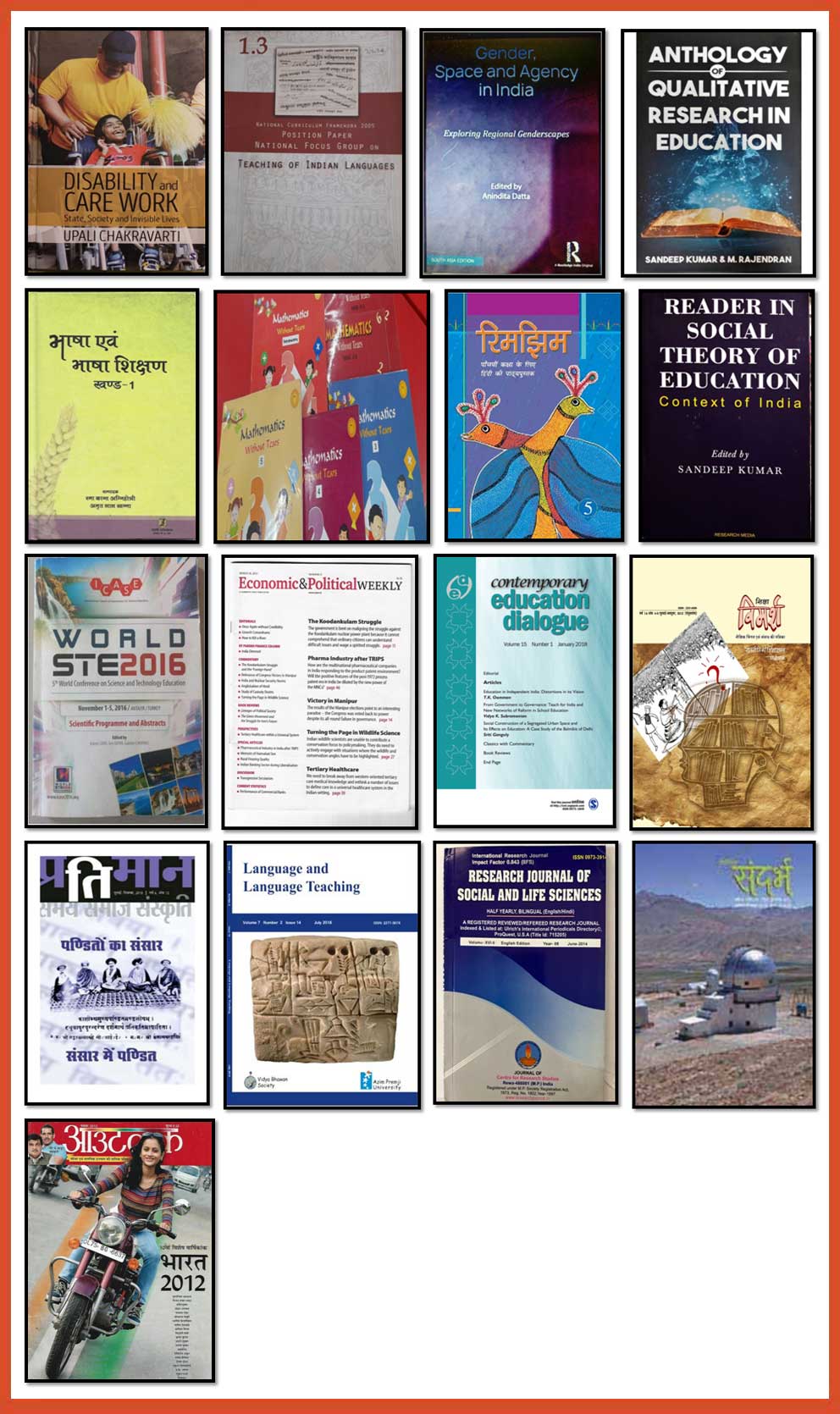 Faculty Achievements (शिक्षकों की उपलब्धियाँ)
Dr. C. Suvasini
Was invited to take classes in the course, Contemporary India and Childhood, for students enrolled in the certificate course, Theatre in Education, in National School of Drama, Tripura.
Was provided mentoring support to applicants of Transforming Education for Sustainable Futures (TESF), India fellowship and helped them to develop proposals. I also evaluated project proposals for final selection under the TESF fellowship program I provided mentoring support to applicants of Transforming Education for Sustainable Futures (TESF), India fellowship and helped them to develop proposals. I also evaluated project proposals for final selection under the TESF fellowship program.
Dr. Mukul Priyadarshini
Was awarded General Fellowship of Indian Council of Social Science Research (ICSSR) for research on the 'Status of Hindi as a Language of Formal Discourse' (2011-13)
Was Government of India nominee on the Review Committee of the World Bank funded Sarva Shiksha Abhiyan (SSA), Ministry of Human Resource Development in the state of Orissa and New Delhi (2015)
Participated in a three day International Consultative Meet & Strategy Dialogue on Mother Tongue Based Multilingual Education at CIIL, Mysore, organised by National
Education Resource Consortium (NMRC), JNU, Delhi (2011)
Presented a paper 'Looking Through the Lens of Language' at the Fifth International Conference of The Comparative Education Society of India (CESI) on the theme 'Education,
Politics and Social Change' held at the University of Delhi, Delhi (2014)
Invited to do a Presentation and Participate in an Indo-Norwegian Workshop on "Grammar in the Classroom" at the Centre for Advanced Studies, Department of Linguistics,
University of Delhi. (2017)
Co-authored the Position Paper of the National Focus Group on Indian Languages as a part of the National Curriculum Framework (NCF) 2005 for NCERT, New Delhi.
Designed Language Courses of the Pedagogy of Modern Indian Languages for the Integrated four years B.A-B.Ed Programme, developed by Tata Trusts-NCTE Curriculum Development
Group. (2018)
Is a member of the Governing Body & the Executive Council of the Ankur Society for Alternatives in Education, New Delhi, and the President of the board of Organisation of
Early Literacy Project (OELP), New Delhi-Ajmer.
Was Jury member (for three years) of the first Big Little Book Awards for Illustrators of Children's Literature instituted by Tata Trusts, Mumbai (2018)
Delivered a lecture for the faculty, and conducted a session in Faculty Development Programme (FDP) at SPM College on 'Bilingual Nature of Classroom Discourse'. (2016 & 2018
respectively)
Panelist in a webinar on 'Poems and Children's Curriculum', organised by 'Vaishwik Hindi Parivar' under the aegis of Central Hindi Institute and World Hindi Secretariat. (2021)
Panelist in a discussion on 'Place of Mother Tongues in Indian Education System' at Daulat Ram College, DU on the occasion of International Mother Language Day 2022
Dr. A.R. Sitalakshmi
Did an oral Presentation of paper at the 25th IUPAC International Conference on Chemical Education, ICCE 2018, organised by IUPAC and University of Sydney at Sydney, Australia, 10 to 14 July, 2018
Ms Neetu Rana
Presented a Paper in National Seminar On Trends And Repercussion of Privatisation Of Education at Approved college by NCTE and Affiliated to Guru Gobind singh Indraprastha University Delhi, on 24 Feb 2018.
Dr Barnali Biswas
Was invited to deliver a lecture in 2nd Refresher course in Geography organised by HRDC -JNU on 23.11.2020 on topic "Marginalization of Forest Communities and challenges for Inclusive Rural Development".
Dr. Suday Narayan Prasad
Was invited as a Guest Speaker, We Citizen Foundation, in collaboration with an NGO Sarkari School, June 20th, 2021
Our Alumnae (पूर्व छात्राओं के मौजूदा पड़ाव)
Nishu Khandelwal is currently working as a TGT, Hindi, Curriculum developer and teacher trainer for pre-service and in-service diploma course. Prior to this, she worked as a PRT with Presidium School, Delhi, Shikshantar, Gurgaon and then with Heritage School, Gurgaon.
Mansi Arora is currently TGT, English at Sanskriti School, Chanakyapuri. Prior to this, she worked as a PRT at Srijan School, Delhi. In between she worked with two publishers in editorial capacity- Ratna Sagar, Delhi and Oxford University Press, Delhi.
Manisha Sharma is Subject Matter Expert of Hindi at the Aurobindo Society, Delhi
Manvi is a School Counselor at Navy Children School, Delhi.
Basanti, Zuby Rana, Tanuja Rana are teaching at different Kendriya Vidyalayas across the country.
Rachna Singh, Radha Dagar, Pragyan, Ekta Goel, Geetanjali Singh, Aarti Yadav, Akanksha, Sakshi Trigun are teaching as PRT different schools of the state government of Delhi, UP etc.
Garima Pandey, Poojan Sahai are teaching at different MCD schools as PRT.
Sakshi Sharma is the Programme Lead (Curriculum & Training) at Ahvaan Trust, New Delhi
Dr. Pallavi is an Assistant professor, School of Education, Azim Premji University, Bangalore after completing Ph.D. She received Commonwealth Spilt Site Doctoral Scholarship at The Open University, Milton Keynes, UK.
Dr. A. Radhika is an Assistant professor in the Department of Psychology, Gargi College, University of Delhi.
Sonia Kumari is an Assistant professor at Kamla Nehru College, University of Delhi and is pursuing her Ph.D. from JMI.
Manju is a Sub-Inspector at the Special Branch unit of Delhi Police after doing her MA Sociology.
Vani Sri Vatsa is a Lieutenant in the Indian Army after doing her MA Sociology.
Sonali Dayal is working as a Deputy Manager at State Bank of India at Parliament Street.
Sheena Chaudhray is a fellow in the Ministry of Skill Development posted in Udaipur after completing Master of Social Work from Delhi University.
Chhaya Rana Welfare Officer Department of Social Welfare, Delhi
Omja is an independent story teller.