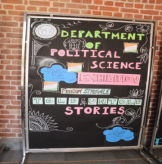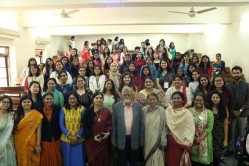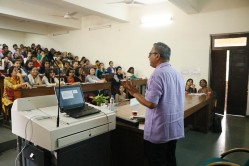 Department of Political Science offers an undergraduate three years Honours course and Generic Electives to other Honours courses as well as courses at the integrated B.A. Programme level. It was established in 1972. The department has a diverse faculty whose specialization spreads across various fields of Political Science and caters to the largest number of students across disciplines. The core emphasis of the department is on familiarising students with the conceptual and applied essence of the discipline. The course offers a set of skills which are an excellent preparation for public policy making, policy analysis, legal fields, international relations, diplomacy, political consultancy, public affairs, academics and research. The department has established several collaborations with both national and international organizations in order to provide hands-on experience to students. The department prepares students for a wide range of careers, who join government, non-government organizations and private sectors. A large number of students opt for higher studies in prestigious institutions in India and abroad.
Teaching-Learning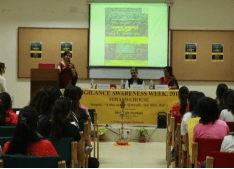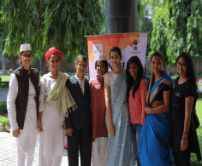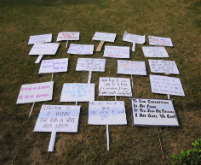 The discipline of Political Science requires students to understand politics in all its nuances, to probe power relationships which exist in human interaction and examine the fundamental principles of democratic functioning that guide ideas and institutions. Members of faculty use innovative teaching methods to make learning experiential. This involves the use of debates, discussions, movie-screenings, quiz and drama. Series of public lectures and workshops designed around the course are also used by teachers to provide extensive knowledge to the students. Project presentations on contemporary political themes involving original thinking and relevant research are an integral part of learning. Value addition to the courses is also done through workshops, invited talks, seminars and conferences. Street plays are used as a method to discuss important political issues. Field visits and study trips aid to the teaching learning process.
The department was actively engaged in the teaching learning process using technologies like Zoom, Google Classroom etc during the Pandemic. Faculties and students showed enthusiasm and worked together. Apart from conducting regular online classes, the department successfully organised webinars with enthusiastic participants engaging in range of topics.
The Department is also home to Policy centre and Gender Lab through which Department provide students across discipline a research platform for budding researchers. The organisations associated with the Department include, the National Legal Services Authority, DLSA, Ministry of Consumer Affairs, Niti Aayog, CFAR, WFS, FES, RGICS and others.
Capacity Building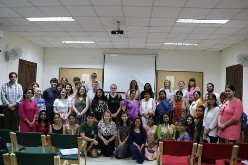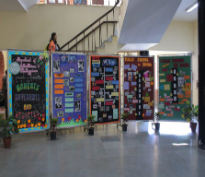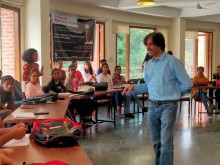 The department recognises the need for making project work as an academic requirement for all courses. Students undertake projects on all papers under the supervision of the concerned faculty. This practice of the department has been lauded over the past three decades. These projects are undertaken in various formats including group work as well as individual presentations. These entail field work, case studies, literature review, data collection and presentation with emphasis on interpretations. Through involvement with the prestigious Delhi University Innovation projects, students build their research and writing skills in close interaction and guidance by faculty members . The department is home to 'Tula', the consumer awareness club of the college. It trains and orients students to be responsible consumer through interactive talks and annual workshops. Knowledge of the Constitutional provisions and laws are also provided to the students through workshops in association with organizations such as Delhi Legal Services Authority. Academic essay writing and rapporteuring are encouraged in a sustained manner. The department produces two annual magazines, viz. the Vox Populi and the Santulan. It also encourages its students to be involved with both government and nongovernment organisations through internship programmes and exposure visits. The organisations associated with the department include, the National Legal Services Authority, DLSA, Ministry of Consumer Affairs, Niti Aayog, CFAR, WFS, FES, RGICS and others. The students of the department are also guided by the department to be associated with the larger vibrant co-curricular and extra - curricular life of the college by participating in its Women's Development Cell, NSS, Enactus and Debating Society as well as being on the editorial board of the college magazine.
Student Progression
The Department of Political Science, Miranda House College is a student-centric department of learning, endeavour for excellence and holistic development of students, institutions and society at large. Accordingly, it provides a viable condition, ambience and environment for acquisition of production, acquisition, and actualisation of knowledge. In order to actualize this vision, it employs and focuses on various methods such as mentor-mentee programmes, presentations, lectures, discussions, seminars, conferences, a hybrid model of teaching and learning and various extracurricular activities. Following this, the outcome of learning and the student's calibre is reflected in various ways such as rigorous engagement, participation, curiosity, in-depth knowledge, and critical engagement. These academic acumen and brilliance of the students are further reflected through their analysis, articulation and academic writings.
Our 80-85% students opt for higher education whereas, the remaining 15% prepare for competitive exams.
Students and Research
Results
Faculty Achievements
Dr Bijaylaxmi Nanda is officiating as Acting Principal of Miranda house since 2018.
Dr.Bijayalaxmi Nanda was awarded Swayamsiddha Samman by Kavikumbh Sammelan in the year 2019
Dr Jayashree Pillai Involved in syllabus revision of Public Administration as part of curriculum revisioncommittee in Department of Political Science, under UGC,) undertaken in the year 2019.
Dr. Jayashree Pillai has been awarded a research grant from UGC to conduct a national level seminar and as well as a research project. Dr. Jayashree Pillai and Ms. Sonali Chitalkar have been granted a major research project from ICSSR.
Department faculty members have also been on National Committees and International Committees. Dr. Jayashree Pillai has been Faculty Consultant, National Consumer Help Line Phase II, Ministry of Consumer Affairs, Government of India in 2010-2011 & Life Member of Indian Institute of Public Administration (IIPA) Government of India.
Dr. Purnima Roy was bestowed the Distinguished Teacher's award in 2009. Innovative DU Research Programmes have been granted to Dr. Purnima Roy, Dr. K.K Subha and Ms. Pushpa Singh.
Dr Purnima Roy supervised a PhD Toic- Bharat meinRajyion ka Punargathan: EkAnth. Rashtriya Tulnatmak Adhyan ,date of award:4th November 2019.
Dr.Bijaylaxmi Nanda Involved in syllabus revision of Political Theory as part of curriculum revision committeein Department of Political Science, under UGC,) undertaken in the year 2019.
Dr Bijayalaxmi Nanda was awarded the Teacher's Excellence Award by University of Delhi in 2017. She has received consultancy grants from WHO, UNFPA, PFI and NFI.
Dr Bijayalaxmi Nanda has been on the Advisory Board, Pre-Conception and Pre-Natal Diagnostic Techniques (PCPNDT) Act, Government of Delhi in 2015-16 & State Supervisory Board, Pre-Natal Diagnostic Techniques (PCPNDT) Act, Government of Delhi in 2013-15.
Dr. Namrata Singh has been granted a research project on Disaster Management.
Dr. Namrata Singh is the Co-cordinator of Unnat Bharat Abhiyan Cell of Miranda House.
Dr Hena Singh is Deputy Dean with the Dean of students' welfare, Delhi University
Dr Hena Singh (Phd, University of Birmingham) is a Co-principal investigator of the research project on Comparative research and consolidation project on understanding the impact of COVID 19 on sexual violence and post-rape care services on the adverse health effects of sexual and gender-based violence (SGBV) across contexts in Kenya and India. The project is funded by The Institute for Global Innovation, The University of Birmingham, UK.
Dr Hena Singh is a co-principal investigator of research project on 'Stern Sexual Violence Along the War and Peace Continuum'. The project is funded by the Swedish Research council and is administered through the University of Guttenberg, Sweden
Ms.Pushpa Singh served as a member of curriculum restructuring/revision/syllabus development for Papers; Comparative Government and Politics; and; Indian Government andPolitics; (Honours and Programme both) undertaken in the year 2019.
Ms. Pushpa Singh delivered lectures as a Resource Person on Research Methodology for the3 days Workshop "Values & Ethics" organised by UGC-Human Resource DevelopmentCentre (HRDC), Panjab University Chandigarh in February 2019.
Dr. Skylab Sahu and Dr Rashmi Gopi have been provided research grants to organise national level seminars by ICSSR.
Dr. Skylab Sahu was involved as a member of curriculum revision of development for Papers; IndianGovernment and Politics; (Honours and Programme both) undertaken in the year 2019.
Dr Rashmi Gopi is supervisor of Ms. Hema Kumari, a Ph.D candidate since April 2018. Her topic for research is 'Gender and Disability: Analyzing the Inclusiveness of Delhi towards Disabled Women.'
Distinguished Alumnae
Our alumnae are distinguished women contributing in their own special ways to social and political development both nationally and globally. They have distinguished themselves in the fields of academia, research, civil service, social service and international conflict resolution.
To name a few :
Sugandha Munshi is a Gender Specialist who has worked extensively with marginal communities in Bihar. She was awarded with the 'International Rice Research Institute National Women Achiever Award 2014' and also with the 'Mahila Krishak Award'.
Sushmita Dev is one of the youngest Members of Parliament in India. She heads an NGO named 'Aashiyan' in Silchar.
Shahla Nigar, who topped the civil service examination, is presently Secretary (Finance), Government of Chattisgarh.
Chamithri Rambukwella is in the United Nations General Assembly and has been elected, the Second Secretary of the Permanent Mission of Sri Lanka to the United Nations in New York, and as Vice-Chair of the Fifth Committee.
Nupur Roy, Anoushka Singh, Tahira Khatun, Upasana Mohanta, Anuradha Singh are Assistant Professors in central and state universities.
Shakti Mohan and Bandana Rawat have contributed in the field of creative arts.
Savita Sinha and Vernika Tomar have excelled in the legal field.