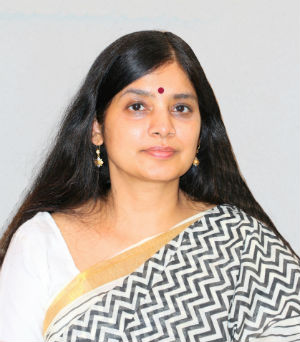 PROF. BIJAYALAXMI NANDA
Principal
Greetings from Miranda House, an institution with long tradition of creativity, charisma and charm. Excellence and exuberance remain the core values of Miranda House where the faculty and students strive to give their best to the curricular, co- curricular and extra-curricular activities year after year. One finds a balanced and healthy mix of cultural tradition and modernity in the ethos of Miranda.
The students remain at the centre of the myriad activities of the college. The creativity of each student is honed to develop it to its fullest potential. At Miranda House the emphasis is on the journey of the individual student and the celebration of her unique strengths and talents. Miranda House is committed to the values of providing excellence in liberal education for generations of women who aspire for the stars.
Dedicated faculty provides the best in teaching - learning tradition while meandering through the curriculum in the humanities, social sciences and basic sciences. The humanities and social sciences celebrate a vibrant culture of critical questioning and active engagement of debates and art of persuasion to arrive at consensual standpoints. Unique infrastructure supports in breaching the monotony of a top down approach of teaching. The sciences are enriched with cutting edge research, state of the art laboratories and attention to detail in every sense of the term. They remain the best in the University.
Mentoring remains the cornerstone of the teaching - learning experience. Pedagogical tools of flipped classrooms, immersion learning, field studies and application based research are interwoven in an interdisciplinary sense throughout the educational curriculum. The uniform University of Delhi prescribed syllabus is enriched by add-on courses, certificate courses and modules in order to provide a flavour of unique experience at Miranda.
Our endeavour for innovation and quest for excellence has received recognition in the form of awards and accolades. Miranda House has been ranked as number 1 college in India under NIRF ranking of Ministry of Human Resource Development, Government of India, for three consecutive years - 2017, 2018 & 2019. It has been graded as NAAC Grade A+ with CGPA 3.61 and has been rated as DBT Star College. The college does not rest on its laurels and constantly strives for new heights.
The co-curricular and extra-curricular activities at Miranda House remain its life source. Through seminars, workshops, films and cultural shows, talents of each student find a home. Students are encouraged to acquire leadership roles which are honed by exposure to and interaction with leading experts, academicians, practitioners, and a plethora of government, non-government and international bodies. Through these engagements Miranda House also provides a bridge to cross over to the professional world. With the emphasis on research, collaborative learning and internships with higher learning institutions, corporates and industry, the students find their classrooms full of windows of opportunities.
The unique spirit of Miranda is democratic resilience and the symbiotic relationship between the faculty and students. It strives to provide a stimulating active learning environment attracting young women with exceptional desire to make a difference to the world. It is an institution whose excellence is reflected not only in its ability to provide quality education but also as an alma mater par excellence.