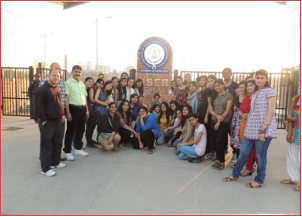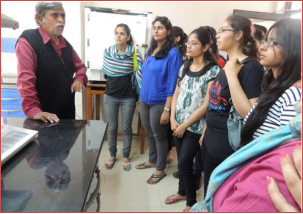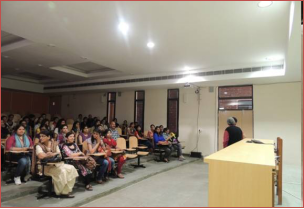 The Departmental Society is called Rasayanika - the Sanskrit word denoting a female chemist.
Team Rasayanika 2017-18
| | | |
| --- | --- | --- |
| President | Amishi Tewari | Chemistry (H) III Year |
| Vice President | Swati Jain | Chemistry (H) III Year |
| Secretary | Priyanka Jain | Chemistry (H) II Year |
| Joint Secretary | Karisma Agrawal | Chemistry (H) II Year |
Report of Activities 2016-17
Chemistry students have been active even before the beginning of the academic session 2016-17.A number of enthusiastic students worked on Chemistry projects under DS Kothari Centre for Research and Innovation in Science Education, Miranda House in June-July 2016. The Freshers' Event marked the beginning of the new session. The freshers were given ample opportunity to showcase their talent and interact with their seniors and were given a warm welcome. This was followed by the Bridge Course on Lab Safety and Handling of Equipment for I Year students organised by the Department of Chemistry on 3-4 August 2016. The course was an attempt to bridge the gap between laboratory practices in school and college and was much appreciated by the I Year students. For many, it was their first exposure to advanced lab equipment.
The Inaugural Lecture of the Department, A Motivational Talk for ChemistryStudents, was delivered by Professor Gurmeet Singh, Head, Department of Chemistry, University of Delhi on 21 September 2016. Prof. Singh had to cut his enjoyable talk short because of an urgent summons from the Department but he promised to come back soon.Around 40 students and 4 faculty members from the Departments of Chemistry and Botany went for an educational-cum-sightseeing trip to Kullu and Manali on 30 October 2016. They visited the GB Pant Institute of Himalayan Environment and Development, Kullu, on 3 November 2016. It was an enjoyable and informative visit. The students were introduced to many Himalayan plant species they were unaware of and got a glimpse of the interdependence between humans and the environment in the Himalayan region.
Interesting lectures and well-planned lab sessions are organised every year as part of the Green Chemistry and Environment add-on course offered by the Department of Chemistry to introduce students to alternate green chemical methods which are safer for the environment. This year, students who have enrolled for this course have also been participating in conferences and workshops organised in other colleges.The 15 students enrolled in the course this year participated in a two-day International Workshop on Indo German Dialogue on Sustainable Water Resource Management organized by TERI University in association with Heidelberg University on 3-4 October 2016. They also attended a two-day National Conference on Environmental Sustainability and Waste Water Remediation: Current Status and Future Prospects organized by Sri Venkateswara College in association with Royal Society of Chemistry, UK on 19-20 January 2017. Some other Chemistry students also participated in the workshops and conferences mentioned. Chemistry students also presented posters at various conferences including the above mentioned ones. Faculty and students involved in Innovation Project MH-306:Design of Affordable Water Purification Devices Using Green and Ecofriendly Silver Nanoparticles received the certificate of Most Promising Innovation at 93rd Annual Convocation of University of Delhi held on 19 November 2016. A workshop for students entitled Green Chemistry and Environment was organized by the Department of Chemistry, Miranda House on 6 and 7 February 2017 in which fifteen students enrolled in the add-on course also participated. The sessions during the workshop included lectures and hands-on lab sessions in accordance with the theme by faculty members. There were also three talks by outside experts: Prof Shyamala Mani of National Institute of Urban Affairs, New Delhi spoke on Sustainable and Safe Plastics Waste Recycling; Dr Pranab J. Patar, Senior Manager from Earthwatch Institute India delivered an interactive talk on Citizen Science, Green Skill and Sustainable Future - Some Alternative Perspectives in Indian Context and Mr Siddharth Saran from Petroleum Conservation Research Association (PCRA), New Delhi spoke on Oil and Natural Gas Conservation. A field trip is also being planned under the course in the near future. Chemistry students won a number of awards and recognition for their achievements in 2016-17. Sakshi Antil won the First Prize in the Poster-making competition at Sri Aurobindo College at the National Seminar on Emerging Issues of Climate Change: Sustainability and Economic Implications sponsored by ICSSR. She received a cash award of Rs. 1500/-, a trophy and a certificate. Sakshi also won the First Prize of Rs. 500/- at the Poster-making competition at Daulat Ram College. Garima Singh received a cash prize of Rs. 1000/- for securing 2nd position at the MH Freshers' Quiz. Karisma Aggarwal completed the Global Certification Programme 'Green Revolution', an initiative by International Centre for Culture and Education(ICCE) in October 2016. Ishita Chandra received a certificate for a poster presented at GITAM University, Vishakhapatnam. Raksha Jain secured the First Position in the Baseline Chemistry Test, MH 2016-17 as well as the Association of Chemistry Teachers (ACT) Concept Test 2016. Manisha and Shruti secured the 2nd and 3rd positions respectively in the Baseline Chemistry Test 2016-17.Raksha also got the Third Prize in the poster competition held in Dyal Singh College. A few Chemistry students are recipients of the Science Meritorious Award given by the University of Delhi.
Chemistry students who are enrolled in Sports and NCC have also distinguished themselves. Smriti Bhardwaj secured the 1st position in the Inter-college Chess Tournament held in Kirori Mal College and the 2nd position in tournaments held in Sri Ram College of Commerce, Gargi College and Lady Sri Ram College respectively. Preeti Choudhary received state and national certificates in Ball Badminton and National Camp certificate in NCC in 2016.Sheetal and Simran participated in the Self Defence Training organised by Delhi Police from 9 to 24 January 2017 in Kirori Mal College.
Apart from the students who interned at the DS Kothari Centre for Research and Innovation in Science Education in the summer of 2016, some Chemistry students also interned outside the college. Notable among them was Kriti Kapil, who interned for 2 months at Nysa Health, Global Business Park Gurgaon for website content creation, marketing and app development at a stipend of Rs. 30,000.Sukriti received a Certificate of Appreciation for Volunteering in Yamuna Shramdaan organised by Swechha India.
Faculty members of the Department of Chemistry, Miranda House presented research papers and posters in a number of local and national conferences. At the international level, Dr. Kalawati Saini was an invited speaker at the American Advanced Materials Congress held from 4-9 December 2016 at Miami, Florida, USA. She has also been invited to present her research work at the European Advanced Materials Congress-2017 scheduled to be held in Stockholm, Sweden, in August 2017.
Pratikriya 2016-17, the annual Inter-college Chemistry Festival for the current session was held on 29 March 2017 and attracted enthusiastic participation from within and outside the college.
Team Rasayanika 2016-17
| | | |
| --- | --- | --- |
| President | Punisha Kardam | Chemistry (H) III Year |
| Vice President | Nidhi Choudhary | Chemistry (H) III Year |
| Secretary | Amishi Tiwari | Chemistry (H) II Year |
| Joint Secretary | Sukriti Mishra | Chemistry (H) II Year |