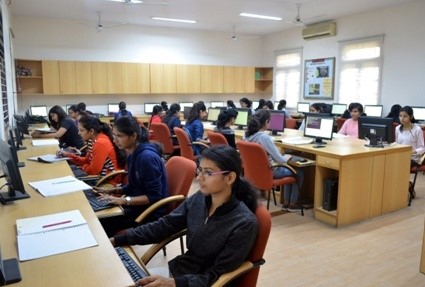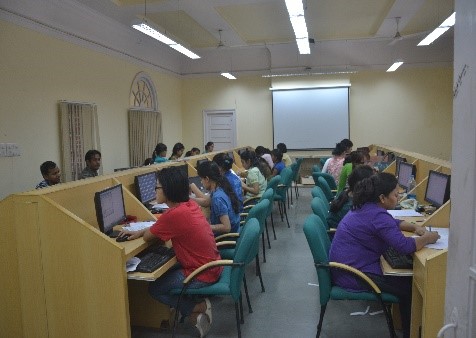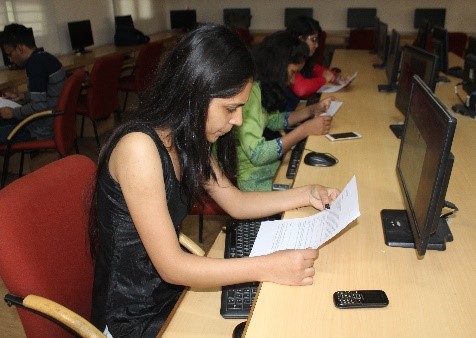 The Department of Computer Science was established in the year 1984. The Department offers B.Sc. Program, an inter-disciplinary course having Computer Science taught with Physics and Mathematics. The department has two spacious laboratories. One lab has with more than thirty-five computers connected in a LAN, working fully on Linux based open-source software. The other lab has about 35 laptops connected to the college wi-fi , working fully on Linux based open-source software . The Department maintains a well-stocked library of Computer Science books which supplements the wide range of books available in the main library of the College on the subject.
Keeping in sight the evolving role of Data Scientists and industry-recommended learning path, the department runs an add-on course titled Data Science & Machine Learning Using R with Introduction to Tableau' to hone student skills in Statistics, Data Science, Big Data, Tableau and R Programming since 2017.
Teaching-Learning
Teachers make effectual use of ICT for effective teaching and learning. The department follows a recipe of one student one machine for hands-on training so as to enhance programming and debugging skills of the students. Use of social media is encouraged for efficient communication among students and faculty. Class tests and presentations are held. Project based assignments are given to the students. Group discussions and presentations are organized on latest IT technologies. Formal mentor-mentee sessions and as well as informal remedial sessions are offered to students as and when required by them.
Capacity Building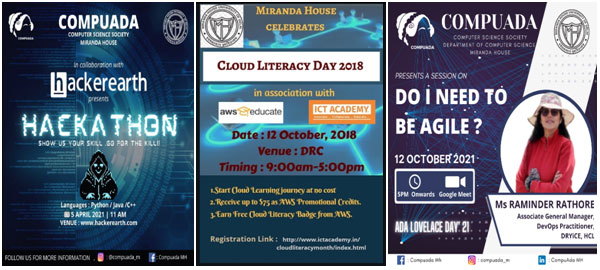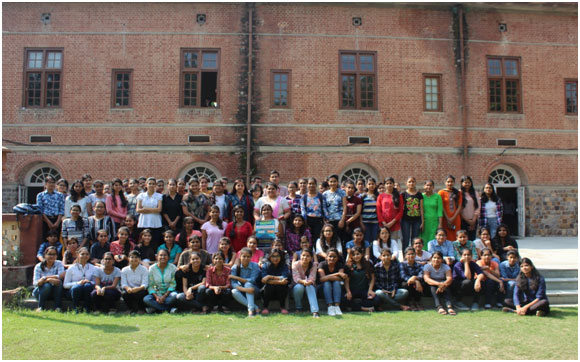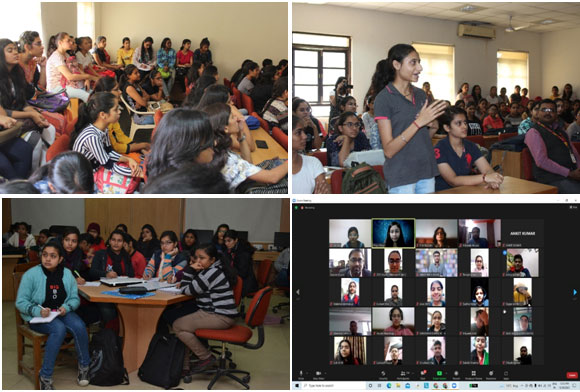 To enrich the learning experience of students, the department organizes several events throughout the year. Talks, workshops, trainings and seminars on upcoming technologies are organized from time to time. The following distinguished speakers have visited the department in the past:
Ms.Raminder Rathore, Associate General Manager of DRYiCE HCL in Canada, October 2021.
Mr Vishal Gupta, senior customer consultant from Elsevier, July 2021.
Ms. Vishakha Yadav IAS(OT) 2020, AIR 06 UPSC CSE'19, Jun 2021.
Dr Indranath Chatterjee, Professor at Department of Computer Engineering, Tong Myong University, Busan, South Korea., February 2021.
Ms. Vandana Agarwal, Senior Data Governance Leader at Sony PlayStation in San Francisco Bay Area, October 2020.
Prof. Dr. T. V. Vijay Kumar - Dean, School of Computer and System Sciences, JawaharLal Nehru University, New Delhi , February 2020.
Prof. Dr. Poonam Bedi, Professor, Department of Computer Science, University of Delhi, September 2019.
Dr. Gaurav Gupta, Cyber Laws and E-Security Division, Ministry of Electronics and Information Technology, Govt. of India, February 2019 and December 2021.
Prof Dr DP Vidyarthi, School of Computer and Systems Sciences from Jawaharlal Nehru University, February 2018.
Ms. Neer Varshney, the head of communication, Velix.ID, October 2018.
Dr Narayan Iyer, Cyber Security Expert, October 2017.
Ms. Karnika Seth, Supreme Court lawyer and founding director of Foundation for Institutional Reform and Education (FIRE), October 2017.
Dr. Vandana Ahuja, Area Chair, Marketing and Assistant Professor, Jaypee Business School, March 2017.
Dr. Ramesh Gaur, the university librarian of JNU, September 2016.
Ms. Sushmita Das, senior editor of journal peer review, Taylor and Francis India, September 2016.
Ms. Shafina Segon, marketing head of Taylor and Francis India, September 2016.
Mr Vibhor Gupta, Weekendr Innovation Labs Pvt. Ltd., April 2016.
Ms. Prachi Garg, Ghomophiro.com, March 2016.
Mr. Alexander Khalkho, Grade One India, December 2015.
Ms. Debjani Ghosh, Vice President, Intel, October 2015.
Dr. Vikas Sahni, University of Ireland, October 2015.
Dr. Neelima Gupta, University of Delhi, March 2015.
Dr. Arvind Singh, Deputy Secretary, National Defense College, February 2015.
Ms. Geetika Chadha, Imagenie Inc., February 2014.
Mr. Saket Modi, Lucideus, January 2014.
Student Progression
2016-17 2017-18 2018-19 2019-20 2020-21
Higher Studies 18% 26% 42% 41% 37%
Preparing 18% 66% 53% 59% 40%
In Job 64% 8% 6% 0% 23%
Students and Research
Results
Faculty Achievements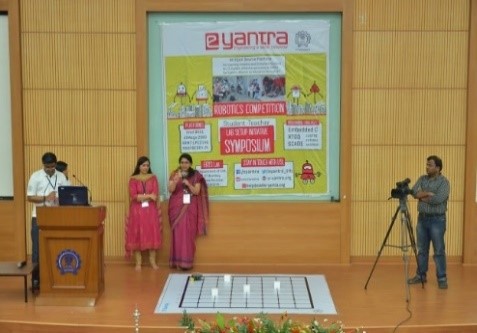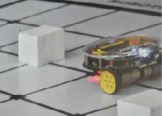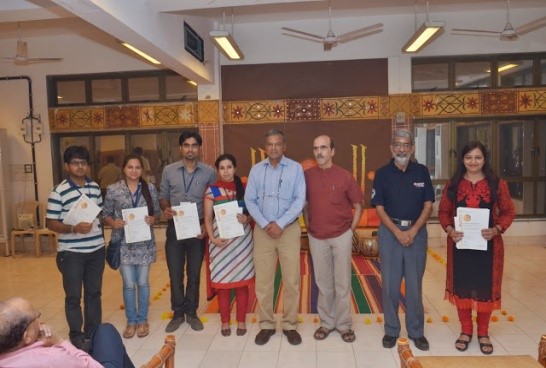 The faculty has active involvement in University of Delhi Innovation scheme, and has successfully completed two innovation projects titled - Mobile! MyLab Anytime, Anywhere and Reward Network as a Form of Experiential Marketing under the same scheme. The faculty members have several publications in national and international journals and conferences with high impact factors. They members have also contributed towards the curriculum development and textbooks for Computer Science and Information Practices published by NCERT.
Distinguished Alumnae
Our students are able to compete successfully at various entrance exams for post graduation so most pursue higher studies after graduation. The department can boast of a large number of alumnae working wonders in technology and management. Our distinguished alumnae include:
Anamika Singh, Principal Engineer,RF Device Modelling at GLOBALFOUNDRIES
Anjali Bhardwaj, Research Scholar at South Asian University
Anubha Srivastava, Academic Associate at IIM Ahmedabad
Anupama Chopra, Group Leader (M2M Communication), CDOT
Archana Verma, Assistant Professor, Noida Institute of Engineering and Technology
Darpan Thawani, Senior Director, Global Customer Programs in Oracle
Divya Gupta, Data Science Manager, Accenture AI
Geeta Gupta, Associate Professor, Computer Science at PGDAV College, DU
Geetika Chadha, Entrepreneur at Imagenie, member of FICCI
Jyoti Chopra, Java Engineer at Ericsson
Kirti Bhola, Program Manager IT at PQE group
Mamta, CEO, Birlasoft
Manjyot Kaur, Founder at Artsy-Coffee & culture
Meenu Gupta, C3 Customer Contact Channels, QA Specialist (USA)
Mona Jain, Sr. Engineering Program Manager at Apple Media Products, San Francisco Bay Area
Naman Sharma, Growth analytics at Wynk Limited
Neelu Sanghi, Associate Professor, Computer Science at SGTB Khalsa College, DU
Nihita Goel,Head, Information Systems Group at TIFR, Mumbai
Palakh Shangle, SDE at India Software Labs, IBM
Prachi Garg, Entrepreneur at GhoomoPhiro.com, Author
Priti Sehgal, Professor and Vice Principal, Keshav Mahavidyalaya, DU
Priya Tomar, Data Science Werkstudent at Fraunhofer IAIS
Priyanka Gill, Program Manager at Microsoft
Radhika Bansal, Senior Software QA Engineer
Richa Dewan, SDE at Deutsche Telekom
Richa Sindwani, Senior Associate at PWC UK
Ritika Bhardwaj, Global Brand & Marketing at Royal Enfield
Ritika Kaushik, Examiner of Patents & Designs at Intellectual Property Office, Ministry of Commerce & Industry, Govt. of India
Saloni Bansal, Senior Data Scientist at nference
Samridhi Srivastava, Senior associate technology at DE Shaw
Sanya Sehgal, Senior Engineer at Nagarro
Sarbani Biswas, Data Scientist, RBC Wealth Management, Toronto (Canada)
Shahini Gupta, Technical lead at Capgemini
Shweta Jain,HR leader at Bank of America
Swati Aggarwal, Senior Software Engineer ,Newgen Software
Tusharika Dewan, Senior software Engineer at Thales
Vandana Ahuja, Professor of Marketing at Amity Business School
Several others contribute at various esteemed positions in industry and institutes.