The department of Economics was founded in 1948. Its history and vision twin those of the college. Currently we take in 63 students in the B.A. (Honours) course. We also teach about 60-70 students in the B.A. Program. We have a faculty strength of 11, all posts are filled. We are reputed to be among the best departments in the University mainly because our areas of interest span the range from high theory to heterodox applications. In particular, we are among the very few departments who have expertise to teach papers as diverse as advanced microeconomics, game theory and econometrics on the one hand, - and political economy and economic history on the other. The latter are areas that had become 'unfashionable' in the closing decades of the 20th century, but have now re-emerged as important frontiers of research. This diversity is our strength. It shows in our work. We have 5 books that we have co-authored or co-edited. We have 5 chapters in various books, 14 articles in peer-reviewed journals. Over the last two years we have developed as many as 19 e-content modules for various platforms: MOOC, ILLL etc. In fact Manisha Vats is MOOC coordinator. We have been invited to consult for a variety of institutions - UNCTAD, VVGNLI, ILO and NCERT. Ravinder Jha has been awarded Best teacher Award by President Kalam. Nandini Dutta's display of her Innovation Project received the best display award at the 2015 Antardhwani. We are good teachers; we strongly believe it is easier to be good teachers because our students are outstanding. On the average more than 50% of our class scores more than 75%, and our failure rates are negligible. The department remains strongly committed to the college's goal of imparting education that produces sensitive, caring and engaged citizens with a strong sense of social responsibility and deep rooted humanism.
Teaching-Learning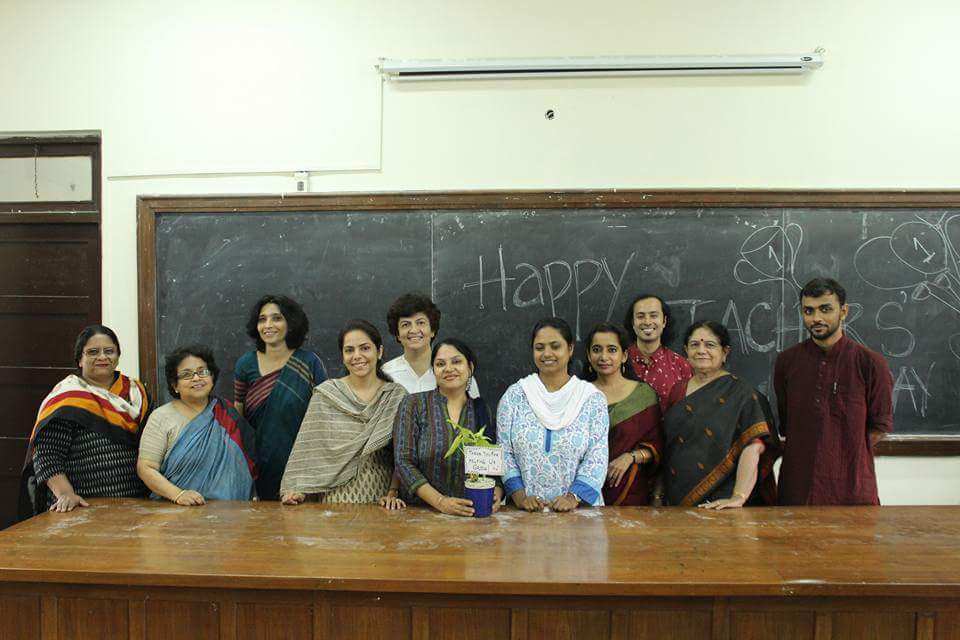 The Department is Socratic in its approach. Standard pedagogic tools - lectures, tutorials, audio-visual presentations and group discussions are supplemented with one to one mentoring and teaching aids like question banks, supplementary reading lists, web links to various relevant sites and reports. Movies are screened to contextualize texts where possible: for instance Shyam Benegal's 'Manthan' to illustrate rural credit issues, 'An Inconvenient Truth' on environmental issues, and so on. Oftentimes classrooms are converted into discussion fora.
Capacity Building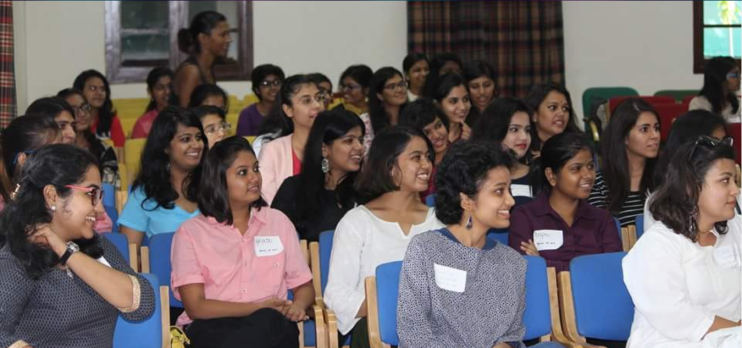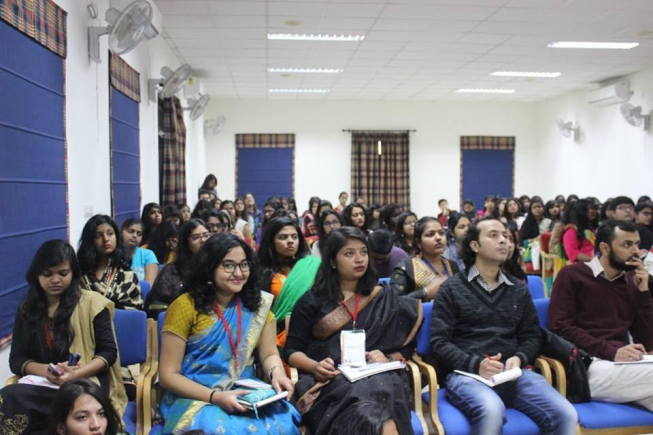 Various workshops, seminars and talks are organized by the department to help the students in enhancing their academic potential as well as choosing their career. The Economics Department organizes various events through Arthashastra - the Economics Society.The goal of the society is to encourage interaction between members and create a liberal and open environment for wide-ranging academic discussion. The society is student driven, and supported by faculty. The Economics Society has several initiatives that enrich student life; they also reflect students' enterprise. These include: Zenith, the Annual Economics Festival, Zenith Model United Nations Conference, held annually since 2012. Vishleshan, is an Economics Discussion Group, where eminent personalities are invited for interactive sessions to stimulate intellectual discourse on critical economic issues. It provides an opportunity for discerning minds to engage beyond the usual constructs of classroom teaching- a forum to inspire and provide greater opportunities to aspiring economists. Aapoorti, the Annual Economics Journal of Miranda House, is an initiative of economics undergraduates at Miranda to bring together ideas and opinions regarding various facets of economic life. Aapoorti, is the Hindi word for 'meeting wants' and hence aptly captures the etymology of economics (matching supply with demand) and the root of political policies. In the same spirit, Aapoorti provides a common platform for different opinions to interact in a distinct enclave. -The Economics Society of Miranda House has its own blog, Ecotalker (https://ecotalker.wordpress.com), where ideas are exchanged about anything and everything from the perspective of aspiring economists, and create new outlooks. Remedial teaching has also been undertaken by the department under the college Remedial Teaching Program.
Faculty members continuously attend lectures, seminars, workshops and faculty development programs in order to update themselves. They are also closely involved with Delhi School of Economics for syllabi structuring and revision, as well as with the University examination process.
Student Progression
The students of Economics Department have always opted for diverse careers and have established themselves in their respective fields. While most of our students go for higher studies, some choose very different career paths.
Our students are accepted into some of the world's best Universities each year, often with scholarships. Sonali Chowdhry (2014) was awarded the Rhodes Scholarship for an M.Phil in Economics from Oxford University, and is currently a research scholar at the ifo Institute, Leibnitz Institute of Economic Research, Munich, Germany. Debasmita Padhi got the Departmental Scholarship to do a Masters in Economics also at Oxford University. In 2016, Shubham Kaushik received the Erasmus Mundus scholarship to study journalism in Europe.
Several students are in the bureaucracy. Debasweta Banik (2012) was among the youngest people to join the IAS in 2014. Devika Lal joined the IFS in the same year. Several students are in the IES, including Aparjita Singh who topped the entrance exam in 2014.
Another illustrative example is the career graph of Ambika Ghuge, 2012 Economics (H) graduate from Miranda House. As an undergraduate in Miranda House, Ambika was the Founder President of the Entrepreneurship Cell. She also completed a programme in Mathematical Finance from the Mathematical Sciences Foundation, New Delhi. Ambika was selected British Council's International Climate Champion 2010 and Hindustan Times Bright Young Climate Leader 2010. She was also Member, India International Centre Youth Forum, and Delegate, Indo-Dutch Collaborative Programme 2010. Ambika also got recognition as CRISIL Young Thought Leader 2010. She was selected for the Young India Fellowship founded by IFRE and University of Pennsylvania. While she was a Fellow, she worked with a leading poultry and food company in North India as part of the 8-month Experiential Learning Module. Armed with this experience, Ambika became a co-founder of Mayur Poultry, a broiler chicken farm with a capacity of 30,000 birds per month in Kalahandi, Odisha. Ambika noticed a specific gap in the market in 2015 - although 98% of the chicken sold in India is fresh, the sector is completely unorganized. Responding to this lacuna, Ambika started a chain of fresh chicken outlets called Fresh Chick in Odisha in 2015. They are currently engaged in expanding the number of outlets across the state. Ambika's start-up venture is an inspiration to young people today. She is also recognized as a young international climate change champion.
The following figures exemplify student progression patterns over the last few years.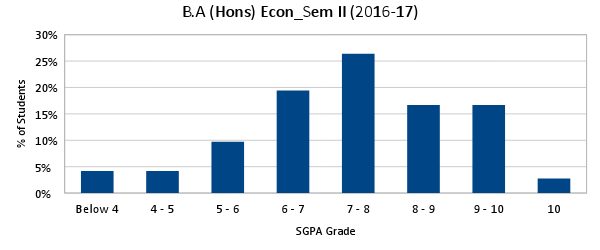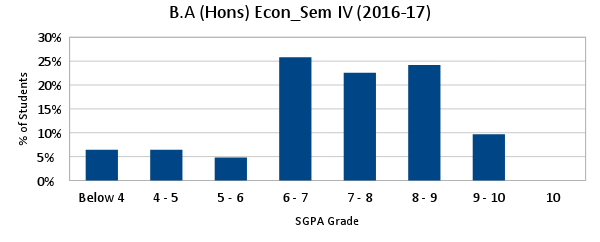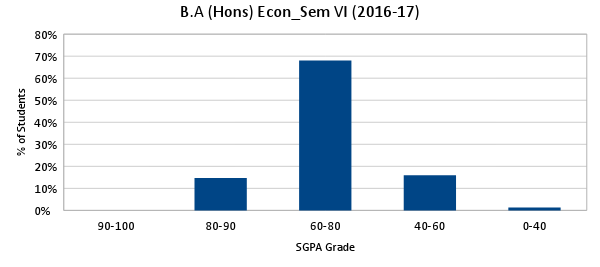 Faculty Achievements
Dr. R. Jha was recognized as a Distinguished Teacher of the University of Delhi in September 2009. She was one of seven teachers of Economics across 36 colleges of Delhi University to get the award.
Ms. N. Dutta, Co-PI, received the Best Display Award at Antardhwani 2015 for her Innovation Project Kashmiriyat: A study of Colonial and Postcolonial Kashmir.
Dr. M.Pal received a scholarship to attend a Summer School at King's College London in August 2013 in the course Introduction to the English Legal System.
Ms. H. Oak was awarded the University of Delhi scholarship under the Faculty Training Scheme to pursue a Masters Course in Economics and Econometrics at the University of British Columbia, Vancouver, Canada, from September 2011 to August 2012. The scholarship covered full tuition fees ($7,490.88CAN), full living expenses ($16,800 CAN), return airfare and other related costs.
Ms. S.Das was awarded the University of Delhi scholarship under the Faculty Training Scheme to pursue a Masters Course in Economics and Financial Economics at the University of Nottingham, United Kingdom, September 2011 to August 2012. The scholarship covered full tuition fees (GBP 11,620), full living expenses (GBP10,200), return airfare and other related costs.
Distinguished Alumnae
The Economics department is one of the oldest departments of Miranda House. It boasts of a long and illustrious list of distinguished alumnae, all of whom have gone on to do glorious work in their fields. Some of our most notable alumnae are -

Mridula Garg, a very well renowned author, has published 30 books in Hindi - novels, short story collections, plays and collections of essay - of which she has rendered three into English.
Uma Kapila, teacher, publisher, author/editor of several other books, has taught Indian Economy at Miranda House, DU for over forty-two years. Presently, she is senior editor, Academic Foundation.
Bina Agarwal, Padma Shri, recipient of the Leontief Award, economist, and poet. She has worked extensively on gender and environment. She has been Director of Economics at the Institute of Economic Growth.
Indira Rajaraman, economist, was on the faculty of the Indian Institute of Management, Bangalore, followed by the National Institute of Public Finance and Policy in Delhi; member of the Thirteenth Finance Commission, whose recommendations covered the fiscal years 2010-15, has regularly published research papers and book review in national and international journals.
We have continued the proud tradition we have inherited. Our students either go for higher studies after completion of under graduation, or work in reputable firms or think tanks. We have several students in premier institutes like Delhi School of Economics, JNU, Indian Statistical Institute, IIMs, XLRI, ISB, in India. Each year, our students are also accepted into some of the best institutions of higher learning in the world: the London School of Economics, Oxford University, Yale, Boston to name a few. An indicative list is below:
Sharadha Venkataramanan (2010), Senior Compliance Analyst at Corlytics (Dublin , Ireland ) and a full time PhD Scholar at Dublin Institute of Technology , Ireland .
Debasweta Banik (2012), Assistant Secretary, Ministry of Micro, Small & Medium Enterprises, Govt. Of India. Joined the Indian Administrative Service as one of its youngest members.
Divya Singh (2012), M.Sc in Economics from Indian Statistical Institute, Ph. D. student in Economics at Columbia University, New York.
Charusmita (2011), MA in 'Media and Development' from University of Westminster, London; Doctoral Fellow at the University of Westminster (London)
Karishma Mutreja (2012), Master of Public Policy degree at the National University of Singapore
Akankshya Kar (2012), Assistant Vice President, PNB Gilts Ltd.
Ambika Ghuge (2011), Joined the Young India Fellowship's Founding Batch (IFRE & University of Pennsylvania). Founder, ZooFresh Foods Pvt. Ltd.
Tanesha Chaudhary (2013), India Air Force
Sweta Suman (2013), Senior Analyst, Ernst and Young
Sonali Chowdhry (2014), Rhodes Scholar, a University rank holder, and a Young India fellow. She is at Oxford University on a Rhodes Scholarship. Currently- Researcher at IFO Institute- Leibniz Institute for Economic Research, Munich, Germany
Raavi Aggarwal (2015), Junior Consultant ICRIER, Gurgaon- Previously, postgraduate student at UCL, London
Surbhi Ghai (2015), Postgraduate student, University College London
Priyasha Mohanty (2015) Researcher, Morgan Stanley
Soumya (2015), Research analyst, McKinsey & Company
Maitreiyee Krishna (2017), M.A. Economics (by Research), National University of Singapore
Prerna Panda (2017), Public Policy and Development, Paris School of Economics
Shubham Kaushik (2017), Masters in Media, Journalism and Globalisation (Erasmus Mundus Journalism, Cohort 2017-19) Aarhus University, Danish School of Media and Journalism, II year specialisation- University of Hamburg