The Department of Economics was founded in 1948. Its history and vision twin those of the college. Currently we take in 78 students in the B.A. (Honours) course. We also teach about 120 students in the B.A. Program. We have a faculty strength of 10. We are reputed to be among the best departments in the University mainly because our areas of interest span the range from high theory to heterodox applications. In particular, we are among the very few departments who have expertise to teach papers as diverse as advanced microeconomics, game theory and econometrics on the one hand, - and political economy and economic history on the other. The latter are areas that had become 'unfashionable' in the closing decades of the 20th century, but have now re-emerged as important frontiers of research.
Teaching-Learning
The Department is Socratic in its approach. Standard pedagogic tools - lectures, tutorials, audio-visual presentations and group discussions are supplemented with one-to-one mentoring and teaching aids like question banks, supplementary reading lists, web links to various relevant sites and reports. Movies are screened to contextualize texts where possible: for instance, Charlie Chaplin's Modern Times, ShyamBenegal's 'Manthan' to illustrate rural credit issues, 'An Inconvenient Truth' on environmental issues, 'The Inside Job' and 'Four Horsemen' on neoliberalism and so on. Oftentimes classrooms are converted into discussion fora.
Capacity Building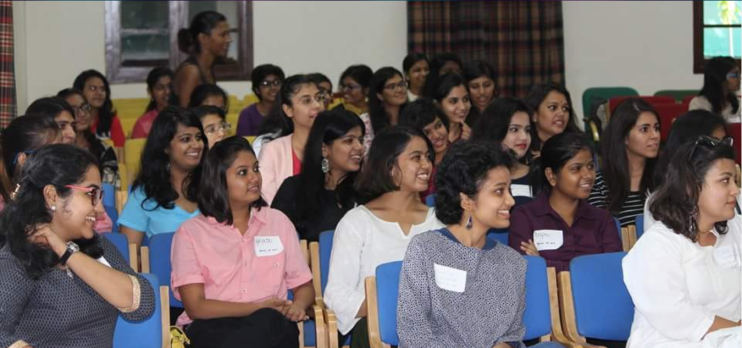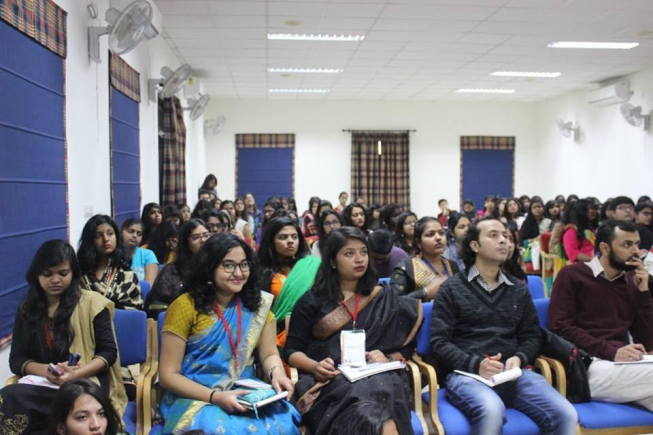 The department remains strongly committed to the college's goal of imparting education that produces sensitive, caring and engaged citizens with a strong sense of social responsibility and deep-rooted humanism.Faculty members continuously attend lectures, seminars, workshops and faculty development programs in order to update themselves. They are also closely involved with Delhi School of Economics for syllabi structuring and revision, as well as with the University examination process
Various workshops, seminars and talks are organized by the department to help the students in enhancing their academic potential as well as choosing their career. We are good teachers; we strongly believe it is easier to be good teachers because our students are outstanding. On the average, more than half of our class scores more than 75% in the University examinations, and our failure rates are negligible.
The Department organizes various events through Arthashastra - the Economics Society. The goal of the society is to encourage interaction between members and create a liberal and open environment for wide-ranging academic discussion. The society is student driven, and supported by faculty. The Economics Society has several initiatives that enrich student life; they also reflect students' enterprise.


Aapoorti, the Annual Economics Journal of Miranda House, is an initiative of economics undergraduates to bring together ideas and opinions regarding various facets of economic life. Aapoorti, is the Hindi word for 'meeting wants' and hence aptly captures the etymology of economics (matching supply with demand) and the root of political policies.
In the same spirit, Aapoorti provides a common platform for different opinions to interact. The Economics Society of Miranda House has its own blog, Ecotalker (https://ecotalker.wordpress.com), where ideas are exchanged about anything and everything from the perspective of aspiring economists, and create new outlooks. The Editorial Board in an effort to expose students to diverse fields in economics and go beyond the undergraduate syllabus has interviewed several esteemed guests such as Dr. Subramanian Swamy, Dr. Arunava Sen, Noam Chomsky, Richard Wolff, Bibek Debroy, and Jayati Ghosh. Transcripts of these can be found on the Ecotalker website as a part of its interview series, The Educational Initiative. Remedial teaching has also been undertaken by the department under the college Remedial Teaching Program.



Vishleshan, an Economics Discussion Group, is a platform where eminent personalities are invited for interactive sessions to stimulate intellectual discourse on critical economic issues. It provides an opportunity for discerning minds to engage beyond the usual constructs of classroom teaching- a forum to inspire and provide greater opportunities to aspiring economists.



The Career Cell strengthens career prospects for department students, provides professional opportunities, and keeps in touch with our alumni network. They perform alumni outreach, host webinars with alums, and post opportunities and competitions.
Zero Down Podcast Team, the newest edition to Arthashastra, works in groups and researches interesting ideas in economics and beyond and then creates podcast episodes out of them.
Student Progression
Student Achievements & Awards 2021-22
Poonam Dey (IIIrd year student)
2nd prize winner, National Essay Writing Competition 2021, organised by the Competition Commission of India. (Prize money of ₹25,000)
N Vaishnavi (IIIrd year student)
Principal's Award 2021, Miranda House
Tanvi Vijh (IInd year student)
The Femina Spark Award by Femina, The Times Group (December 2021) for Female Changemakers in the Social Space
Kumari Sangwi (IInd year student)
Gold medal in Inter College Basketball Championship held at Christ University, Delhi
Anagha M (IInd year student)
Participated in Parasailing Camp 2022
Part of the Prime Ministers Rally the closing ceremony of the Republic Day Parade
Radhika Shukla (IInd year student)
Participated in the 65th National Shooting Championship competition
Vasundhara T (IInd year student)
Third, in MELAS quiz in Linquiztics'21 organised by Manipal Institute of Technology
Third in general quiz organised by quesadilla
Special Mention in Open Mic by Zozimus, IITH
Navya AK (IInd year student)
Respective wins for the western Acapella competition held at
Symbiosis College Noida( First position, 5/03/2022),
NSUT( Second Prize, 26/03/2022),
JMC ( Third prize, 20/04/2022),
IIT Delhi ( Second prize, 25/04/2022)
Sampada Jain (IInd Year Student)
Won the Ciné Impact Fellowship by the Hyphen - A Social Impact Filmmaking Competition (December 16th 2021)
Second Position in Stop Motion Reel Making Competition organised by Adwitya, Fine Arts Society, MH (September 7th, 2021)
Tanisha Victor (Ist Year Student)
1st In Inter college speech competition conducted by the Vivekananda Society,
1st in caption writing competition conducted by LitSoc MH.
Sanjana Aggarwal (Ist Year Student)
wrote a novel 'Mystery of the Sindhiyas' last year in August 2021, which is in the process of getting published by Anandi Publications
Rithika Venugopal (Ist Year Student)
First, in a case study-based competition, La Case De Papel conducted by St. Stephens College, Delhi University.
Gauri Singhal (Ist Year Student)
Highest recommendation award from International model United Nations
Letter of Recommendation from NGO Sambhaj
Khushi Shekar (Ist Year Student)
1st in the photography competition held by the Nalsar University of Law, Telangana in 2021-22
Kalyanie Singh (Ist Year Student)
Open soft tennis nationals Silver medal
Federation cup - soft tennis nationals Bronze medal
Zainab Bie (Ist Year Student)
Entry - "A FIGHT WORTH REMEMBERING " has been awarded a Silver Award by the Royal Commonwealth Society's Queen's Commonwealth Essay Writing Competition 2021,
Qualified for the LEED Green Associate exam (Leadership in Energy and Environmental Design), one of the most recognized sustainability credentials in the world with a full scholarship,
Times Young Achiever by Education Times - Times of India,
Elected in the Youth Forum of the United Nations Conference on Trade and Development. (UNCTAD) Ministerial Meeting,
Accepted to GLOBAL CITIZEN YEAR ACADEMY,
Recipient of President APJ Abdul Kalam Excellence Award by IMPAR Foundation (National Award),
Member and India Representative at Commonwealth Youth Climate Change Network(CYCN), United Nations Institute of Training and Research
E-workshop on Women Leadership- Received full scholarship from the Government of India for attending the e- workshop on Gender, Women Leadership and mentoring,
Selected for the United Nations Development Programme - Regional Innovation Challenge – Human Mobility - Selected under the top 30 start-ups by UNDP Youth Co-Lab working on human mobility.
Students and Research
Results
Faculty Achievements
Our faculty is multifaceted. Dr. R. Jha was recognized as a Distinguished Teacher of the University of Delhi in September 2009. She was one of seven teachers of Economics across 36 colleges of Delhi University to get the award.Ms. N. Dutta, Co-PI, received the Best Display Award at Antardhwani 2015 for her Innovation Project Kashmiriyat: A study of Colonial and Postcolonial Kashmir.Dr.M.Pal received a scholarship to attend a Summer School at King's College London in August 2013 in the course Introduction to the English Legal System.Dr. H. Oak was awarded the University of Delhi scholarship under the Faculty Training Scheme to pursue a Masters Course in Economics and Econometrics at the University of British Columbia, Vancouver, Canada, from September 2011 to August 2012. Ms. S. Das was awarded the University of Delhi scholarship under the Faculty Training Scheme to pursue a Masters Course in Economics and Financial Economics at the University of Nottingham, United Kingdom, September 2011 to August 2012.
Apart from the ability to teach the diverse curriculum, most of them are engaged in syllabi formation, writing and editing books, contributing articles to reputed journals, presenting papers both at the national and international fora.Alka Budhiraja's on Mathematical Economics. Ravinder Jha's publications on Indian Pharmaceutical Industry and Foreign Direct investment,Meeta Kumar's book on Economic Challenges to make South Asia free from Poverty and Deprivation and Malabika Pal's book on Tort Law are a few examples.Bhupinder Kaur undertook a major research project on access of institutional credit to small and marginal farmers , funded by ICSSR. She also received the best presentation awards for two research papers in 2017 and 2020.


Distinguished Alumnae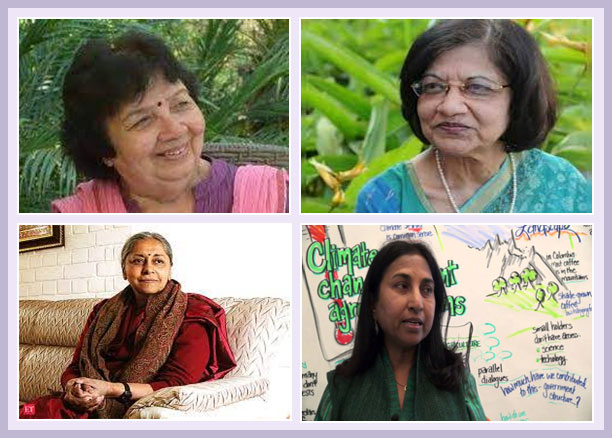 The Economics department is among one of the oldest departments of Miranda House. It boasts of a long and illustrious list of distinguished alumnae, all of whom have gone on to do glorious work in their fields. Some of our most notable alumnae are Mridula Garg, a very well renowned author, has published 30 books in Hindi - novels, short story collections, plays and collection of essays - of which she has rendered three into English.
Uma Kapila, teacher, publisher, author/editor of several other books, has taught Indian Economy at Miranda House, DU for over forty-two years. Presently, she is senior editor, Academic Foundation.
Bina Agarwal, Padma Shri, recipient of the Leontief Award, economist, and poet. She has worked extensively on gender and environment. She has been Director of Economics at the Institute of Economic Growth.
Indira Rajaraman, economist, was on the faculty of the Indian Institute of Management, Bangalore, followed by the National Institute of Public Finance and Policy in Delhi; member of the Thirteenth Finance Commission, whose recommendations covered the fiscal years 2010-15, has regularly published research papers and book review in national and international journals.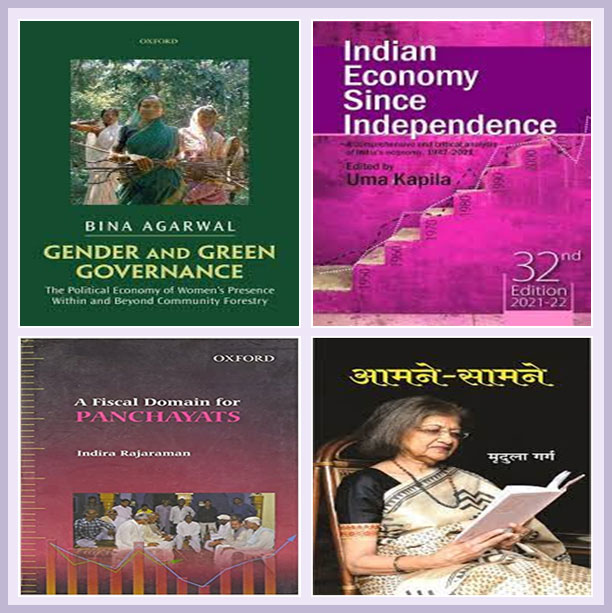 The students of the Economics Department have always opted for diverse careers and have established themselves in their respective fields. Our students either go for higher studies after completion of under graduation, or work in reputable firms or think tanks. Several also join the bureaucracy. We have many several students in premier institutes like Delhi School of Economics, JNU, Indian Statistical Institute, IIMs, XLRI, ISB, in India. Each year, our students are also accepted into some of the best institutions of higher learning in the world: the London School of Economics, the Paris School of Economics, Oxford University, Columbia University, Yale University, Boston, to name a few.
C.K Pushyami (class of 2020), Rituparna Sanyal and Nithya Srinivasan (Class of 2018) are among the students who went to Yale for post graduate studies. NavyaSureka and Ritika Agarwal (Class of 2020) joined the Paris school of Economics for a Masters in Economics. Asmi Khushi (Class of 2017) was awarded Felix Scholarship to do MSc in Development Economics at Oxford University. Lachi Singh, also from the class of 2017, joined the PhD program at London School of Economics, after a stint as pre-doctoral fellow at Yale University. Prerna Panda (Class of 2017) went to Paris School of Economics to study Masters in Public Policy and Development.Ruby Mittal and Gunjita Gupta (both from the class of 2016 batch) went to Oxford to do M.A and M. Phil in Economics respectively.
Sonali Chowdhry (2014) was awarded the Rhodes Scholarship for an M.Phil in Economics from Oxford University and is currently based at DIW Berlin in Germany. DebasmitaPadhi (Class of 2014) got the Departmental Scholarship to do a Masters in Economics at Oxford University and is now working with J-Pal.
The list of high achievers is long. Sujata Visaria( class of 1996)is an Associate Professor of Economics at the Hong Kong University of Science and Technology. After finishing her thesis from the University of Columbia, she worked at Boston University. She is a prolific researcher and her research focuses on development economics. Manasa Patnam (2005) is an Assistant Professor at ENSAE ParisTech and CREST. She received her Ph.D. in Economics from the University of Cambridge.Nayantara Sarma( Batch of 2009) holds the post of Economist for the World Bank's Poverty and Equity India team and works on development topics such as labour, inequality, gender, immigration, and health.Sanaa Budhraja (2009) did M.Sc. from LSE and worked with GenPact. Some students have worked in the corporate sector and now shifted back to academics Arpita Saluja who topped the university in BA, has enrolled for a PhD in economics at Columbia university after working for Accenture.Abhilasha Sahay is an Economist at the Gender Group at the World Bank, based in Washington DC. She received her PhD in Economics at the George Washington University and Master's in economics from London School of Economics. Pallavi Panda is an Associate Professor of Economics within the School of Business at the State University of New York (SUNY), Geneseo. She joined Geneseo after completing her Ph.D. in Economics from University of California, Riverside in 2015.
Several students are in the bureaucracy. DebaswetaBanik (2012) was among the youngest people to join the IAS, fetching the 14th rank in the UPSC exam. She is currently posted as the DM cum DC in Hamirpur, HP.Devika Lal (Class of 2006) joined the IFS. She is presently Deputy Secretary at the Ministry of External Affairs, Delhi. In 2004, Ashima Garg secured All India Rank 2 and is currently the additional principal secretary to Haryana Chief Minister. Several students are in the Indian Economic Service, including Aparjita Singh (Class of 2009) who topped the entrance exam in 2014. More recently, Arushi Gupta (Class of 2016) stood third in the IES exam 2021.
Our students are at the frontiers of the fiercely competitive business sector. Teerna Khurana (class of 2005), has carved a niche for herself in the extremely competitive media world.After an MBA programme at the Wharton School and the BA Tripos/MA Cantab programme at the University of Cambridge, she leads Strategy for Paramount Global's TV and streaming businesses across the UK, Australia, Canada and Israel out of London. Piyush Chopra(class of 2006), an ace debater, is vice president with Reliance industries.An illustrative example is the career graph of Ambika Ghuge, (2012).She was selected for the Young India Fellowship founded by IFRE and thereafter worked with a leading poultry and food company in North India as part of the 8-month Experiential Learning Module. Armed with this experience, Ambika became a co-founder of Mayur Poultry, a broiler chicken farm with a capacity of 30,000 birds per month in Kalahandi, Odisha. Ambika's start-up venture is an inspiration to young people today. There are some who have joined the public sector. Jessica Singh is Chief Manager, Corporate Planning & Economic Studies, Indian Oil Corporation in New Delhi.
Nitya Aasavari(2012) serves as an emerging markets Economist at Citadel in London. She was earlier at Bank of England, International Monetary Fund and Reserve Bank of India. Nikita Sharma works as the Economics Editor for the International Growth Centre at the London School of Economics.She holds an M.A. in International and Development Economics from Yale University.In 2016, Shubham Kaushik received the Erasmus Mundus scholarship to study journalism. She is working as a Communications associate at the Transparency Secretariat in Berlin Germany, which is a global civil society organisation leading the fight against corruption.Radhika Chappolia (Class of 2019) topped the university and is now working as a consultant at McKinsey and Co. after completing her MBA at IIM Lucknow.