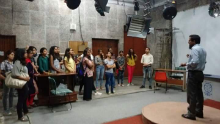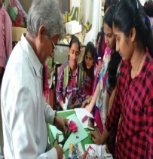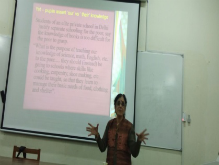 Workshops
Workshop on National Repository of Open Educational Resources, MOOCs on SWAYAM, ICT curriculum, ePathshala, and ICT integration in teaching and learning during visit to the Central Institute of Educational Technology (CIET), NCERT with B.El.Ed. III year students , 20 Sept., 2017.
Session on Puppet making and its use in teaching learning, at NCERT by Mr.PramodShrama, 20th Sept, 2017.
Workshop on "Exploring Different Strategies for Classroom Management" was conducted with B.EL.ED 3rd year students on 8th September, 2017 by Dr. Ajay Sharma, author of books and papers on 'team building' and group dynamics.
Seminars and interactive discussions with Guest speakers
'Evidence-informed teaching: Using Research to Improve Practice.':Lecture and interactive discussion on 15 March, 2018 with B.El.Ed. students by Prof. Steven Puttick, Head of Programmes for secondary, further education and research education from Bishop Grosseteste university, UK (BGU).
'Curriculum for Equity and Quality : Understanding different policy paradigms': Interactive session on Jan 3, 2018, with Prof Anita Rampal, Department oF Education, University of Delhi.
Panel discussion on 'Understanding Sexuality: Significance, Possibilities and Challenges for Education' , 06 Nov 2017, as a part of Annual academic festival 'Buniyaa'. Discussants : Prof.Pankaj Arora from CIE, Ms DipikaSrivasatava from TARSHI, and Mr Firoz Ahmed from LokShikshakManch.
A presentation & discussion on the topic 'धारणाएँगढ़तासोशलमीडिया' on 29 August 2017 by ShriVineet Kumar, a well known Media Analyst.
Azaadi ke Mayane : Interactive Session with Ms. Jaya Srivastava on Aug 16, 2017, on the occasion of 70th Independence Day
Art, theatre and language events
Film screening 'Nil BatteySannata' followed by discussion with Dr.Mihir Pandya on 13 September 2017.
Street play performance 'Yeh Bhi Hinsa Hai' (The Faces of Violence) by the theatre group Jana Natya Manch on 12 March, 2018, on 'issues of violence against women' from mythological period to present day India.
Celebration of International Mother Language Day : A 'baithak' of students and teachers on 26th January 2018.