Sanskrit, the language of elegant antiquity and alluring beauty, is the mother of all languages. It has rich literature which equipped with the vibrant vedas, unique upanishads, prominent puranas, dynamic dharmasastras, phenomenal philosophies, and many more subjects composed & compiled by eminent seers and scholars. This lavishing language embellished Indian society, culture and heritage. It preserved and established the spirit of human unity and global brotherhood.
The Sanskrit Department was started in 1948 along with the establishment of Miranda House. The Department built a harmony between ancient and advanced technology, i.e., the tradition of blending knowledge and science is a perfect combination which is useful and relevant in modern times(present day). Vedas, literature, Vedic mathematics, Ayurveda, astrology, dharmasastras, ethics, kautilyaArthshastra, panini's grammar, Indian philosophy, and other subject matters are taught by the department. The Sanskrit department is committed to the overall development of students to flourish with flying colours.
Teaching-Learning
The teachers of the department use an integrated form of ancient and modern teaching pedagogy to teach different subjects. We make the best efforts to impart textual knowledge and also try to enlighten students with the deep thoughts that are embedded in Sanskrit text. While teaching we use innovative methods like audiovisuals, Powerpoint presentations, live demonstrations of theatre and music, group discussions, storytelling etc. Taking students to visit historical places is an integral part of the departmental teaching method for facilitating subjects such as epigraphy and archaeology.
Capacity Building
Under the auspices of Sanskrit Sangam,the Department organises various programs such as inter-class and inter- college competitions, research paper presentations, cultural programs, workshops, seminars round the year. Sanskrit speaking camps are organised from time to time to enhance the speaking skills of students. These activities provide the students an opportunity to demonstrate and blossom their inherent talent.
For more than 20 years, Mrs. SanyuktaChaudhary and M. M. Gupta memorable lectures are being organized in which distinguished scholars such as Prof. Gary TubbBindeshwariPathak, PadmavibhushanSonalMansingh, Dr.Karan Singh, Dr.GeetaChandran, Dr.KapilaVatsyayan, Dr.Binoy K. Behl, etc. had been invited to the college.
Apart from this, academic lectures for subject clarification are also organised. Special classes are also being organized for the NET-JRF examination for the capacity building of students.
Student Progression
The students of the Department of Sanskrit, Miranda House have shown excellent ability to set goals and be persistent in achieving them. They excel in the academic field and have brought laurels at the University level, without compromising their all-round development as in indicated by their achievements in co-curricular activities and inter college competitions. The department encourages its students and provides them the best environment for their top-notch performance in every aspect.
Ankita Choudhary secured second rank in B.A Honours Sanskrit, University of Delhi Bhavya Ruchi and Archana Verma won prizes in shloka gayan and bhashan pratiyogita respectively at Gargi College's Inter-college competition. Shalini Pandey won the 3rd prize at Shyama Prasad Mukherjee College for shloka gayan.
The department has actively been organising competitions, workshops, seminars and cultural events for the holistic development of students.
Students and Research
A number of students are doing M.Phil and PhD, under the able guidance of Sanskrit department teachers. Dr Madhubala Singh has done an innovation project with Philosophy Department on 'Business ethics in Bhagwad Geeta.
Results
Faculty Achievements
Along with teaching are also doing equally well in the field of writing and research. Many books and Research papers on various subjects have been authored by Dr.Urmila Rustagi [retd.], Dr. Shraddha Shukla, Dr. Rekha Arora, Dr.Meena Kumari, Dr. Madhubala Singh and Dr. Seema Rani.
Distinguished Alumnae
The ex-students of the Department are not only serving the country but working in abroad also. The scope for the students is just not limited to teaching, but they excel in judiciary, writing, management, print and electronic media, museums, and other fields. Prof.T.S Rakmani, Dr. Malati Oakley, Dr. Kalpana Rajukar, Dr. Subhadra Desai, Dr. Urmi Bhushan Gupta, Dr. Kalpana Raveendra Ponkshe, Dr. Richa, Ms. Shiksha, Ms. Akanksha Shekhar, Ms. Priyanka Sharma, Ms. Shambhavi, Ms. Lakshmi Girishmanjana Reddy, Mrs. Rajni, etc. have a remarkable contribution in the field of Judiciary, Administration, education, writing, music, business and media.
Academic Tour
अखिल भारतीय आयुर्वेद संस्थान, दिल्ली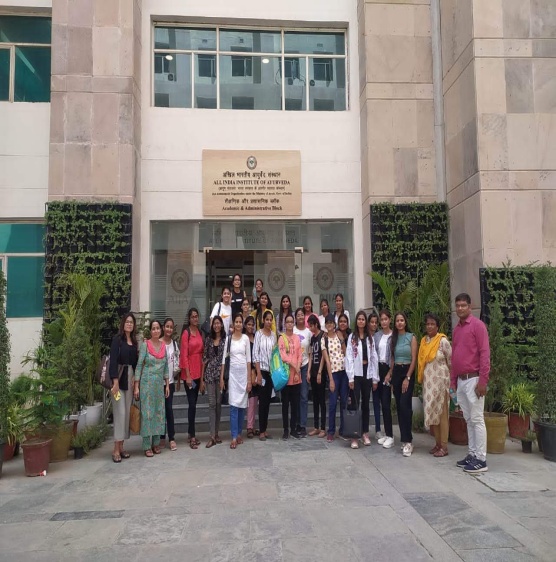 राष्ट्रीय संग्रहालय, नई दिल्ली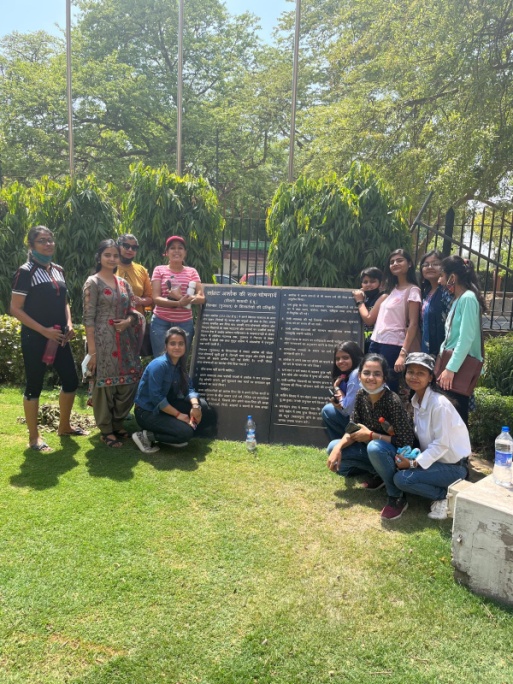 क़ुतुबगढ़