Miranda House Alumnae Association Achievement and Excellence Awards
Miranda House alumnae have over the years made substantial contributions to Indian cultural, social, political, public and personal life and enriched our society. Our alumnae have also distinguished themselves abroad, contributing in no small measure to other lands and peoples. The College and the Alumnae Association are proud of the achievements of many former students who have been pioneers in their fields, breaking through gender barriers and the proverbial glass ceilings. These extraordinary women stand out as role models for us all.
In the year 2005 the Miranda House Alumnae Association decided to recognise and honour some of the College's most distinguished former students by instituting the Miranda House Alumnae Honours List and Awards. The first Awards Ceremony was conducted in the College Auditorium on 10 December 2005. Five distinguished alumnae were honoured with a silver plaque and a citation. The scintillating ceremony set the benchmark for the future. Since then, MHAA in association with the college has been privileged to recognize the contribution of many others. The list is a veritable who-is-who list that not just the college but the country is proud of.
Year
Receipt
Field
Citation
2017
Dr. T S Rukamani
Dr. Kiran Datar
Education

Click here
Click here
2016
Neeti MohanShakti Mohan
Performing Arts and Popular Culture (Music)
Click here
Click here
2015
Rekha Surya
Performing Arts (Indian Light Classical Music)
Click here
2013
Tara Gandhi Bhattacharya
2012
Renu Kanad Sud
Uma Vasudev
Shobha Deepak Singh
Banking and Finance
Media and Creative Writing
Performing Arts and Culture
Click here
Click here
Click here
2010
Ritu Sarin
Film Making
Click here
2009
Shailaja Chandra
Indira Rajaraman
Anita Pratap
Public Administration
Economics and Finance
Media and Journalism
Click here
Click here
Click here
2008
Bimla Bissell
Madhur Jaffrey
Bhavnesh Kumari
Entrepreneurship
Actor and Culinary Art
Corporate Law
Click here
Click here
Click here
2007
Shovana Narayan
Mir Nair
Classical Performing Arts
Film Making
Click here
Click here
2006
Anita Desai
Jalabala Vaidya
Lotika Vardarajan
Mina Swaminathan
Nandita Das
Literature
Theatre
Academics (Historian)
Education
Theatre and Films
Click here
Click here
Click here
Click here
Click here
2005
Malti Gilani
Romila Thapar
Sheila Dikshit
Anjolie Ela Menon
Brinda Karat
Performing Arts (Classical Vocal Music)
Academics (Historian)
Politics
Fine Arts (Artist)
Politics
Click here
Click here
Click here
Click here
Click here
Miranda House Distinguished Alumna Award
Established on 7 March 1948, the college has launched year long activities to celebrate 70 year of sustained excellence on 31 March 2017. Due to inadvertent circumstances, the Founder's Day was also celebrated on this date. MHAA and college came together to honour 7 alumnae across 7 decades with Distinguished Alumna Award. On this day, it also conferred the Alumnae Association Excellence and Achievement Award to two former Principals -both of who are also alumna- Dr. T.S. Rukamini, and Dr. Kiran Datar.
The achievements of the seven remarkable laureates stand testimony to the range of fields in which our students have made their mark.
Year
Receipt
Field
Citation
2017

Ms. Krishna Lal

Dr. Ashima Anand

Ms. Marie Varghese Joneja

Dr. Sudeshna Mazumdar Leighton

Ms. Gitanjali Gupta

Ms. Prachi Garg

Ms. Debasweta Banik

Museology

Science

Sports

Science

Civil Service

Entrepreneurship, Creative Writing

Civil Service

Click here

Click here

Click here

Click here

Click here

Click here

Click here
Krishna Lal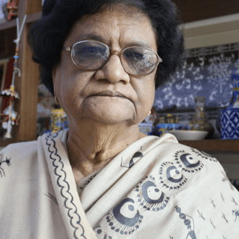 Krishna Lal, M.A. History, Aligarh University, served in the Decorative Arts and Textiles Department, National Museum, New Delhi for 34 years. She was awarded with a French Government scholarship to pursue a Diploma in Museography in France in 1971-72. Under Cultural Exchange programmes, she had explored most of the museums of France and then USSR. Krishna Lal was a student of Miranda House from 1953 to 1956 and moved to Jamia Milia Islamia University for a B.Ed. Next it was Aligarh Muslim University in 1957-59 she went for a Masters in History. She joined the National Museum as a technical assistant in the Decorative Arts and Textiles Department, which covered all handicrafts and fine arts. She presented papers in several seminars and international conferences held in UK, Mexico and Greece. In addition to coordinating national and international exhibitions, she was an active participant in the Festival of India Exhibition in UK, France and the USSR during 1982-88. Krishna Lal's published work includes a Catalogue on Bidriware in the National Museum Collection, New Delhi (1990), Indian Decorative Arts published in German (1985) and Russian (1978) language, Peacock in Indian Art Thought and Literature (2006) and Phulkari: from the realm of women's creativity (2013). Mrs. Krishna Lal also co-authored two books titled Tourism, Museums and Monuments in India (1974) and Cultural Tourism in India (2003). She has contributed a chapter on Indian Decorative Arts in Masterpieces of National Museum Collection, published by the National Museum in 1985. After retiring from the National Museum in 1994, Mrs. Krishna Lal joined the Indira Gandhi National Centre for the Arts as an adviser for documentation and cataloguing of the art objects of the Cultural Archives of the Centre and worked there for five years. She has also completed a research project assigned by Ministry of Culture, Government of India. At 80 years, she has not only launched Krishnayan, a store to showcase Indian arts and handicrafts but also has more plans on her anvil. Twice a week she works on documenting the collection of textiles of the late Kamaladevi Chattopadhyay, social reformer and freedom fighter in the Srinivas Malliah Memorial Theatre Crafts Trust.
Ashima Anand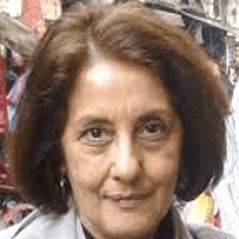 Ashima Anand entered Miranda House in late October 1966 and graduated with B.Sc. in Biology and Chemistry in 1969. The motivation for pursuing research was gained from her teachers who taught her in the three disciplines of Zoology, Botany and Chemistry that she studied here. Ashima specialized in Cell Biology for a Master's degree from the Department of Zoology, Delhi University, but a love of hiking in the hills and mountains and an overpowering interest in studying altitude-related problems drew her to the Physiology Department of Vallabhbhai Patel Chest Institute, where such research in cardio-respiratory control mechanisms was being carried out and from where she obtained a Ph.D. Dr. Ashima Anand is one of a few in the world who could successfully dissect and record the electrical activity from single nerve fibres that supply blood vessels and lung tissue. Her post-doctoral studies were carried out at the University Laboratory of Physiology, Oxford; the School of Hygiene at Johns Hopkins and the Max Planck Institute for Systemphysiologie, Germany. A part of her research was also carried out by trekking to a mountain laboratory near the base camp of Mt Everest. Funded by the Department of Science & Technology for over four decades, Dr. Ashima Anand carries out research that is a blend of basic science and clinical medicine at the V.P. Chest Institute. Her studies have yielded great insight into the mechanism of breathlessness that occurs with exercise and physical activity in healthy persons and patients with all kinds of cardiac disease. Currently these are being conducted by her in collaboration with cardiologists at AIIMS. Dr. Ashima Anand has published research papers in eminent journals and edited landmark books in her subject. She has received the prestigious INSA Young Scientist Award and several others from organizations like Indian Council of Medical Research, National Academy of Medical Sciences and Physiological Societies. She is a Fellow of Indian National Science Academy, National Academy of Medical Sciences and The Developing World Academy of Sciences. A member of ICSU's Committee on Freedom & Responsibility in Science for six years, Dr. Anand's special area of interest is maintaining ethics in science also known as research integrity. The other cause close to her heart is supporting projects that would 'naturally' attract the young to science and additionally retain women in science.
Marie Varghese Joneja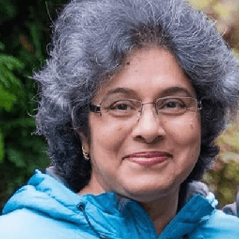 Marie Varghese Joneja was a student of Miranda House from 1970 to 1973 and pursued an Honours degree in Mathematics, graduating with a First Division. A keen athlete from her schooldays at the Convent of Jesus and Mary, New Delhi, Marie specialized in sprints (100 m and 200 m), winning laurels at the state and national level and was declared Best Athlete on several occasions. Marie represented Miranda House at the state and University level and set the Delhi University 100 m record in 1971, which stood for 25 years. She represented the state and University at the national level winning medals in both 100 m and 200 m. Moving to Bangalore after graduation, she went on to represent India at the Asian Games in Tehran in 1974, where she was 6th in the 100 m final, just five-hundredth of a second behind the bronze medalist. She also represented the country at the Asian Athletics in Seoul in 1975. Marie set the national 100 m record of 12 sec in Palai in January 1976, which stood for 6 years before being broken by P T Usha. Returning to Delhi in 1981, Marie taught Mathematics for 12 years at St. Columba's School, before joining her husband in his graphic design business. They retired from the business two years ago to do the things they did not have time for earlier. Marie and her husband Navin, a former national level middle and long distance runner, are blessed with two sons and two grandchildren, aged seven and one-and-a-half.
Sudeshna Mazumdar Leighton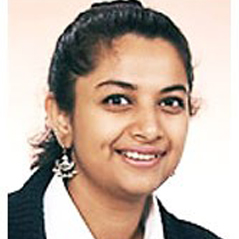 Sudeshna Mazumdar Leighton or Sudeshna Mazumdar as she was then called, did her B. Sc. Honours in Botany at Miranda House, graduating in 1989. After completing her M. Sc. in Genetics at South Campus, University of Delhi, Sudeshna went on to obtain her Ph.D. in Botany from University of Delhi. For her thesis research, Sudeshna spent two years at International Rice Research Institute, Philippines. Between 1996 and 2003, Sudeshna was Post-doctoral fellow and Research Associate at Departments of Entomology & Plant Pathology, Cornell University; NYSAES, Geneva and NY, USA. Sudeshna joined the Department of Botany, University Delhi as a Reader in 2003. She was subsequently Associate Professor and is currently Professor, Department of Botany (January 2011-till date). Sudeshna has supervised 7 completed Ph.D. theses and is currently guiding 6 students. She has numerous publications in reputed journals, book chapters and popular articles. Interested in Science popularization activities for young people, Sudeshna has been a volunteer judge of long standing for Quest, the University of Delhi competition for Science students. Apart from her academic activities, Sudeshna has also shouldered administrative responsibilities by taking up the Wardenship of Meghdoot Hostel, University of Delhi (a residence for 100 women scholars) under the provost-ship of Professor Rama Mathews. During her stint, a first computer room for students and a washing machine cum dryer room for residents were established.
Gitanjali Gupta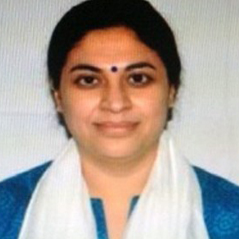 Gitanjali Gupta studied B.Sc. Honours in Chemistry at Miranda House from 1988 to 1991. Subsequently, she did M. Sc. in Biotechnology from Centre for Biotechnology, JNU and topped her class in 1993. Gitanjali joined the Indian Administration Service in 1996. She was part of AGMUT Cadre. Various posts held by her between 1998 and 2003 are: SDM, Chandigarh; OSD to Minister (Finance), Chandigarh; Joint Secretary (Power); Joint Secretary (Environment and Forests) and Joint Secretary (Tourism) and Deputy Commissioner Lawngtlai, Government of Mizoram. Gitanjali was Additional Director (Education, GNCTD) and Deputy Commissioner, South Delhi from 2003 to 2006 and Additional Secretary to Lt Governor, Delhi 2006-07. She served as Dy. Secretary/Director, Ministry of Defence from 2007 to 2012. Between 2012 and 2015 Gitanjali was Chief Vigilance Officer in Delhi Transport Corporation, Delhi Transco Limited, IPGCL and Delhi Jal Board. She has also been Commissioner (Transport), Government of National Capital Territory of Delhi. Gitanjali is currently posted in Delhi as Resident Commissioner, Govt. of Arunachal Pradesh. Gitanjali has received four National e-Governance awards between 2005 and 2007, jointly given by Department of Administrative Reforms and Ministry of Information Technology, Govt. of India. She also received the Prime Minister's Award in 2008 on Civil Services' Day for team initiative for radical improvement in Delhi Government Schools. Gitanjali's other awards are: Golden Icon Award for the Exemplary Leadership & ICT Achievement of the year in New Entrant Category (Education Department, GNCTD); Bronze Icon Award for exemplary Leadership & ICT Achievement of the year in Professional Category (Education Department, GNCTD) and Golden Icon Award for Excellence in Government Process Re-Engineering (Education Department, GNCTD).
Prachi Garg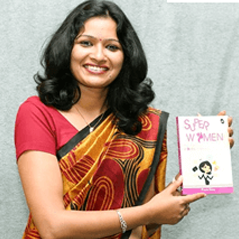 Prachi Garg is an author, traveler and entrepreneur. Prachi graduated from Miranda House with Computer Science in 2004. She is also an alumna of Great Lakes Institute of Management, Chennai. Prachi started www.ghoomophiro.com, an enterprise where the team organizes corporate tours based on the customers' requirements and budget and provides them a bouquet of options. This initiative was taken up by her during her college days. Recently ghoomophiro expanded its portfolio for women's solo travel. Besides Miranda House, Prachi has organised workshops on entrepreneurship at major B-schools (FMS/IIMs/IMT) and her start-up has been covered by yourstory/ IndianExpress/Femina /idiva. She has been featured among top 10 Indian women who made big online, and Women's Web saw her as an incredible woman entrepreneur. Prachi authored Superwomen, the book that talks about the journeys of women entrepreneurs. The book has been constantly topping the non-fiction charts at various bookstores. Her latest book Supercouples is about couple-preneurs and their journey of balancing the relationship and work. Prachi also kick-started a journal Managing Minds, that caters to the need of Tier II and Tier III MBA aspirants. She is a featured author at Yourstory.com. She has been associated with eetindia group, DD News and has been freelancing for HT Horizons for quite some time. She likes traveling, theater, and writing. While at Miranda House, Prachi was president of Quiz Society and NSS and active member of MH-Vatavaran, Anukriti and the Fine Arts Society.
Debasweta Banik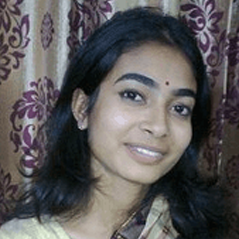 Debasweta Banik graduated from Miranda House with Economics Honours in 2011. After completing her graduation, she went on to write the Civil Services Examination at the age of 21 and got selected in her first attempt with all India rank 14 in the Indian Administrative Service (IAS), becoming the youngest person entering the service in the 2013 batch of the IAS. Debasweta belongs to the Himachal Pradesh Cadre. Debasweta completed her training in the Lal Bahadur Shastri National Academy of Administration, Mussoorie. During this period, she won prizes in sports, culltural events and academics including the Director's Gold Medal for Economics. Debasweta served as Assistant Secretary briefly in the Government of India in the Ministry of Micro, Small and Medium Enterprises. She was the Editor of the Magazine Capital Postings brought out by the 2013 batch of the IAS and the Department of Personnel and Training, Ministry of Personnel and released by the Cabinet Secretary. In December 2015, Debasweta was posted as the Sub Divisional Magistrate-cum-Collector, Kangra in District Kangra, Himachal Pradesh. Currently she is serving in the same post.