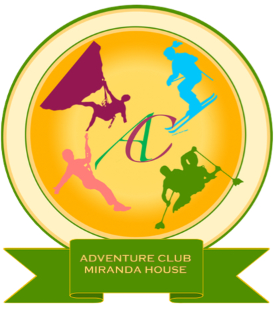 Adventure Club in Miranda House was created in 2006 by a group of adventure enthusiasts, students as well as teachers. The Club aims to take students beyond their perceived physical and mental comfort zones, hence overcome their fears; instill a sense of adventure and love for nature; inculcate teamwork and leadership. In the process they also become self-reliant and pick up some valuable life skills. In their outdoor trips they also follow the basic principles of LNT or Leave No Trace which educates them to care for the pristine environment.
The Club has been regularly organising activities like Trekking and camping, Rock climbing, Skiing, Rafting, and other water sports over the years. During the annual festival of the college, various in-campus adventure activities like Rappelling, Jumaring, River Crossing, Burma Bridge, Zorbing, etc. have also been organised for the students as well as staff of the college. Also, they have been attending adventure camps with specialized training coaches and institutes. In the last twenty months, they organized online activities and experience sharing workshops with their seniors and alumnae's. 
Each year a fresh batch of students are selected for enrollment through especially-designed activities to gauge their keenness and aptitude for adventure sports. Thereafter, over three years these students attend various training programmes and short-term courses, so that they can learn and appreciate adventure activities in their true spirit.
Society Activities
Aajkal (Current Activities)