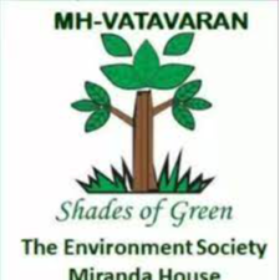 MH Vatavaran, the environment society through its entire Miranda House community - students, faculty, and non-teaching staff wants to give voice to common environmental concerns and build sensitivity to such issues among people. Our environmental activism begins at home. Miranda House has a solid waste management project where bio-degradable waste from the MH Hostel Mess and the college café along with leaf litter from the college gardens is aerobically decomposed to make organic compost. The society also manages a paper recycling plant. The recycled paper products and compost prepared are available for sale at the MH Souvenir Shop set up on the college campus. Students and teachers are involved with several environment-related ventures within the college and beyond. MH Vatavaran collaborates with the college Garden Committee to grow air-purifying plants in the Herbal Garden.
MH Vatavaran has been recognized by the Department of Environment, Government of NCT Delhi and receives an annual grant for the activities organized. Various events like tree plantation, webinars and seminars, poetry writing, essay writing, video making, slogan writing and poster making competitions, documentary screenings, workshops, walkathons, cyclathons, and clean-up drives are organized throughout the year. Society is functional in the online as well as offline mode. The student members are encouraged to spread awareness about the environment in the neighborhood of their homes as well.
In collaboration with WWF India ECHO (Environment Conservation Heroes) the society participates in different projects every year. MH Vatavaran student members participate in various initiatives of both the Government of India and the Government of NCT Delhi - Gandhi Chaddi, tree plantation drive, Vigilance Week, awareness regarding Disaster Risk Reduction, Ozone Day, GRAP (Graded Response Action Plan), noise and air pollution to name a few. We try to reduce the use of plastic items as far as possible, especially the single-use plastic is highly discouraged, and to encourage the re-use of old plastic bottles, a plastic bottle garden symbolizing MH, the initials of the college name, is also maintained. A rainwater harvesting system has also been set up on campus. Different color dustbins have been placed on the campus, marked suitably, and monitored by volunteers for maintaining cleanliness and segregation of waste making the college a zero-waste campus.
Society Activities
Aajkal (Current Activities)