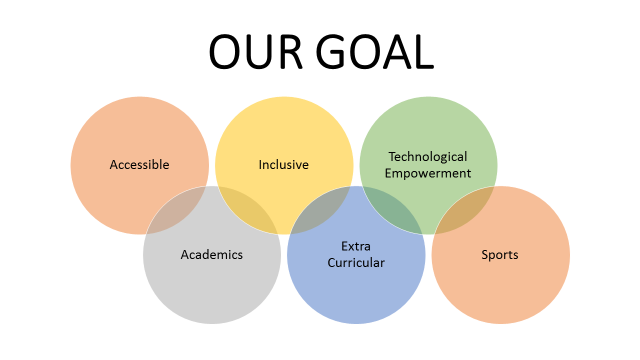 The Enabling Society functions on the motto of accessibility—physical and social. The focus is on creating and enabling a barrier free environment. For Persons with Disabilities (PwD) universal accessibility is critical for enabling them to gain access to society and to live independently. The College is deeply committed to ensuring inclusive education and providing an enabling environment to all its students. In the academic year 2016-17 there were about 75 visually impaired students and 10 students with other disabilities. While it is the policy of the College to provide the best support to all students, special care is taken to ensure adequate resources are available to those with any disability.
Lakshita adopts a multipronged strategy. The key components are:
Capacity building of the differently abled through interventions – technological and social
Generating awareness in the College, be it students, faculty or non-teaching staff.
The Amba Dalmia Digital Resource Centre for Visually Challenged Students, established in 2006, is the first of its kind in the University. Situated on the ground floor of the College library, it provides ten networked computers preloaded with special talking software in English, Hindi and all other Indian languages, namely, Job Access with Speech (JAWS); Kurzweil (for those with dyslexia and other learning disabilities and also for those with vision problems in reading; Screen Access For All (SAFA); and Non Visual Digital Access (NVDA). As a student types on any of these computers, she is able to listen to the words she has keyed in, complete with the insertion of space and punctuation marks and therefore, and can correct any typographical errors that occur. The Centre has installed a Scanner; E-book reader; voice recorder; Braille Embosser that converts printed text to embossed Braille dots for easy reading; and a newly acquired Lex scanner. Additionally, all differently abled students have been issued laptops. Screen reading and OCR software has been installed on the laptops of all visually impaired students. This includes Braille face and Lex Scanner compatible software. They have also been issued DAISY Angel recorders.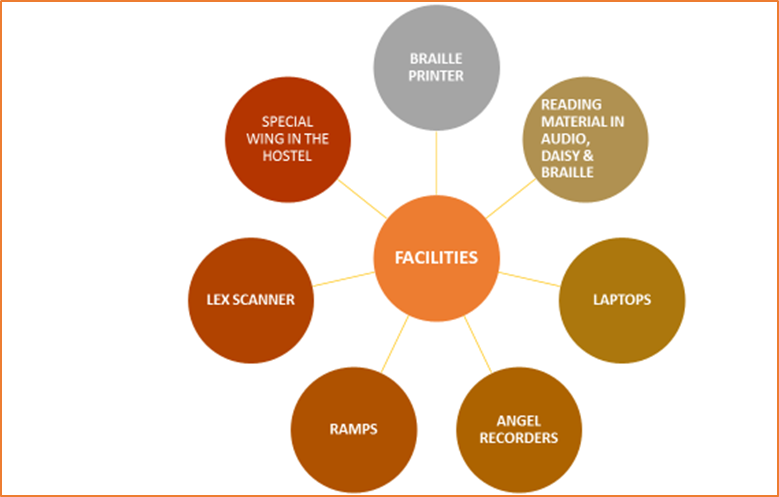 All students are given smart canes if they do not already possess one. Besides internet accessibility, the College has a set of Braille books, Braille magazines, audio magazines, Daisy audio recorded books, e-text books and blank audio cassettes and tape recorders to be used by the students. Recently the College has created a specially designed recording room as part of the Community Radio Station. This will also serve as an Audio Book Production facility.
As with the rest of its students, the College aspires to inculcate a sense of assured self-sufficiency and empowerment in its special students as well. The Digital Resource Centre was established in the year 2006, with an endowment from Ms. Manju Kapur Dalmia, acclaimed author and member of teaching faculty at Miranda House. Since then, the College has made significant investment in making it state-of art. It continues to be extremely popular and useful. It is fully occupied most of the time. In addition to informally providing basic training in use of computers, it also runs a well-structured Certificate Course in Computer Application for the Visually Challenged Students.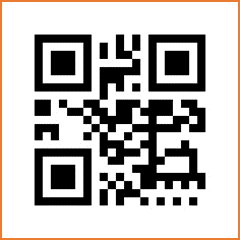 Digital Vision Signages are a technological innovation adopted by the College. In a first for any College at University of Delhi, Miranda House has installed these to assist visually challenged students to navigate and find their way across the College. The aesthetically pleasing large 6x6 inch acrylic sheets fixed prominently outside each room carry the QR (Quick Response) Code. This is a machine-readable code consisting of an array of black and white squares, typically used for storing URLs or other information for reading by the camera on a smartphone. Each signage carries a unique description. Typically, it gives the room number; and going beyond, a brief description of the facility within. An App installed on the smart mobile phone converts the code once scanned into a short verbal description that the students can listen to. Faculty and student volunteers personally created useful information about classrooms and all facilities through interesting narratives. This entailed mapping step by step the path leading from the signage to the facility. For instance, the digital signage outside the Principal's Office corridor gives a warning about the glass door and directions on how many steps it will take to reach her table!
Physical Access is most important. The College has special provisions in place for the differently abled students. These include, ramps, wheel chair accessible toilets with cubicles conforming to stipulated requirements. The hostel has a special wing for PwD students even as they share the rooms with other students following the precepts of inclusive living.
Digital Communication through multimedia format is the preferred mode of communication as the College has installed several LFDs (Large Format Displays). These are replacing Notice Boards.
Social integration is considered far more important than physical and technological facilitation. It is also far more difficult to achieve.
Samdrishti, is a programme specially designed to provide mobility orientation to the fresh batch of visually challenged students.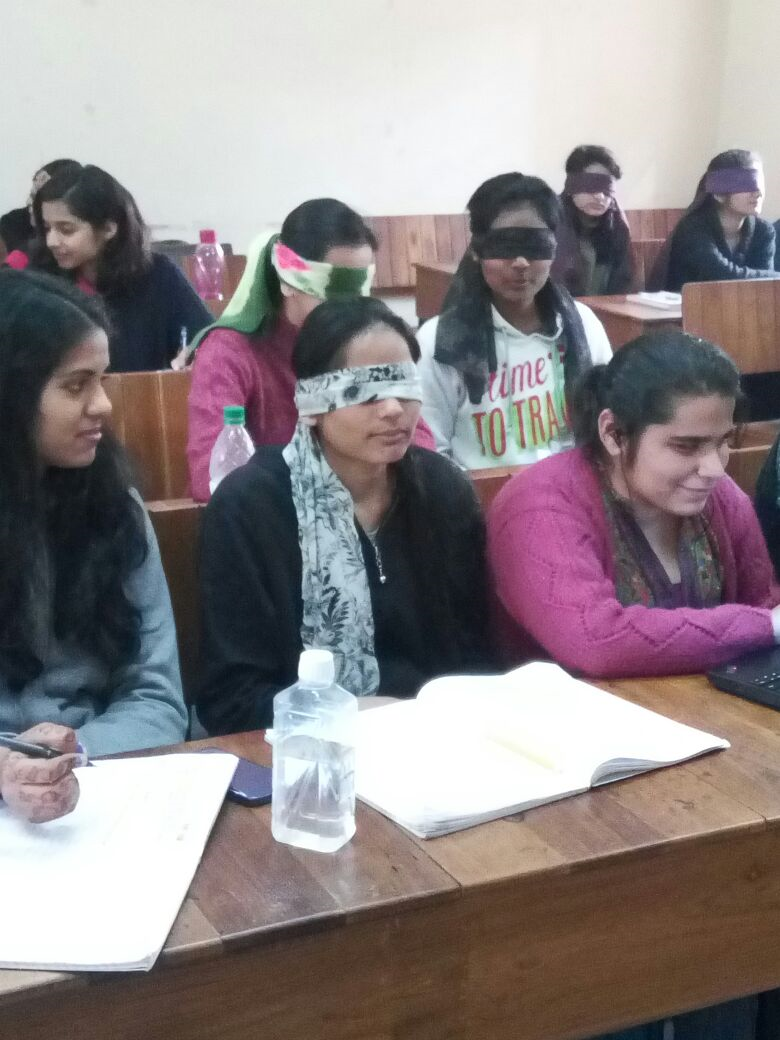 This is an attempt at deconstructing the existing notions of disability and a fresh approach to the sensitization of the sighted through a series of games played blind folded. Sighted volunteers are specially trained to help visually challenged students negotiate their way not just within the campus but also outside. They are taught how to make their way to important destinations such as the metro station, bus stops, the University Braille Library and the Equal Opportunity Cell.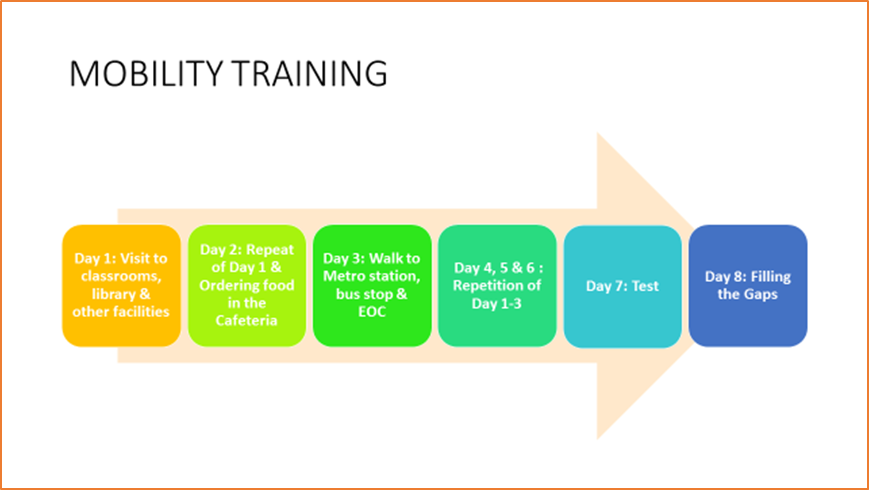 Capacity Building through workshops, seminars, job fairs, peer support is another prime area of focus.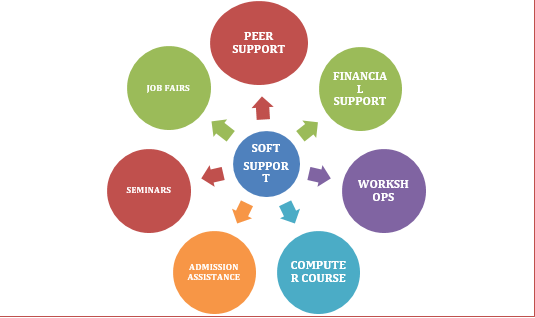 Physical Education and Sports for all is a priority. The College endeavours to provide high quality training as well as opportunities for participation in competitive sports. Visually Challenged students have been actively participating in various inter-College, state and national sports meets. Miranda House teams are known for winning the top positions and awards in all tournaments bringing laurels to the College.
Cultural activities for all is another priority. Differently abled students are extremely talented. The vibrant cultural environment is empowering. Students are encouraged to become members of other societies in accordance with their individual preference. Visually challenged students each year script, direct and produce a play in which they also act. Invariably, the production wins the first position in competitions. The Music Society Geetanjali also has a large number of visually challenged students. In addition to performing at major College events, they are renowned for routinely winning competitions across Colleges and bringing laurels.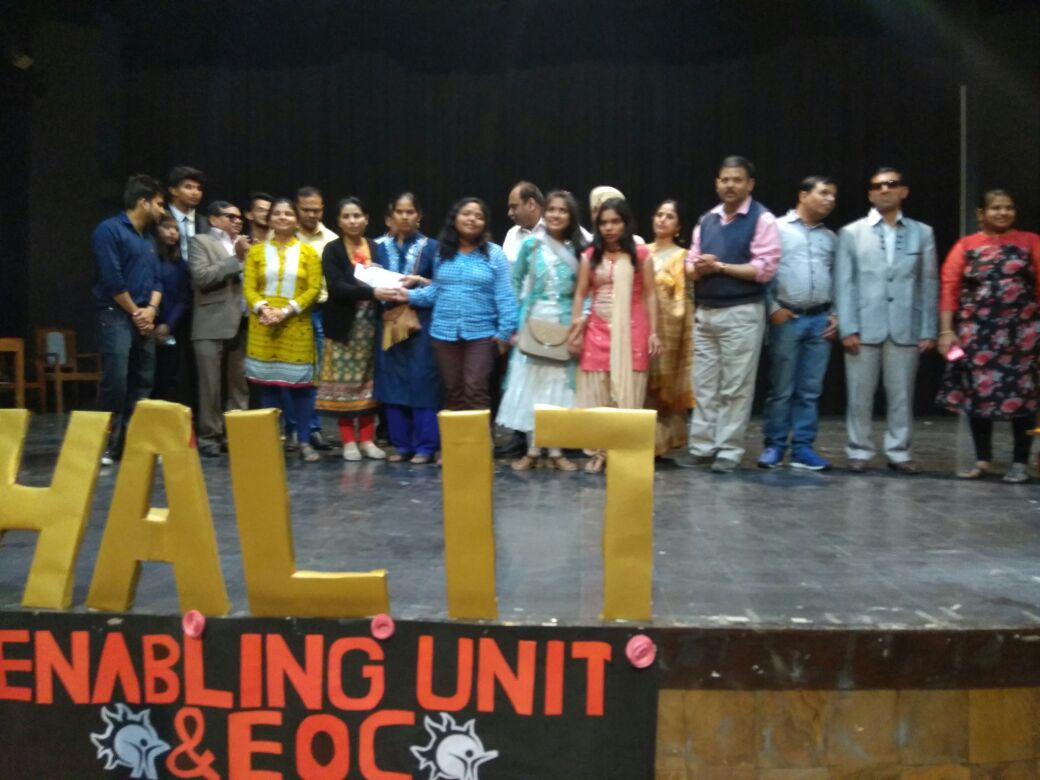 Recognition of efforts is important. Miranda House has always been acclaimed for providing inclusive education to its diverse population. This year, the innovative use of technology as an empowering and enabling tool has captured the imagination of the media.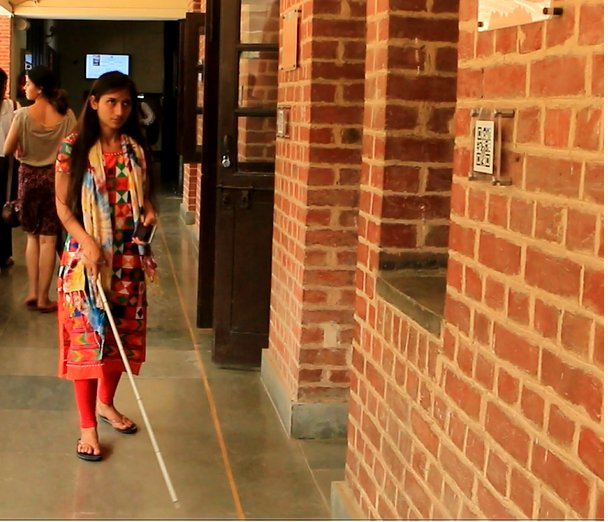 16 May 2017: Delhi's Miranda College Gives Its Blind Students 'Digital Vision' & Deserves An Applause
View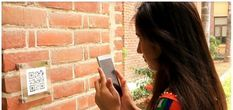 10 May 2017: Miranda House puts up digital 'talking signages' for its blind students
View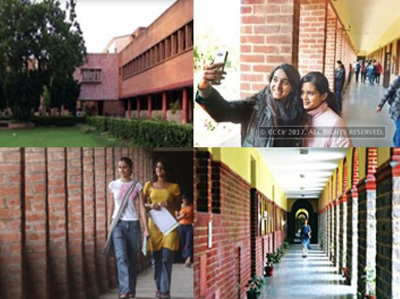 मिरांडा हाउस में दृष्टिहीन छात्रों के लिए लगाए गए टॉकिंग साइनेज
A Short Film by Students