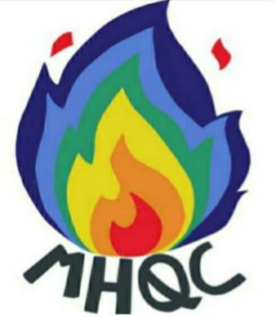 Miranda House Queer Collective, MHQC was established with the aim of providing a safe space for queer students in Miranda House to express their sexual orientation and gender identities. It works to sensitize students and staff alike on the issues and struggles of the LGBTQIAP+ Community in India in general and especially in educational institutions. It educates people on matters of gender and sexuality through seminars, workshops, film screenings, etc. MHQC also works on the socio-legal aspect of the Queer Movement, such as on the now abolished Section 377 and the Transgender Act 2020. Among other things, the collective is making efforts to provide 'psychological first-aid' to students before they can be referred to a professional. The instances of mental health issues in the queer community are statistically higher than outside it, which becomes a cause of concern and something that the MHQC is working on closely.
MHQC was established in 2018 as a formal queer collective and it was the very first official queer collective of University of Delhi. MHQC has taken initiative to help other colleges to establish formal/informal queer collectives over the last three years as well.
MHQC has a set code of conduct for all the members of the collective to ensure equality and equity for everyone based on their caste, class, religion, gender identity, creed, region, etc. We have reservations ensured within the QC union to ensure equal opportunities for DBA Queer people. 
Iridescence is the annual festival of the Miranda House Queer Collective, which was first held  in 2019 and has continued since then. It is an amalgamation of a multitude of socio-cultural and educational events revolving around gender and sexuality.
To know more about Queer terminologies, click on the link below:
https://mirandahouseqc.wordpress.com/glossary/ 
(A comprehensive glossary about LGBTQIAP+ community, compiled by MHQC)
 Visit our blog: https://linktr.ee/mhqc
Instagram: @mirandahouseqc
Society Activities
Aajkal (Current Activities)