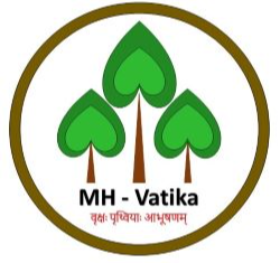 Miranda House campus has beautiful green spaces which are maintained by the Garden Committee (GC) with the help of Malis and other workers. The GC is responsible for day-to-day maintenance and upkeep of the green spaces, trees, shrubs and potted plants within the college campus. As we believe nature is the greatest teacher, the GC along with the Department of Botany has put labels for nearly every plant in the campus with scientific names, family names and common names so that students have an opportunity to imbibe and learn while they are in college. Additionally, the GC also overlooks the preparations for participation of the college in the Annual University Flower Show. Every year, as winter turns to spring the campus bursts into a colourful spectrum with annual floral displays. We have had a very strong presence in the University Flower Show and have won the prestigious Vice-Chancellor's Cup (which is given for the highest aggregate marks) many times. In recent years, the GC has also developed new specialized gardens like the herbal garden and rock garden. The herbal garden has nearly 50 different medicinal plants/herbs which includes a range of perennial plants like Withania somnifera (ashwagandha), Curcuma longa (haldi), Rauvolfia serpentina (sarpagandha), Cinnamomum camphora (camphor, kapur), and many more. The rock garden houses around 25 cacti and succulents. We are also developing a "Nakshatra Vanam" and a vegetable garden in the college.
Nakshatravanam
Constellation is a group of stars seen to represent a mythical figure or pattern in the sky. Eighty such groups are known. The Hindu literature describes 27 such stars combinations or "Nakshatras". The Sanskrit word nakshatra means "that which does not decay". Twenty seven such nakshatras are distributed over 12 months. Every nakshatra has a symbolic tree or plant that defines its connection with eternal nature. Each one of them has myriad of medicinal, aesthetic and economic value which can be explored for additional health benefits. All these trees are indigenous and suits the local environment.
Due to number of developmental activities, the forests and thereby tree wealth is dwindling fast. Plantation of nakshatra vriksha by each of the individual would definitely assist in biodiversity creation. Nakshatra vriksha is an ancient conservation practice when man was aware of scientific values of trees.
Plantation of plants of your birth nakshatra can be useful in conservation of biodiversity on earth. In short this is an ancient way of plant adoption for conserving biodiversity on earth. To add, each plant has its own "micro – diversity" of microbes, butterflies, birds and humans too. Interestingly, there are five birds such as vulture, peacock, owl, cock and crow are associated with 27 nakshatras. This panch pakshi-shastra is also popular in south India.
PANCHVATIKA
Importance of five: In our mythological texts, the word "Panch" (five) has great significance. "Panchbhut" (Five Elements) created creation from the earth, water, light (Agri), air, and sky.
 The human body completes five senses, skin, eye, nasal, tongue source (ear) and five  karmandriyas. Similarly, five species of Panchavati, Peepal, Banyan, Bael Ashok and  Amla symbolize environmental perfection. According to the Hemavarya fast section of the Panchavati mythological book 'Skanda Purana'  mentioned in the Purana, the description of Panchavati is as follows- Panchavati: 'Peepal, Bel, Vat, Dhatru (Amla) and Ashoka, these five trees have been  called Panchavati.
Scientific analysis of Panchavati mentioned in Skanda Purana makes it clear that the knowledge  of serious Ayurveda, psychology, horticulture, forestry, architecture, and environmental protection  has been used in its composition. Medicinal importance: These five trees have unique medicinal properties. They have all those  qualities in them so that a person can be able to diagnose all his diseases by staying longevity.  Amla is the richest source of vitamin C and is a great remedy to make the body resistant to diseases.  Banyan milk is very strong. Its daily intake causes rejuvenation of the body.  Peepal is an antidote and inflammatory to relieve blood disorders. Bel is an effective medicine  for stomach related diseases, while Ashoka is the main medicinal tree for female disorders.
Society Activities
Aajkal (Current Activities)