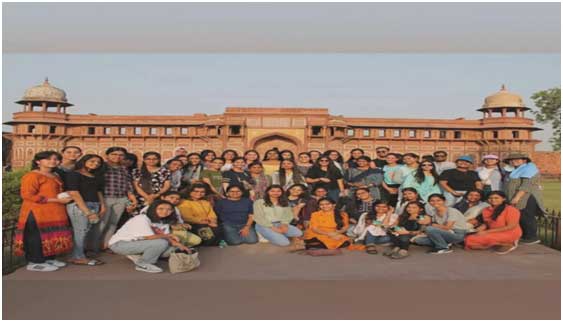 The Department of History, Miranda House, began its journey in the year 1948. A single-member department for the first batch of history enthusiasts, the faculty strength is now a round dozen. The history curriculum addresses issues of change and continuity through a study of human evolution, cultural patterns, political trends, gender and environment, besides intensive focus on the histories of India and of different parts of the world. Students are introduced to reading texts and sources in the form of manuscripts, inscriptions, coins and artefacts. A training in comprehensive, critical and analytical understanding of the discipline equips our students to make career choices in diverse fields. Our alumnae have made a mark for themselves in teaching and research, bureaucracy, media, film-making, theatre, performing arts, corporate sector, public service and other fields.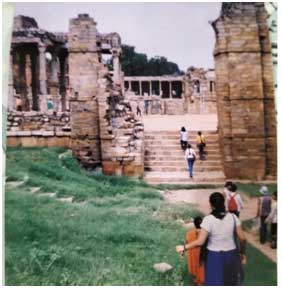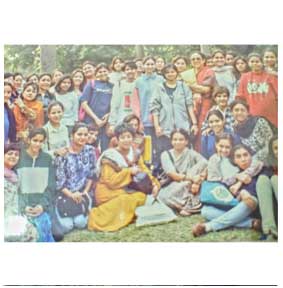 The leap from the school system of education in India (mostly textbook-dependent and based on rote learning) to the requirements of higher education is an enormous one. A strong library culture, fortified by discussion groups without the pressure to make formal presentations, culminating in one final assessment, is necessary to develop critical thinking about History. Our students have access to a dedicated department library managed by the faculty and students together, besides the college library. The activities of the History Society encourage students to engage with history through debates and discussions, as also interactions with eminent scholars through seminars and talks, as well as the annual departmental festival, Tarikh.
Teaching-Learning
All courses taught by the Department of History begin with extensive reading lists. Lectures are frequently substantiated with maps, even cartoons, and actual objects like stone tools, old coins and ancient pottery from the private collections of faculty members so that students can get a tangible feel of the materials of study. Tutorial discussions often go beyond the syllabus into interesting matters of historical importance and contemporary concern. Screenings of historical films and documentaries go a long way in making the subject both comprehensible and enjoyable.
Students are expected to make presentations/ write term papers/ class assignments through which their grasp of the subject can be examined The college provides access to e-learning resources to both faculty members as well as students. Students and teachers access old manuscripts for research as well as recent journal issues through JSTOR and Internet Archive. All our lecture rooms are ICT enabled with installed over-head projectors and white boards to facilitate power point presentations and use of e-resources.
Capacity Building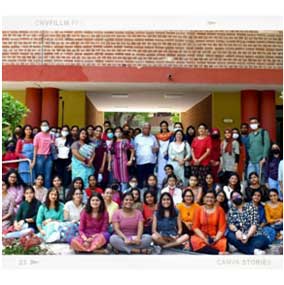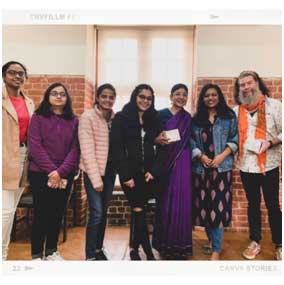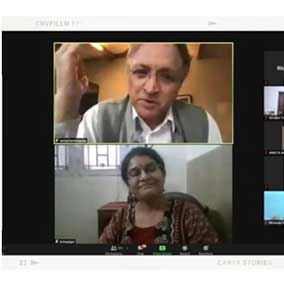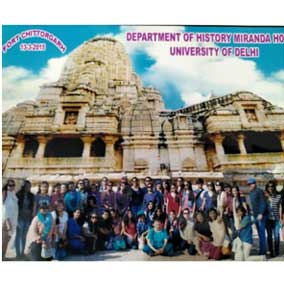 Eminent speakers from different walks of life are invited regularly to address students. Besides getting a chance to listen to and interact with renowned historians like Romila Thapar, Kumkum Roy, Uma Chakravarti (who was a faculty member at Miranda House) and innumerable visiting scholars from abroad, our seminars and festivals have also been enriched by talks by India's first feminist publisher, Urvashi Butalia, and stalwart media person, Ravish Kumar. Students are introduced to the primary sources of History through an annual visit to the National Museum, besides several excursions to places of historic importance in the national capital region, led by eminent walk leaders such as Swapna Liddle, Sohail Hashmi and the late Professor Sunil Kumar. In recent years, we have discovered the stories hidden in the crumbling stones of Tughlaqabad and the winding by-lanes of Chandni Chowk, and explored the architecture of Fatehpuri Masjid while sampling the delicacies of old Delhi.
Outstation department trips such as the ones to Agra-Fatehpur Sikri, Khajuraho– Gwalior– Orchha, Udaipur– Ranakpur– Chittorgarh– Kumbalgarh, and Ahmedabad– Lothal– Dholavira– Bhuj– Patan enrich the understanding of history for both students and faculty. Our students and faculty have gainfully benefitted by experiencing first-hand the grandeur of the ancient stupa at Sanchi, the medieval forts of Rajputana, the art of Ajanta and Ellora and the blooming slopes of the Nilgiri ranges described in Sangam literature. One of the most ambitious trips undertaken by the department was to Pakistan where the team visited Lahore, Islamabad, Peshawar, Harappa, Taxila and Takht-iBahi.
For more information, follow Click Here
Student Initiatives
The department takes pride in the two active societies, the heritage walk society, Raahi, and the 'Discussion Forum'. The latter is a fortnightly, student-run event that engages with current issues. Raahi has generated unprecedented interest among our students to train themselves to lead historic walks exploring the landmarks and communities that make our capital city of so many pasts. Our students have acquired a formidable reputation in the university for their well-curated and exciting walks to different landmark locations every fortnight through the academic year.
Student Progression
Divya Khattar (2005-08) : Received Gold Medal for securing First Rank in B.A. Honours History, University of Delhi
Sana Kochak (2008-11) : Received Gold Medal for securing First Rank in M.A. History, University of Delhi
Ningombam Athoibi Devi (2014-17) : Received Gold Medal for securing the First Rank in B.A. Honours History, University of Delhi
Shreya Das (2015-18) : Received Gold Medal for securing the First Rank in M.A. History, University of Delhi
Tarika Sanduja (2015-18) : Secured Third Rank in M.A. History, University of Delhi
Students and Research
The History Department aims to enhance the spirit of research amongst its students. The curriculum is designed to enable students to undergo experiential learning. Our students don't just read history, they attempt to 'do' it as well.
To understand how we 'do' history click here
Results
Faculty Achievements
As Miranda House made its beginning in 1948, there were 7 teachers in all, including the Principal, Miss Veda Tharkurdas. Amongst them, Miss S. Thomas, from Kerala, was engaged to teach History.Through the 1950s and 1960s the department grew and engaged stalwarts. The present faculty continues to pursue a wide range of interests and expertise.
For an introduction to the faculty Click Here
Distinguished Alumnae
The strength of any educational institution lies in its students and this department has produced distinguished alumnae over generations. As we imagine history, enact it and "make it real", our students take from our classrooms into the wide range of study and workplaces that they go to, the knowledge that history does not stay in the past. It is a vital part of our present and of crucial relevance to us. The skills that they learn here take our alumnae onwards to make history in their chosen fields of work.
To catch a glimpse of our alumnae Click Here