The Department of Sociology
Since 1972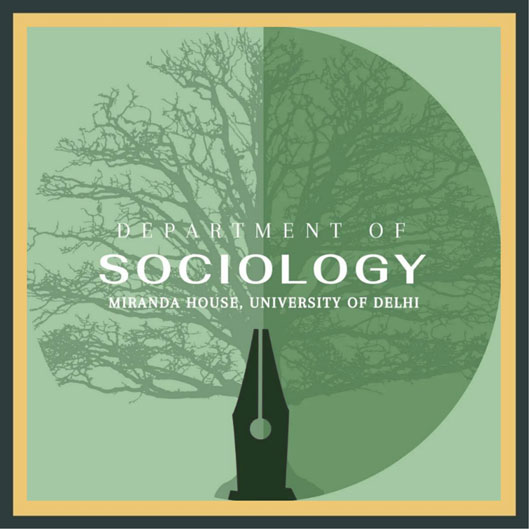 Teaching-Learning
Interdisciplinary Expertise:The diversity of the faculty is the strength of the Department. The faculty of the Department represents various cultures and regions of the country which in turn has facilitated their diverse interests and expertise. The interests and expertise of the faculty cover a broad sociological canvas. Classical sociological theories, Research Methods, Gender studies, Visual Culture, Health and Illness, are a few among the expertise of the department. Emerging sociological areas of study like the Sociology of Sport are also part of the expertise of the department. The contribution the Department made in the publication of IGNOU and NIOS study material, along with other publications like Gender: A Sociological Understanding, HIV and AIDS in Darjeeling: Emerging Socio Political Challenge, stands as testimony to the interdisciplinary expertise of the faculty.
Members of the Department are also fluent in many of the Indian languages like Hindi, Nepali, Punjabi and many others which also facilitates in strengthening the Department.
Experiential learning:Sociology as a discipline did not provide any space to experience as a sociologically relevant field of study/investigation for a significant period in its development trajectory. However, in the 20th century experience became a very important element in understanding and investigating human beings and society. Theories and empirical studies based on experience began to occupy centre stage in sociology. Therefore, to make learning in the department experiential students are encouraged to write projects based on field experiences, students are taken for fieldwork to experience reality and draw correlations between theory and practice. One of the methods that the Department has adopted and implemented to make experiential learning effective is the use of visuals. Visual methods provide a means to understand the practices of representations as cultural texts, to develop interpretations of meanings in socio-cultural contexts, and to decode images of social relations and individual experience. These methods applied along with reading the relevant texts drive student motivation and interest in learning, and induce sociological imagination and critical thinking.
Developmental studies:There are invited lectures, panel discussions and seminars on themes and issues pertaining to the syllabus as well as sociologically important. Given the pandemic situation in the world methods of online teaching and learning have been adopted. The department started with the 10 weeks add-on course in collaboration with George Washington University.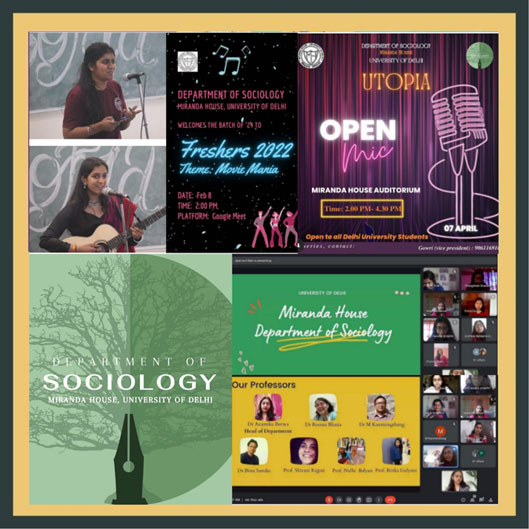 Capacity Building
Pedagogy:The classroom teaching goes beyond chalk and talk. The teaching-learning process is informed and holistic. It is not a one-way process, the students are encouraged to participate in the process and make the teaching and learning process an interactive and dialogical in nature. The teaching and learning process is also facilitated with the use of technology. Students are engaged with newspaper analysis, films, ethnographic analysis, multimedia and field visits. During the pandemic, the department adopted a 360-degree approach to teaching and learning.
Co-curricular Activities: Students are encouraged to actively participate in co-curricular activities. It is intended to add value to classroom teaching since learning beyond the classroom and disciplinary boundaries is invaluable.Students are envouraged to be part of various societies in the college.Students are encouraged to practice Sociology through their everyday life experiences and internships.A number of our students have been regularly interning with NeetiAyog and NGOs, like Pravah, Goonj, Swechha, Centre for Media and Communication and Himalayan Environmental Studies and Conservation Organization, to name a few. Within the college the students have been members of NSS and the Enabling Unit.
Research Projects: Projects are not a mandatory part of the curriculum. However, since its inception the Department has strongly encouraged students to undertake project work. 100% of the first year and third yearstudents do projects under the supervision of a faculty.The projects are designed to promote an understanding of the subject across papers. Regular series of lectures are held by the faculty members to teach students techniques and methods of sociological research. The projects involve fieldwork and the use of various research tools like questionnaires, interview schedules, focus group discussions, case studies, film making, social media, and secondary sources of literature and also to make use of techniques of sampling. They are assessed on full class interactive presentations. They also make short ethnographic films. These films are available at Sociology Ethnographic Films. The Project reports are available in the Research Compendium, Research Compendium 2019-20, and Research Compendium 2020-21.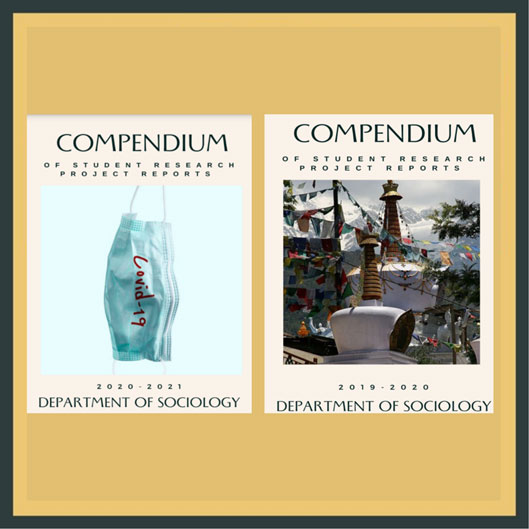 Department magazine: 'The Lighthouse' (by the Honours students) and 'Social VIBGYOR' (by the B.A. Programme students) are two magazines of the Department.. The magazine is annually published and it students are responsible for its publication. The magazine covers variety of issues in all forms of literary writings.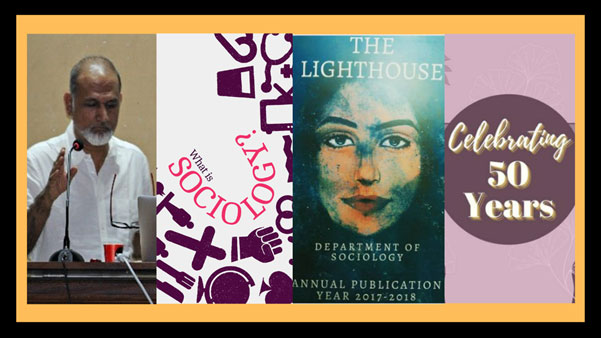 Department Cabinet:Sociology department cabinet isunique to Departmentto perform the activity of decentralisation and governance leadership management was formulated as an attempt to inculcate the values, responsibilities, decentralisation, and management principles in students. Cabinet works on the principle of democratic discussion making, here faculty members are also a part of it in an advisory capacity.
Inclusivity: As sociologists are those who are 'endlessly, intensively and shamelessly interested in the doing of humans, the Department values inclusivity. One of the significant reflection of this value is the collaboration with the Enabling Society from 2016 to2018 in conceptualizing and spearheading Samdrishti, a sensitization endeavour through games and skill-based exercises among the College community towards disability.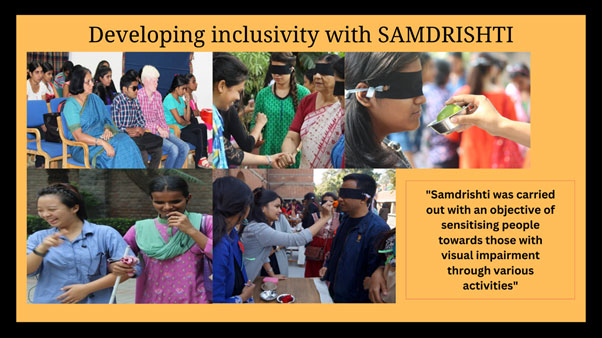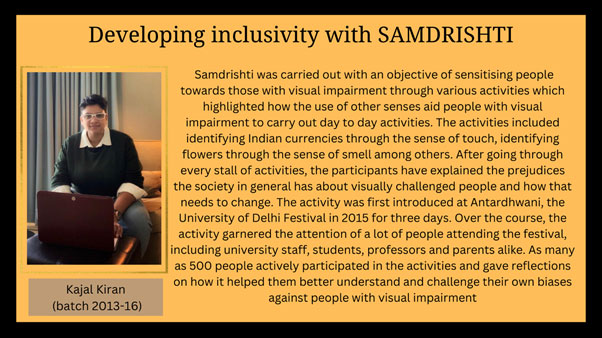 Student Progression
Students and Research
Results
Faculty Achievements
Our faculty members are passionate teachers and committed academics who engage continually with texts, their histories and politics in classroom lectures as well as through interdisciplinary projects, seminar presentations and writings in reputed journals, books and monographs. The Department is relatively small considering the number of teaching members. The teaching faculty is continuously engaged in the pursuit and dissemination of knowledge. The Department faculty have many academic achievements to their credits. A senior faculty of the Department has been awarded the Distinguished Teacher Award by the University of Delhi in 2009 while another has been awarded the Best Teacher Award by the Sikkim Central University in 2011. The Department members have contributed in designing and writing course material for Indira Gandhi National Open University and the National Open School. They have individually published many books and book chapters and articles in journals. Few of the publication by the Department members include Gender: A Sociological Understanding, HIV and AIDS in Darjeeling: Emerging Socio-Political Challenges, A Heady Mixture: Culture, Economics, Health and Alcohol in Darjeeling.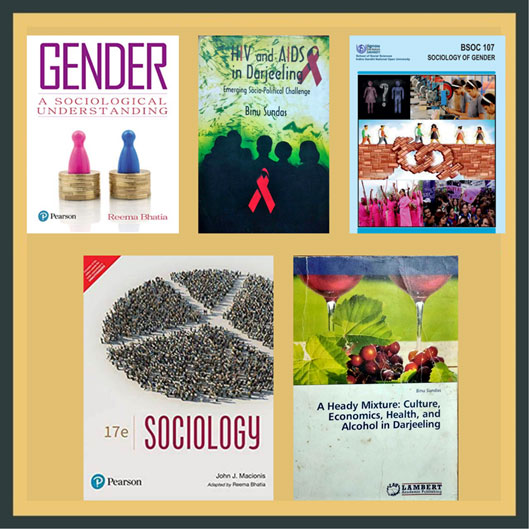 The faculty members have collaborated with national and international institutions to conduct research. They have collaborated with institutions from USA, Japan, Germany. They have published many papers from such collaboration and used the knowledge to enrich their classroom teaching. They have also presented many papers in national and international seminars and conferences. Recently one of the faculty member presented a paper in Greece and two other members in an international conference on the theme Science and Society. The teaching members of the Department are frequently invited to deliver lectures at different forums. Cumulatively the Department has more than 50 years of teaching experience.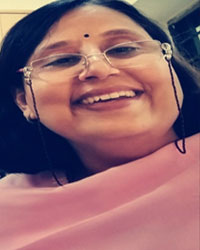 Dr. Reema Bhatia (Associate Professor)
Dr. Reema Bhatia has more than 20 years of teaching experience. She was awarded the Distinguished Teacher Award by the University of Delhi, 2009. She was a UGC Research Fellow for five years. She has also been a National Scholarship awardee under the Centre of Advanced Studies, Department of Sociology, Delhi School of Economics. She has many published works to her credit. Her recent publication Gender: A Sociological Understanding. Her forthcoming work is an edited volume on the issues of Gender published by Routledge, South Asia. She has presented papers in many national and international seminars and conferences. She is a frequently invited to deliver lectures by different academic as well as non-academic forums. She has successfully completed two innovation projects under the Delhi University and has guided a team of 20 students for the projects. She has organised several National and International Conferences. She was part of the organizing committee for the international conference on Science and Society. She is currently supervising many PhD scholars. She has also guided several short Ethnographic Films. Her areas of interest are Visual Culture, Sociology of Health and Medicine and Sociological Thinkers.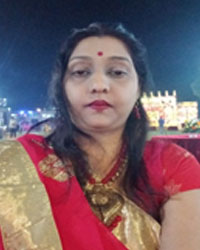 Dr. Avantika Berwa (Associate Professor)
Dr. Avantika Bhargav has been actively engaged in teaching and research in the areas of Sociology of Fashion and Beauty Pageants, Media, Gender Studies, Social Stratification and Urban Sociology. Apart from these her expertise is in the Social and Anthropological aspects of Religion, Family, Kinship and Marriage. She has presented several papers in National and International seminars and conferences. Convenor Western Dance Society TANZ, Sociology of Religion https://youtu.be/D87hmtNy79o ,Video Medical Sociology- https://youtu.be/Y6NU-D_G_u4 ,Undergone Training in Enhancing Psychological Skills for Teaching and Practice organized by The Ministry of Human Resource Development.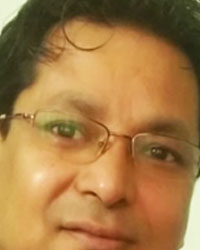 Dr.BinuSundas(Assistant Professor, Ad-hoc)
BinuSundas is an Assistant Professor and has a teaching experience of more than 13 years. Before joining Miranda House in 2016, he was teaching in Sikkim Central University. He is the author of the books HIV and AIDS in Darjeeling: Emerging Socio-Political Challenge, A Heady Mixture: Culture, Economics, Health and Alcohol in Darjeeling. He has also co-authored another book Gorkhaland Movement: A Migrant's Perspective. He has numerous book chapters and articles and has presented many papers in both national and international seminars and conferences. He has supervised many M.Phil dissertations while at Sikkim Central University. He recently completed a project on Food Value Chain in the Indian Sub-Continent in collaboration with Hiroshima University and National Open University, Japan. He is currently working is on Football and Politics in Darjeeling. He was awarded the Best Teacher in the School of Social Sciences, Sikkim Central University in 2012. He was selected to be part of the Young East Asian Researcher Programme, at Hiroshima University in 2011. His areas of academic interest are Sociological Research Methods, Sport Sociology, Culture and People in the Eastern Himalaya and Social Movements. His writings on Darjeeling and Sport can be found in http://binusundas.blogspot.com/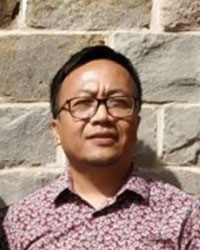 Dr. M Kamminthang(Assistant Professor, Ad-hoc)
Dr. Kamminthang Mantuong is a faculty at the Department of Sociology, Miranda House. He has been actively engaged in teaching and research in the area of Sociology of Health and Medicine, Environmental Sociology, Economic Sociology, and Sociology of Science and Technology. He received his MA, MPhil and PhD degree from Jawaharlal Nehru University, New Delhi. His PhD thesis is entitled Taming 'Bird Flu': A Sociological Study of an Epizootic Disease. He has also completed a postdoctoral research on the futures of genetically modified crop, under Durham University (UK), and has been a consultant in national and international projects.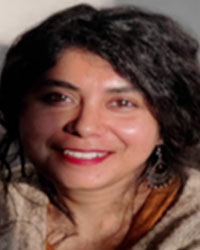 Ms. Shivani Raj (Assistant Professor, Ad-hoc)Ms. Shivani Rajput is an Assistant Professor of Sociology at Miranda House since 2017. She did her undergraduate from Lady Shri Ram College and Masters in Sociology from CSSS/JNU. She was awarded her M.Phil. degree in the 2018 from Jawaharlal Nehru University. Her area of study is Sociology of Violence, Suffering and Reconciliation. Her area of interests are Sociology of Gender, Economic Sociology, Polity and Society and Academic Reading-Writing.
Ms. Rajput's pedagogic practice for the past five years has been interdisciplinarity and self-reflexivity. She has reviewed books for the reputed journal The Book Review and Contribution to Indian Sociology(forthcoming)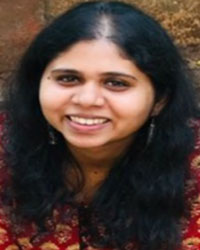 Ms. Sumedha Priyadarshini (Assistant Professor, Ad-hoc)
Ms. Sumedha Priyadarshini is actively engaged as a research scholar in the field of urban planning and governance, urban infrastructure, public health, environmental health, risks, and citizenship practices and politics. She is currently pursuing her Ph.D. from the School of Habitat Studies, Tata Institute of Social Sciences, Mumbai. Her Ph.D. research primarily focuses on exploring the production of public health and environmental risks in the realm of sanitation infrastructural planning and governance in Gurugram. Sumedha's MPhil research reflected on urban governance, planning and citizenship practices, and politics in Gurugram through a case study of the sanitation system of a planned sector of the city. She has also presented her work at various international and national conferences and international workshops
Ms. Priyadarshini has worked in research projects, as a Research Officer in the Tata Institute of Social Sciences, Mumbai, and Public health Foundation of India project and as a Research Assistant in the project of "ICSSR-NWO Bilateral Programme in the field of Social Sciences" of Tata Institute of Social Sciences, Mumbai. Before joining the Department of Sociology, Miranda House, University of Delhi, she was engaged as a Teaching Assistant at the School of Habitat Studies, Tata Institute of Social Sciences, Mumbai.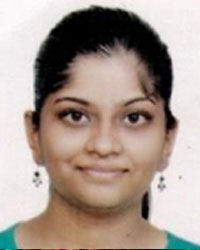 Dr Ritika Gulyani (Guest Faculty)
Dr. Ritika Gulyani is a Guest Faculty at the Department of Sociolgy, Miranda House since February 2021. Prior to this she has also taught at Department of Sociology, Delhi School of Economics as a Guest Faculty.
She has been awarded a PhD. degree from the Centre for the Study of Social Systems, Jawaharlal Nehru University in 2021. Her research interests include Disability Studies, Deaf Studies, Deaf Culture, and Governmental Policies. She has taught papers on Social Stratification, Sociology of Development, Population and Society, Introduction ot Sociology, Sociology of India, Sociology of Kinship, Family &Intimacy,Sociology of Gender and Sociology of Religion. She has been a research assistant for a project on 'Institutionalization of Disability Studies in India' under Prof. Nilika Mehrotra from 2015-17. She has also presented papers in National and International Conferences, published in National and International Journals as well authored and co-authored book chapters.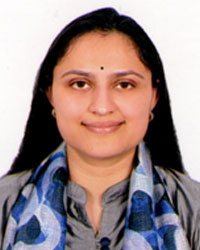 Dr. Mansi Rakesh (Guest Faculty)
Dr. Mansi Rakesh joined the Department of Sociology, Miranda House as Assistant Professor in January 2022. She has been awarded PhD degree in 2018. Her research work is on Sociological study of Status of women in India: A study of Mathura block in Mathura district. She has also taught at Kamala Nehru college University of Delhi as a Guest faculty and has presented papers in National conferences and Seminars. Mansi has taught papers on: Political Sociology, Gender Sensitization and Social Stratification.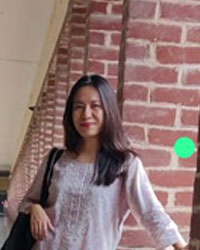 Ms. Beauty Thounaojam (Guest Faculty)
Beauty Thounaojam is an Assistant Professor (Guest) in the Department of Sociology, Miranda House. She is also a Ph. D Scholar at the Special Centre for the Study of North East India (SCSNEI) of Jawaharlal Nehru University, New Delhi. An English Honours graduate from Indraprastha College for Women, Delhi University, she completed her Master's Degree in Sociology in the year 2015 from the Centre for the Study of Social Systems, JNU and has been enrolled in the M.Phil.-Ph. D Programme in 2016 at SCSNEI for specialization in North East India Studies. Her area of research is on aspects of gender, food studies, Manipuri culture, religion and identity. She has contributed a chapter of her M.Phil. work on The Transgender Community of Manipur, titled, "Gender Assertion and Negotiation of Spaces: A Discussion on the NupiMaanbi Community of Manipur", in 'Body Politics: Rethinking Gender and Masculinity', published by Akhand Publishing House: New Delhi, 2021 and presented the same at the Third Ireland India Institute Conference on South Asia, 2019 funded by ICSSR (Indian Council of Social Science Research, New Delhi) at Dublin City University. Her present Doctoral research focuses on understanding identity through the lens of food culture and consumption of the Meitei Community in Manipur.
Speakers Invited by the Department
As part of the teaching and learning process the Department of Sociologyis continuously engaged with keeping brace with the developments in the discipline. In an endeavour to learn the Department invites, not just academicians but other pioneers in their respective realm to share their knowledge and current research with both the students and teachers of the Department. In this quest for knowledge many invited lectures were held by the Department. The pandemic though was traumatic, it facilitated us to invite people who were otherwise not approachable due to geographical reasons. Some of the invited lectures includes "Why surrogates do not want a ban on surrogacy?" given by Professor Tulsi Patel, a former Professor at Delhi school of Economics, on August 14, 2018.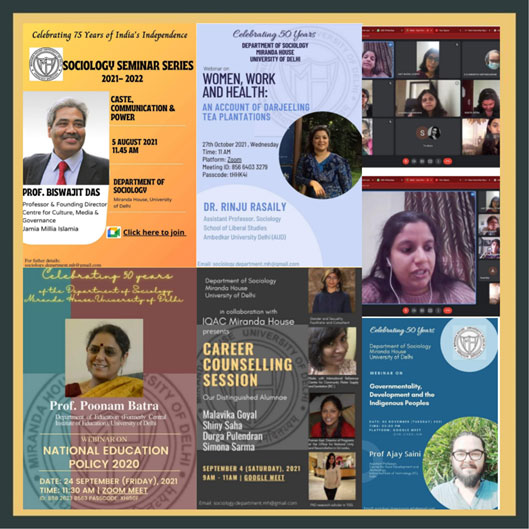 Also hosted was on the topic "Performance at Public and Cultural Sites Democracy and the People" held on 7th September 2018. The speaker was BishnupriyaDutt, a former actress and a director based in Kolkata and is currently a professor at the Arts and Aesthetics Centre, Jawaharlal Nehru University. She spoke of the rise of popular culture in democratic societies and how it could often go against the democratic culture in itself. Some interesting topics she touched upon was "The Culture of the Left" manifested in the study of the commemoration of the October Revolution in the present decade to bring back the ideal of social equity. But the dual practices of ionization and iconoclasm reflect the existence of a non-linear narrative. What is then essential is to create cultural manifestation which would defy the binary of ionization and iconoclasm and develop a self-reflexive critique of the failures of socialism.
On 18 September 2018, Oxfam, through its associated NGOs Mittika, Ismat, Humsaa, Team Zero and Youngminds, presented to the audience stirring narratives of women in Delhi through their workshop which was titled "Celebrating the Narratives of Women.
Professor Biswajit Das, Webinar on Caste, Communication and Power, Professor and founding director Center for Culture, Media and Governance. Jamia Millia Islamia
Career Counseling session, 4th September 2021 by Malavika Goyal; Gender and Sexuality facilitator and consultant, Shiny Saha; works with International Reference Center for community water supply and sanitation, Durga Pulendran; former assistant director of programs at the office of National Unity and Reconciliation in Sri Lanka and Simona Sarma; PhD research scholar at TISS.
Professor Poonam Bhatra, Webinar on National Education Policy 2020, 24th September 2021, Department of Education (formerly Central Institute of Education), University of Delhi.
Dr.RinjuRasaily, Webinar on " Women, work and Health: An account of Darjeeling tea plantations ", Assistant Professor of sociology at the school of Liberal Studies, Ambedkar University, Delhi (AUD)
Professor Ajay Saini, Webinar on Governmentality, development and Indigenous Peoples, Assistant Professor, career for Rural Development and Technology, Indian Institute of Technology (IIT), Delhi.
Ms. Lata Jha, Webinar on Exploring the 'INDIA' in Indian Cinema, Assistant Editor at Mint, a business daily of the Hindustan Times Group.
Mr. Ajay Govind, Workshop on " The Techniques of Ethnographic Filmmaking ", Writer / Director.
Mr. E P Unny, seminar on " The Editorial Art of Political Cartooning ", Chief Political Cartoonist, The Indian Express.
Ms. Paromita Vohra, Webinar on " Women and Desire: Rethinking Popular Portrayals in Cinema ", Indian Filmmaker.
Professor Rajni Palriwala, seminar on " Women, Migration and Family ", former professor of Sociology, University of Delhi.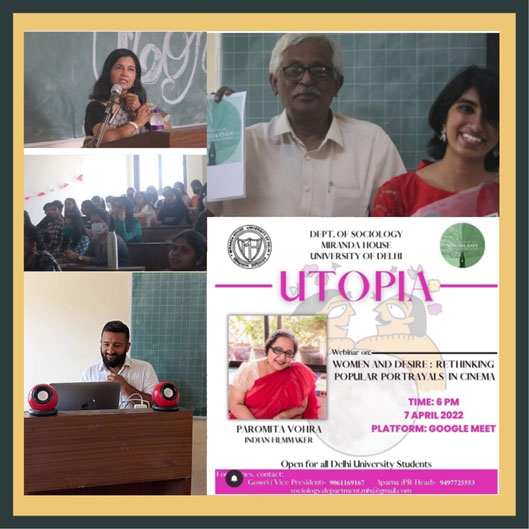 Distinguished Alumnae
After graduating from the Department of Sociology, Miranda House many of our students pursue post-graduation and doctoral programmes in many of the institutes of higher learning both within India and outside of India. Our representation can be seen in universities like the University of Delhi, Jawaharlal Nehru University, and South Asian University, Jamia Millia Islamia, Ambedkar University, Tata Institute of Social Sciences, Ashoka University and many others in India. Many of our students have also gone to pursue their higher learning at London School of Economics and University of Manchester, University of Oxford, University of Cambridge and many other institute of repute.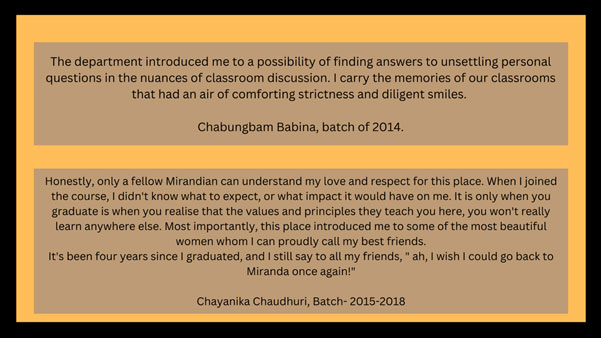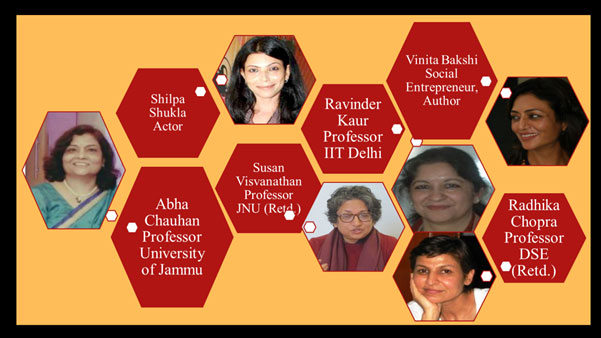 Some of our alumnae in academics are
Professor Susan Visvanathan at Centre for the Study of Social Systems, Jawaharlal Nehru University
Professor Ravinder Kaur at IIT, Delhi
Dr. Radhika Chopra at Delhi School of Economics
Dr.Abha Chauhan, University of Jammu
Dr.Azailu, University of Hyderabad
Dr.Ravtosh Bal, Visiting Lecturer, Duke Center for International Development, Sanford School of Public Policy, Duke University, Durham, NC Postdoctoral Fellow, Center for Engineering in Society, Concordia University, Montreal, Canada
Dr. R Rajyalaxmi, Associate Professor, Sociology, JDMC, University of Delhi, Delhi.
Ms. Aruna Pandey is a Senior Research Fellow and Faculty at Indian School of Development Management, NOIDA
Ms. Aikantika Das is an Assistant Programme Officer at Population Council
Ms. Shilpa Goyal is an Assistant Manager at Union Bank of India;
Ankita Sharma is a Manager at SBI.
Ms. Amrita Sengupta is working as Senior Consultant at Capgemini Consulting - Digital Transformation Institute, Bengaluru.
Ms. AnushreeBardhan is an Associate - Ramachandran and Associates, The Law Firm.
Ms Silpa Shukla, Eminent Theatre Artist and Bollywood Actor is also from our department.
Isha Saraf, PhD. Sociocultural Anthropology; Ethnographer; Instructor
JagritiGangopadhyay, Assistant Professor of Sociology at Manipal Centre for Humanities
Bhavya Durgesh Nandini, Coordinator, Adolescent and Youth Constituency at the Partnership for Maternal, Newborn& Child Health; London School of Economics and Political Science (LSE)
AtitthyaSaikia, Consultant-CSR Projects at CSRBOX I IMPAct4Nutrition, Program Manager at Vilasini Housing, Maharashtra.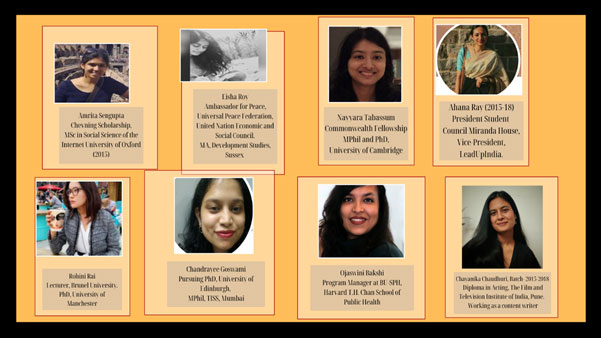 Some of our recent alumnae in the civil services include
Ms. Preeti Agrawal is a SSPO at the Department of Posts.
Ms. Ananya Kulshreshtha is an Assistant Commissioner Income Tax.
Ms. Megha Sidhu is an Assistant Commissioner Indian Revenue Services.
Ms. Rosy Talukdar is an Assistant Commandant, Assam Police Services.
Rima TrishnaHaloi is an Assistant Commissioner in Assam Civil Services.