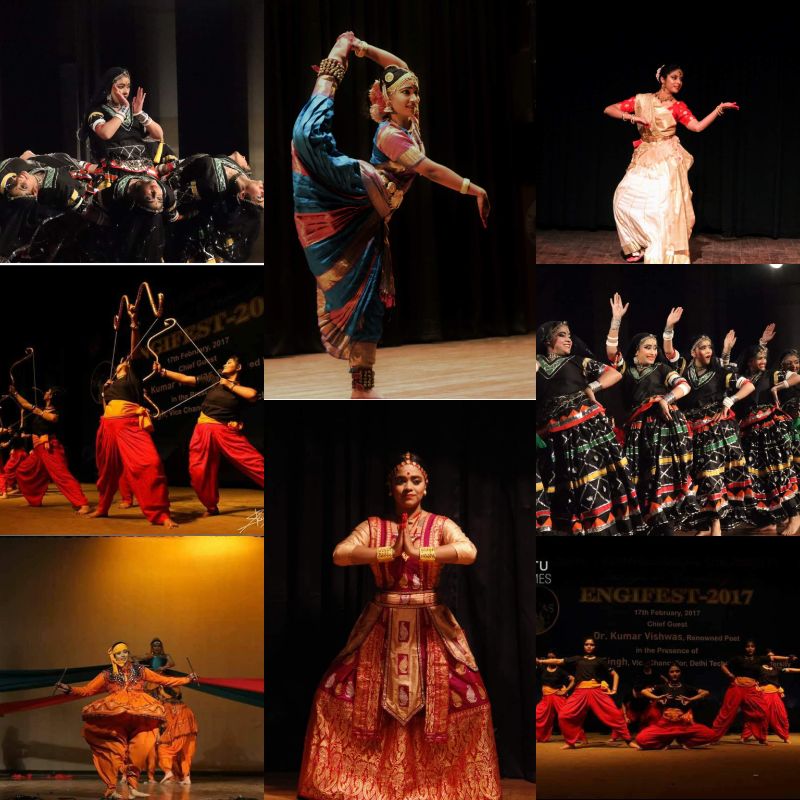 Mridang-Indian Dance Society of Miranda House, rooted in the Indian ethos, welcomes students from all cultural backgrounds to come together and share a common interest, i.e. the love for Indian dance and its preservation. Mridang aims at uniting and directing young minds by providing a platform to bring Indian Classical and Indian Folk dance forms to the forefront. It performs in both, folk dance (group) and classical dance (solo) competitions. Over the years, Mridang has showcased Indian diversity by taking up a range of Folk Dance forms as a part of its annual group folk dance productions including Kalbeliya, Garba, Lavani, Chhau, Kavadiyattam, and many more. It also witnesses talented Indian Classical Dance enthusiasts as its members representing dance forms from different parts of India.
Mridang's prestigious members are selected meticulously through Extra Curricular Activity Quota and separate rounds of audition for non-ECA members. Mridang hosts a yearly competition (solo classical & group folk)- 'Tarangini', inviting colleges from all across DU during Tempest-annual cultural festival of Miranda House.
The members of the society have been winning laurels consistently for Miranda House in various DU and outstation competitions. Mridang secured the second position in the group folk dance competition in 'Antaragini'-the annual cultural fest of IIT Kanpur in 2018. In 2019-20, Mridang stood at the 3rd rank in the official DU Beat ranking of the Indian Folk-Dance Societies. In addition, Mridang has performed in various distinguished events like Rangrasiya 2020 organized by Aaj Tak, Bharat Rang Mahotsav at National School of Drama, Delhi Youth Festival at Connaught Place, Media Excellence Awards at Andhra Pradesh Bhavan and Sansad Sammaan Samaroh at NDMC Convention Centre. It has also been invited to perform in Ambassadorial Lecture Series in Vice Regal Lodge and conference organized by Vivanta by Taj, Dwarka.
Mridang offers a space for its members to creatively express themselves through dance and discover their love for Indian traditions.