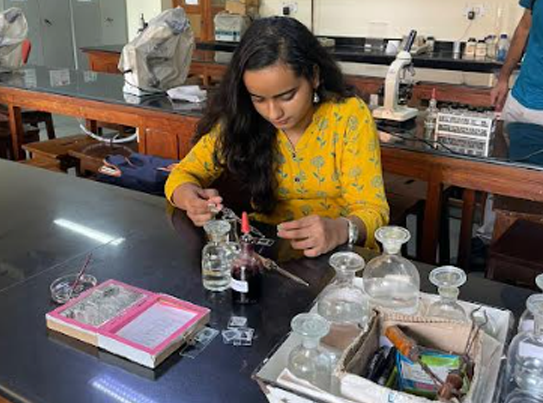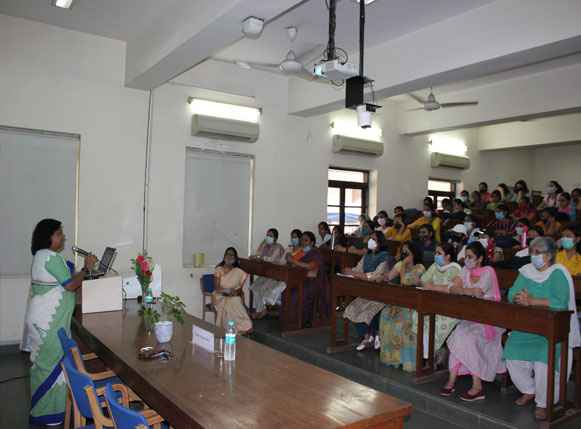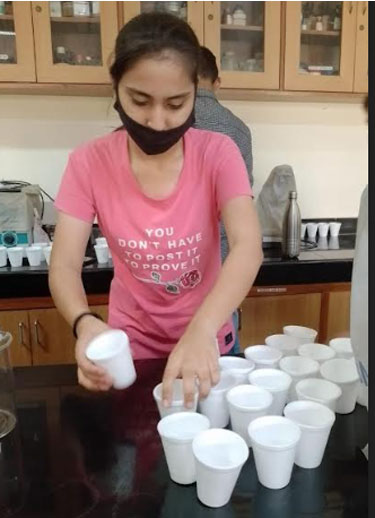 Miranda House pioneered science education for women at the University of Delhi when it started its B.Sc. Honours (Botany) course in 1948. The course not only includes a study of diversity of plants and their economic importance but also offers a comprehensive overview of cell and molecular biology, genetics, biochemistry, microbiology, biotechnology and bioinformatics. Botany, along with its allied branches, provides employment opportunities in research and educational institutes, pharmacy, agriculture, horticulture and forestry. Over the years, the Department of Botany has produced a large number of dedicated scientists, teachers and those who have excelled in other areas. The Department maintains two Laboratories for teaching purposes, a Museum, a Herbarium, a Departmental Library, a Tissue Culture Facility, an Undergraduate Research Laboratory and a Botanical Garden. The Department of Botany has an active Botanical Society named Antheia which organizes lectures by distinguished academicians and scientists. The Society also facilitates participation of students in various activities across colleges of the University of Delhi. The Department of Botany is a recipient of grants from DBT under the Star College Scheme and is also involved in two University of Delhi Innovation Projects.
Teaching-Learning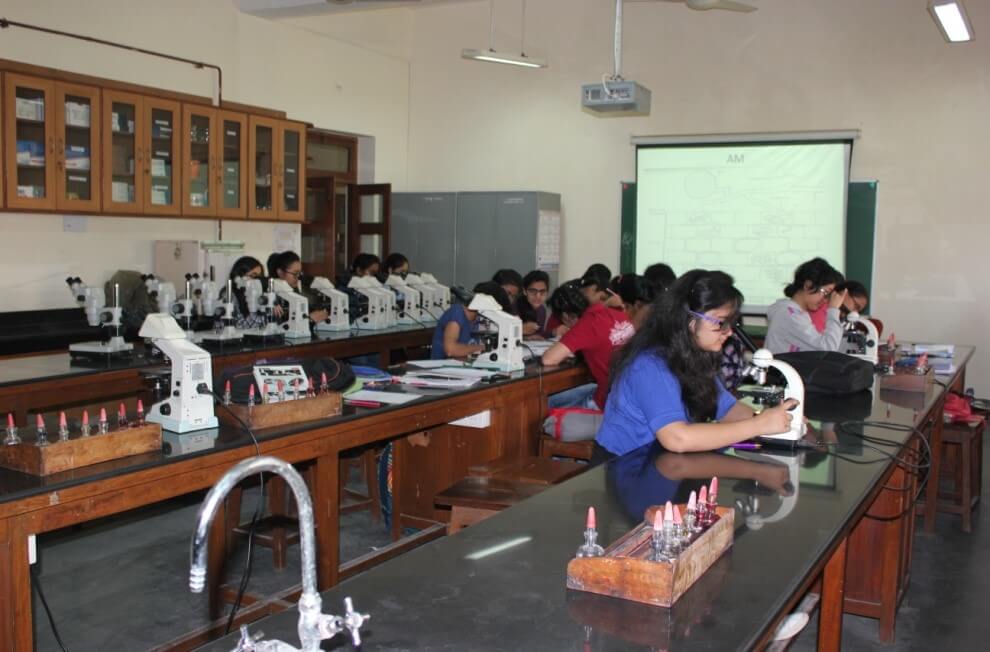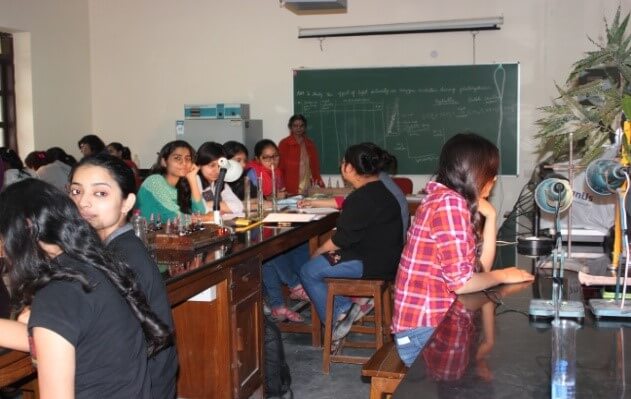 The teachers of the Department adopt various teaching tools to make teaching more effective. All the teachers have been issued a netbook. They use PowerPoint presentations and charts in theory classes. In practical classes also, instructions are given with the help of charts, herbarium and live specimens, permanent slides and PowerPoint presentations. Interactive sessions are held in the routine classes. Class tests and presentations are held. Assignments are given to the students. Students are taken to the nearby ridge, and the college botanical garden and the campus as a whole to learn the names of plants and understand biodiversity.
Capacity Building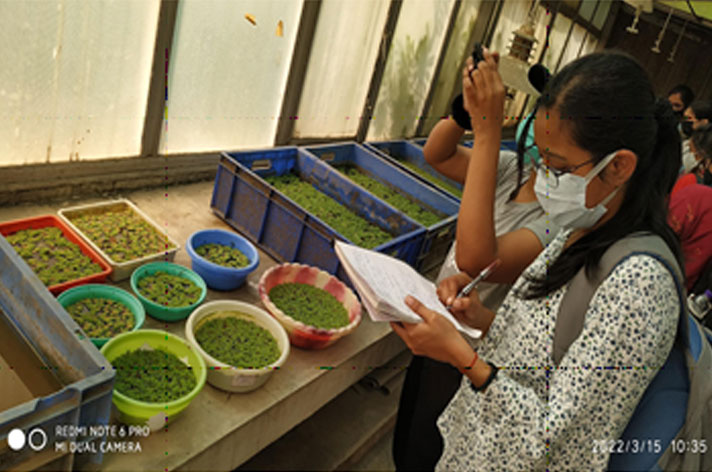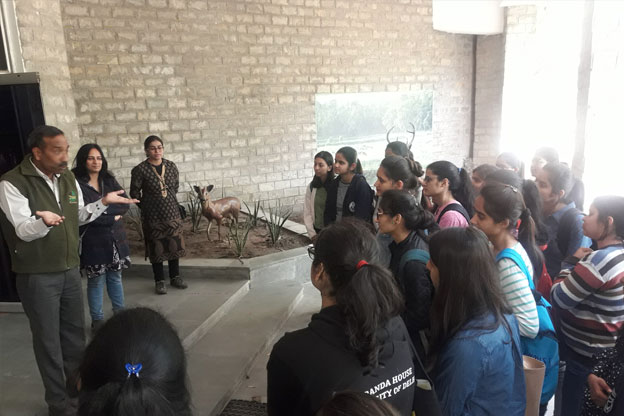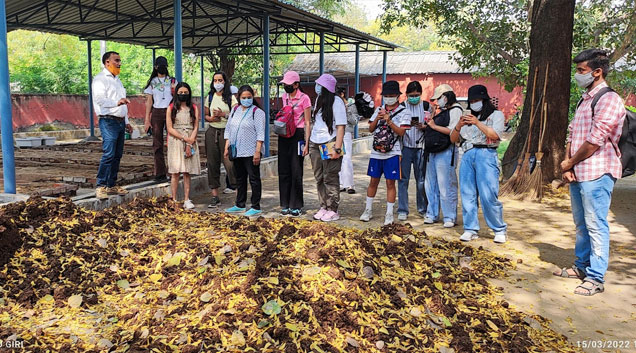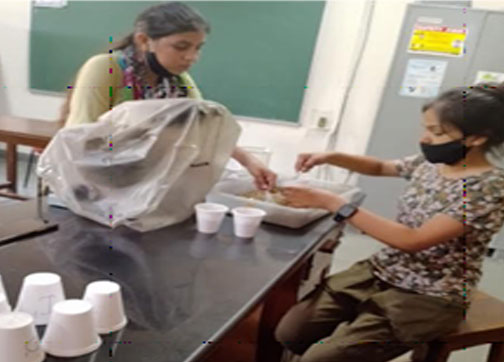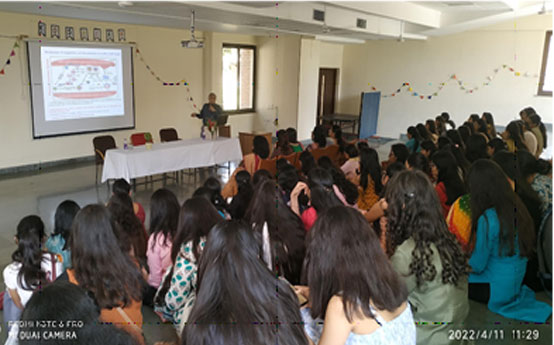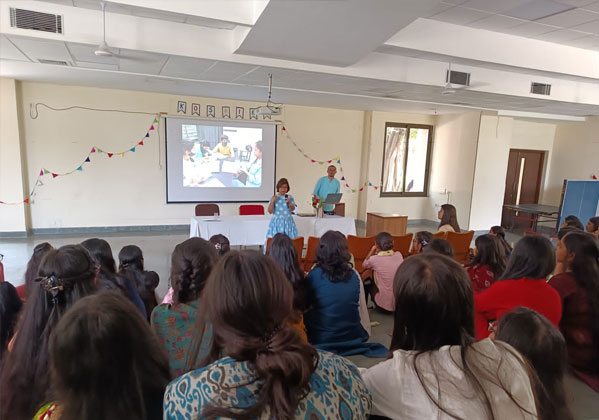 Workshops and seminars on relevant topics are also organized by the Department for students and teachers. The Department also organizes excursions for students. Teachers accompany students to visit the Yamuna Biodiversity Park, zoological park, local research institutions, like the National Bureau of Plant Genetic Resources, Indian Agricultural Research Institute, Department of Plant Molecular Biology at the South Campus, Institute of Genomics and Integrative Biology, museums, and various exhibitions to improve learning. An educational trip to the Neela Hauz Biodiversity Park was organized on 29 March 2017. On 28 September 2016 students of B.Sc. (H) Botany III Year were taken to Sulabh International Social Service Organization. They visited the toilet museum and were shown how manure can be made from human waste, the generation of biogas from waste and its use in cooking, the generation of electricity from biogas, and the potable RO water ATM. Students were also shown the vocational training being imparted in tailoring, computer use and beauty care. Students are taken to hill stations to understand biodiversity, collect plants and visit research institutions and biodiversity parks such as the Forest Research Institute in Dehradun, Institute of Microbial Technology in Chandigarh, and Keoladeo National Park in Bharatpur. An outstation trip to Kulu-Manali was organized jointly with the Department of Chemistry from 31 October to 04 November 2016.
Student Progression
Academic performance of B.Sc. (H) Odd Semester 2016-17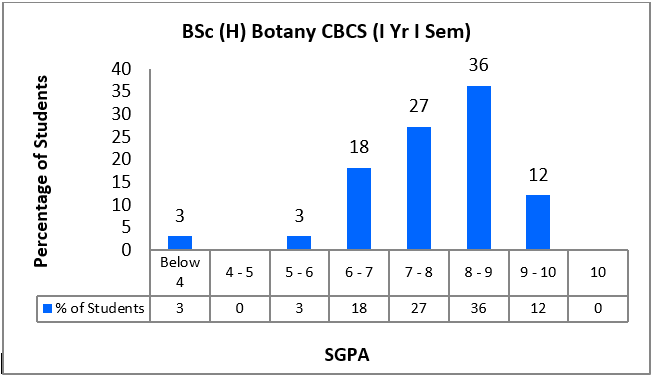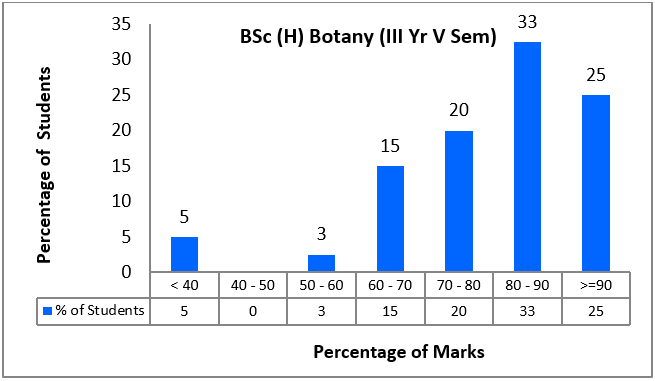 Academic performance of B.Sc. Life Sciences Odd Semester 2016-17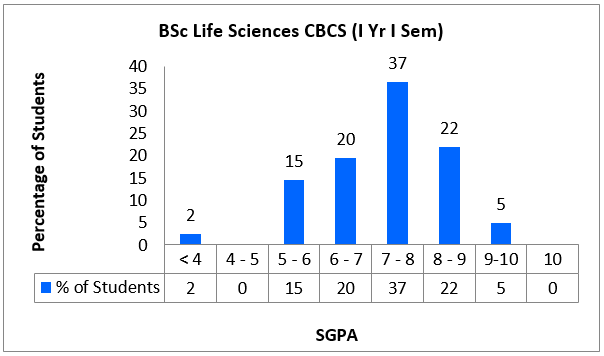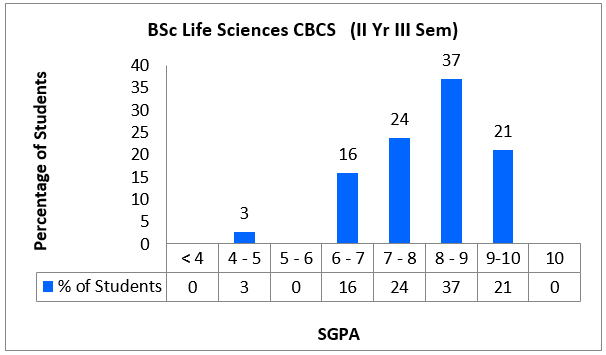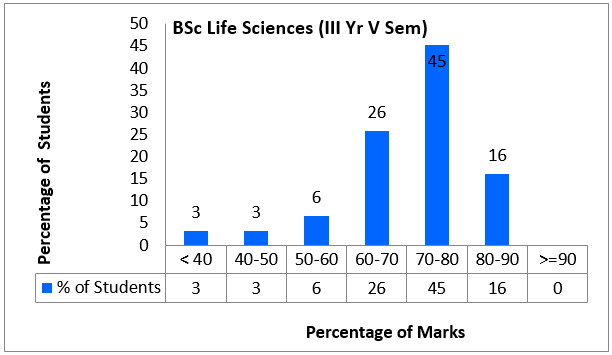 It is noteworthy that every year/semester our students have a rank in the university, usually among the first three positions. Ms. Ninadini Sharma, Ms. C. V. Neha and Ms. Dhara Arora of B.Sc. (H) Botany have been awardees of the Project Oriented Biological Education programme (POBE) organized by the Jawaharlal Nehru Centre for Advanced Scientific Research (JNCASR), Bengaluru. Ms. Anvekshaa Rao was chosen as the Google Student Ambassador of Miranda House for the year 2012-13.
Faculty Achievements
Dr. Sushma Moitra, Dr. Janaki Subramanyan, Dr. Saloni Bahri and Dr. Somdutta Sinha Roy have successfully completed seven innovation projects under the University of Delhi Innovation Scheme. Dr. Janaki Subramanyan and Dr. Saloni Bahri are mentors in two different ongoing Star Innovation Projects awarded to the college. Dr. Janaki Subramanyan and Dr. Saloni Bahri were a part of the 9-member team to receive the Australian Leadership Awards Fellowships (ALAF) to participate in the project Building Leadership Capacity in Undergraduate Science Teaching at the University of Sydney, Sydney, Australia, in April 2013. Dr. Rashmi Shakya was selected by the University of Delhi under the Faculty Training programme for doing Masters in Systems and Synthetic Biology in the University of Edinburgh, UK, in 2012. Dr. Anita Sehgal was invited to present a paper in the XVI, XVII and XVIII International Botanical Congress, held in St Louis, USA, in August 1999, in Vienna, Austria, in July 2005, and Melbourne, Australia, in July 2011, respectively.
Distinguished Alumnae
Several students pursue post-graduation in Botany and other disciplines. Following post graduation, many students continue at DU for their doctoral work. Currently 11 students of Miranda House are pursuing Ph.D. at the Department of Botany, DU. Some students move on to other premier institutions for their Ph.D. Some former students are pursuing higher studies at JNCASR, NIPGR, IITs, IISER Mohali, TERI, FRI, Jamia Millia Islamia, Jamia Hamdard, and Lady Hardinge Medical College. A number of students after successful completion of their Ph.D. are serving as college and school principals and teachers, as scientists, in civil services, and other fields. Some former students are in foreign universities for post-doctoral work. Ninadini Sharma is pursuing her M.Sc./Ph.D. in Molecular Biology at the International Max Planck Research School, Gottingen, Germany.
Alumnae of B.Sc.(H) Botany
Dr. Neelam Sharma (1978) and Dr. Anuradha Aggarwal, Principal Scientists, NBPGR, New Delhi
Ms. Anju Chandna Puri (1978), Principal, DAV School, Vasant Vihar, Delhi
Ms. Rohini Kapur Ghalaut, (1987), was in NIIT for the last 13 years. Currently among the top 10 finalist teams in the Intel and DST Innovate for Digital India Challenge
Dr. Meenu Kapur (1989), Associate Professor, GGSIP University, New Delhi
Dr. Saman Habib (1989), Principal Scientist, Central Drug Research Institute, Lucknow; INSA Young Scientist Awardee
Prof. Sudeshna Mazumdar-Leighton (1989), Department of Botany, DU
Dr. Payal Mago, Principal, Shaheed Rajguru College of Applied Sciences for Women, DU
Dr. Himani Pandey, (1991), Indian Administrative Service, Jharkhand cadre
Dr. Shruti Rai (1996), Joint Director, Ministry of Environment & Forests
Dr. Parul Khurana (2000), Assistant Professor of Biology, School of Natural Science and Mathematics, Indiana University
Dr. Geetanjali Kaushik (2003), Associate Professor in Management and Campus Director of Mahatma Gandhi Mission Medical College, Aurangabad
Ms. Aryaka Akhoury (2006), Indian Administrative Service, UP cadre. Currently Assistant Secretary, Ministry of Drinking Water and Sanitation
Ms. Shashi Meena (2011), Scientist, Indian Agricultural Research Institute, New Delhi
Ms. Sweta (2011), Assistant Professor, Department of Sociology and Social Anthropology, Mahatma Gandhi Central University, Motihari, Bihar
Alumnae of B.Sc. General Group B and B.Sc. Life Sciences
Prof. Ashima Anand (1969), Principal Investigator, Vallabhbhai Patel Chest Institute, University of Delhi, and INSA Young Scientist Awardee
Ms. Harsh Kumari, Headmistress, CIE Experimental School, University of Delhi
Dr. Jugnu Jain, Co-Founder and Chief Scientific Officer, Sapien Biosciences, Hyderabad
Ms. Pooja Mathur, Senior Manager (Head), Human Resources & Organization Development, Plan International (India Chapter)
Ms. Subbudhi Bantia, Head-Microscale and Technical Expert, The Gold Standard Foundation
Ms. Anupama Rai (2007), Teaching Assistant and pursuing Ph.D. at IIT-Kanpur
Ms. Shirin Ashraf (2007) pursuing Ph.D. at the University of Cambridge, Cambridge, UK
Ms. Rupam Jha, at the London Research Institute, London, UK
Ms. Nilu Mishra, Business Consultant, Infosys Consulting, Bengaluru