D S Kothari Centre for Research and Innovation in Science Education
The D S Kothari Centre for Research and Innovation (DSKC) was set up at Miranda House with a generous grant from the Department of Science and Technology, in a project mode. It has given an opportunity to students and faculty to carry out research projects and enrichment programmes in science and science education.
The broad mission of the D S Kothari Centre is to enhance and enrich science education through
activity-based science teaching-learning programmes using the best available resources, technologies and pedagogical tools;
research in science education and development of research-based curricular and co-curricular materials of contemporary value;
capacity building and nurture programmes to provide mentoring to students and professional development opportunities to science teachers;
education programmes for popularizing science and generating scientific understanding amongst diverse communities.
DSKC is devoted to promoting creativity and excellence in science with special focus on attracting young students to careers in science and nurturing their innate talent. As a Nodal Centre, its aim is to provide easy access to resources for undertaking innovative and inspiring science activities designed to give an early exposure to the scientific process and the joys of discovery. The programmes are informed by rigorous science education research, results of cognitive studies on students learning and pedagogic tools established to be effective. Special emphasis is on adopting multi-representational and multidisciplinary approach to science learning in contemporary contexts and integrating the use of cutting-edge educational tools and technologies to provide the best possible environment for exploratory work. While providing a facility outside of the formal classroom to engage creatively in scientific pursuits, the Centre aims to develop educational resources, innovative curricular materials and pedagogic instruments which can be adopted by the formal system. For large scale adoption of best practices, it endeavors to develop research-based programmes for providing the highest quality Continuing Professional Development for those involved in science education, at all levels. These programmes aim to alter the perception of the process of teaching-learning per se, develop crucial skills for effective communication by imparting pedagogical knowledge in addition to domain knowledge; and train teachers to be action researchers in their own classroom and contribute to the process of large-scale educational change.
Extension Activities of the DS Kothari Center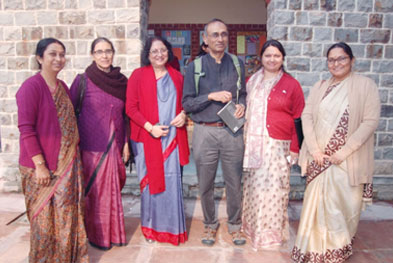 Coordinator, DSKC: Professor Monika Tomar, Physics Department
Advisor, DSKC: Dr Mallika Verma, Associate Professor (Retired), Physics Department